Sonos Beam is a smart TV soundbar for less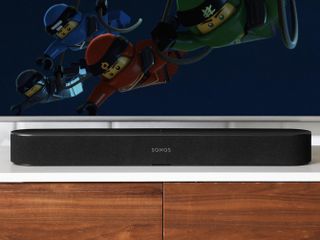 During an event in San Francisco on June 6, Sonos announced a new product called the Sonos Beam. Sonos Beam doubles as both a smart speaker and soundbar for your TV, and it's packing a lot of features for its $399 asking price.
First off, the Beam takes up much less space than Sonos' last soundbar, measuring in at 60% smaller and 28% shorter than the Playbase (opens in new tab).
Sonos Beam connects to your TV using an HDMI cable, and thanks to a technology called "Audio Return Channel" that was added to the HDMI standard in 2009, the Beam instantly picks up all the audio coming from your TV and outputs without any special setup required on your end. Beam doesn't even come with its own remote because the one you use for your TV will automatically control the Beam's volume levels and not your TV's built-in ones.
Another benefit you get with the Beam using HDMI is that it can harness HDMI-CEC so you can turn your television on and off with your voice. Simply say "Alexa, turn the TV off (or on)" and it'll just work.
Speaking of assistants, Sonos Beam has Alexa built-in by default and will get AirPlay 2/Siri this summer and Google Assistant "when the time is right."
As for the sound quality, the Beam has four subwoofers, two tweeters in the front, one in the middle, and a total of three passive radiators. In other words, all of your music, movies, and TV shows should sound excellent. Also, since this is a Sonos speaker after all, you can pair the Beam with Sonos' other speakers to create a true surround-sound setup.
Sonos Beam is available for purchase now on both Amazon and Sonos' website (opens in new tab) (as well as many other retailers around the world), and is priced at $399. That's not cheap, but it's a heck of a lot more affordable than the $699 Playbase. If you pre-ordered Sonos Beam, your order should be shipping out today!
Sonos is also offering speciall bundle prices for some of its other speakers and peripherals to help you build up your home theater setup.
See at Amazon (opens in new tab)
Get the best of iMore in in your inbox, every day!
When Joe isn't acting as the News Editor for Android Central, he can be found helping out with articles here and there at iMore. He was last spotted at Starbucks surrounded by peppermint mochas. Have a tip? Send an email to joe.maring@mobilenations.com!
Unfortunately it isn't made with the quality materials of their Playbar giving it, like their Playbase, the cheesy, plasticky, look of many modern devices. Their Playbar is elegant and sounds really good - they should have built on that aesthetic.

I wonder if companies that add AirPlay 2 support will implement it in such a way that sound always plays on all AirPlay 2-paired speakers, as opposed to only when you originate AirPlay 2 audio from your iPhone/Mac/Apple TV. I really hope it's the former, not the latter.

I got my Beam and Wall Mount today. Set it up as soon as I got a break in my workday. Blown away by what they can give us for our $400. I sold a PlayBar a month ago when this went on preorder. And the proceeds paid for this unit with money leftover. The TV it is used with is in the bedroom. Paired with a couple Play:1 speakers. And in this smaller room, I get all the sound I need. The HDMI ARC connection is nice. I was able to navigate my Apple TV with the factory TV remote. And AirPlay 2 works great. I'm FINALLY able to stream my podcasts to real speakers via the iOS Overcast App.
Thank you for signing up to iMore. You will receive a verification email shortly.
There was a problem. Please refresh the page and try again.