Sonos Beam vs. Sonos Playbar: Differences between these soundbars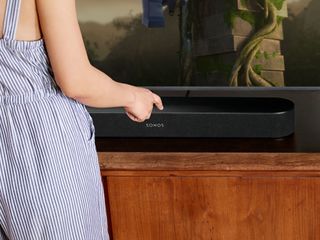 Sonos at a recent press event announced the new Sonos Beam soundbar, a compact soundbar with Amazon Alexa built right in. Fans and followers of Sonos are likely familiar with the company's other soundbar, the Sonos Playbar (opens in new tab), and may be wondering where the new Beam fits in the lineup. If you're trying to decide between these two products, this guide will help you understand the differences between them!
Sound
Let me be perfectly clear: Sound quality is a mixture of objective and subjective measurements and judgments. Given that the Sonos Beam is still only available for pre-order (i.e., it has yet to ship), I can't comment on the sound quality of the smart soundbar. Instead, I am going to provide you with the objective information available regarding both of these devices. Sonos is a well-regarded audio brand with a history of creating excellent listening experiences. Using that knowledge, we can conclude that either of these soundbars will please the average consumer — if you consider yourself a more discerning listener, the following information will be of interest to you.
Swipe to scroll horizontally
| | Sonos Playbar | Sonos Beam |
| --- | --- | --- |
| No. of Woofers | 6 | 4 |
| No. of Tweeters | 3 | 1 |
| No. of Radiators | N/A | 3 |
| No. of Amplifiers | 9 (Class D) | 5 (Class D) |
| Optical Audio | Yes | Yes |
As you can see, the Sonos Playbar packs in far more audio hardware than the Sonos Beam. What's more, the Sonos Beam uses passive radiators to warm up the bass and push sound — with its superior internals, the Playbar doesn't need to do that.
Smart Home
The Sonos Playbar is a home theater sound system above all else. The Sonos Beam is a smart speaker (well, smart soundbar to be perfectly accurate) above all else. That means the Sonos Beam has been engineered to serve as a smart speaker. Here's what Sonos says about it:
Yep, Amazon Alexa, Siri, the Google Assistant, and beam-forming microphones work together to give you all the voice control your little heart could desire. That means along with controlling your music, you'll be able to use your Beam to control supported smart home accessories in your home. It means you'll be able to do with the Sonos Beam everything you can do with any other Alexa-enabled device.
So what about the Sonos Playbar? Well, on its own it won't be controlling your smart home gadgets or playing your favorite tracks upon hearing, "Alexa, play some stuff I like." That said, you can connect an Alexa-enabled device to add voice control.
Here's what it boils down to: If you're in it for the smart home possibilities, you'll probably be more happy with the Beam. If you're in it for premium sound in your home theater setup, you'll probably want the Playbar.
Connectivity
Good news, folks! Here's where the Playbar and Beam are most alike. Here's the lowdown:
Wi-Fi: 802.11b/g, 2.4 GHz - both devices connect directly to your Wi-Fi router. Sonos doesn't use Bluetooth, because its products can produce superior sound using Wi-Fi.
AirPlay: Sonos has been promising AirPlay support for quite some time and it seems we'll soon see Apple's streaming technology come to several of Sonos's products. That will definitely include the Sonos Beam, but Sonos doesn't appear to be bringing AirPlay 2 support to the Playbar.
Ethernet: If your Wi-Fi is troublesome, you can connect your Sonos Playbar and Beam using the built-in 10/100 Mbps Ethernet port.
Other features
You'd think these devices would find their differences in the "extra features" category, but not so! It seems the built-in sound systems and overall purpose of these soundbars is what sets them apart. Here's what you need to know about the other features available to both the Playbar and the Beam:
Speech Enhancement: Like the Reduce Loud Sounds feature on Apple TV, both soundbars include a toggle for speech enhancement. The setting will keep dialog at a consistent level and reduce the volume of loud sound effects.
Night Sound: If you're watching television after folks have gone to bed, you don't want to wake the whole house with your favorite war movie. Toggle on this feature and quiet sounds will be enhanced (so you don't have to turn up the volume). The intensity of loud sounds will also be reduced. Everyone sleeps peacefully and you get to watch your gritty flick. Bliss.
Price
Last but not least, let's talk pricing. As you might imagine (because of its beefy specs), the Playbar is more expensive than the Sonos Beam. The Playbar is meant to serve as the pretty-damn-good beginning of a full-on home theater sound system. The Sonos Beam, on the other hand, is an excellent-sounding smart speaker that you can use with your TV.
Without further ado, here's what you're looking to spend:
Questions?
Is there more you'd like to know about the Sonos Playbar and Beam? Be sure to leave your questions in the comments or fire off a question over on Twitter!
Mikah Sargent is Senior Editor at Mobile Nations. When he's not bothering his chihuahuas, Mikah spends entirely too much time and money on HomeKit products. You can follow him on Twitter at @mikahsargent if you're so inclined.
I thought I saw that the older Sonos devices weren't going to get AirPlay2 ... I have the PlayBar as was disappointed when I heard that.

Hey, Check that stated fact that Playbar will get Airplay2. Sonos has not confirmed that. I'm hoping for it, but disappointed they did not announce it.

You missed several important things which are very well known and easy to find..
Nothing about the Beam having HDMI ARC control which is a pretty big one to miss.
Also Sonos has said the Playbase will get Airplay 2 but not the Playbar.
Way too many iMore articles like this that seem poorly researched.
Thank you for signing up to iMore. You will receive a verification email shortly.
There was a problem. Please refresh the page and try again.