How to fix a frayed charging cable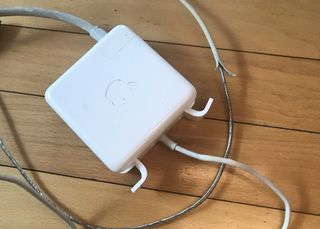 (Image credit: iMore)
If you haven't felt the absolute horror of seeing some exposed wire from your MacBook charging cable, then consider yourself lucky.
I've owned quite a number of MacBooks over the years, and every time I end up going through one or two charging cables. Am I harsh with them? Maybe. Do I bandage them up and try to make them last forever and ever? You bet your bottom dollar, I do.
Sure, you can easily go and pick up a new charging cable, but that costs a lot of money. So what's a less expensive – yet effective – solution? We're here to help!
Here are a number of different ways you can fix the fraying charging cable of your MacBook!
Flex Tape
If you're looking for a super strong, super durable, relatively easy to use and inexpensive tool to fix your MacBook's charging cable (especially if the damage is to the cord itself!) then take a peek at the very appropriately named Flex Tape!
Designed as a thick yet flexible rubberized, waterproof tape that can easily twist and conform to almost any shape or object, Flex Tape acts as an additional layer of protection against any unwanted zaps from your charger's exposed cord. The material it's made with is also environmentally friendly and can can survive a wide-range of temperatures and outside conditions.
While you won't need much Flex Tape to fix your cable (unless you're like my boyfriend who has a foot of exposed wire he refuses to do anything about), having this stuff on hand just seems like a handy fix-it tool, especially when it comes to your MacBook.
You can pick up Flex Tape in large (4" x 5'), jumbo (8" x 5'), or giant (12" x 10'), and the best part? You can choose between black or white so it seamlessly blends into your charging cable!
Liquid Tape
While tape is an okay fixer-upper tool for your MacBook charging cable, liquid tape has your bases taped down a lil' bit better.
Designed to essentially be liquid electrical tape, this fast-drying adhesive is built to dry to a rubber based coating that still allows your cable to move flexibly and freely while keeping its wires secure and under wraps.
While you can pick up Liquid Tape in black, red, or green, look for the Liquid Tape in white to have it blend in better with your charging cable.
See at Amazon (opens in new tab)
Sugru
Sugru's mantra says it all: Stick it. Shape it. It turns into rubber.
The rest is really up to you!
Sugru acts as a super durable Playdoh of sorts. A mouldable glue, this adhesive putty is designed for fixing, making, and improving your things: and it's the perfect thing for patching a hole in a MacBook charger.
The Sugru is made to stick to almost anything and once it's been cured, can even bend and move like the plastic coating on your cable. Once you get your Sugru, the putty will stay good for around 13 months before it gets difficult to mold and work with.
You can buy the Sugru in a ton of fun colors, including red, brown, silver, blue, orange, green, pink, and yellow, or you could stick to the standard black and white.
Oh! And did we mention that they make their own tech-specific fit-it kit called the Rebel Tech Kit (opens in new tab)? You're welcome!
See at Sugru (opens in new tab)
Electrical Tape
If you're really in a pinch to fix up your MacBook charging cable, then dig out an old roll of electrical tape and get tapin'!
It may not look like the prettiest DIY fixer-up job for your cord, but it totally does the trick – at least for a little while. Electrical tape isn't the easiest thing to work with, and so it may punch and peel, even leaving a residue behind if you decide you want it off.
The best part about electrical tape? It's cheap, so you can use as much of it as possible without feeling super guilty. Huzzuh!
See at Amazon (opens in new tab)
Or when all else fails…
Talk to Apple (or just pick up a new cable)
If you're still under warranty on your MacBook or have AppleCare, you may be able to get a replacement cable for free, depending on the type of damage. If you can't, well... you may have to suck it up and buy a new cable.
It's a pain (we know), but it's better than risking a fire-hazard or a big nasty shock.
How have you fixed your fraying MacBook charging cable?
Are you the type of person to hold onto your busted cable and keep performing Frankenstein-like surgeries on it to keep it alive? Or would you rather say "screw it" and buy a brand new cable?
Let us know how you've fixed your fraying fiascos in the comments below!
Cella writes for iMore on social and photography. She's a true crime enthusiast, bestselling horror author, lipstick collector, buzzkill, and Sicilian. Follow her on Twitter and Instagram: @hellorousseau
X-treme Tape. Multiple colors. Works every time. Available on Amazon.

I tried the liquid tape on our vacuum cleaner power cord (someone ran over it with the beaters turning) and the stuff pealed off within a month or so.

What is the deal with Applecare here? I have a 2 year old Macbook Pro and the cable is frayed a lot. I feel this is a design fault as it should last as long as my Applecare. Would I get much joy marching into my Buchanan St., Glasgow store?

Apple cables are known to fray really easily. I'm not sure what's available for the Mac in terms of alternatives, but if I'm buying a Lightning cable for my iPhone, I always buy an alternative, I'd never buy an Apple one. Every Apple iOS cable I've had has frayed, yet the Lightning cable I bought from another company has lasted me years

Downvote all you want but it's true, spoken from my own and friends' experiences

Well as soon as my cable started to break I took it to my apple store in Aberdeen, UK. I told that I have handled it with care and asked if it was covered under my apple care and it was. Got a new one on the same day. It could have just been a fluke, but it doesn't hurt to ask.

Wow. This has never happened to me, thankfully. I have three MacBook chargers. Two came with each of my MacBook Pros. When I got my MacBook, it didn't come with one, but I bought a spare on eBay. My Lightning cables (I also have three of those) are all in great shape. Actually, I never even took the one that came with my iPhone 6s out of its box. My original one, which came with my iPod touch 5th gen. died within a couple of months, but that was all my fault because I had a habit of bending it toward the top when I put it away.

I don't subscribe to the bunk theory that it's solely Apple's fault for cables that fray. My wife and I both have iPhones and iPads. She's careless with her tech and it shows in her cables fraying and breaking while mine are all perfectly fine, including my original mid-2009 MBP charger cable. It comes down to not stressing them, wrapping them incorrectly, yanking on them to unplug them, etc.
All that said, I've used Sugru to fix many of my wife's cables over the years. Amazing stuff. Just don't make it too thick as it loses some of it's flexibility.

I look after my equipment, but obviously I take cables with me. I never yank the cable out by the wire, but I do shove it in my pocket (which has never caused me any problem with any other cable, they're cables for a reason, they bend). However most of Apple's own chargers I've used do fray, even if it's just a little bit. I started buying alternative MFi Lightning cables and haven't regretted it since, I've never had one fray. It's unfortunate to say, but Apple cables fray incredibly easily, at least compared to other cables. I don't know what material Apple use, but it feels different than the rest of my cables, and it seems its the cause of the fraying. I recommend Anker braided cables, they're fantastic, much much better than what Apple gives you

apple cables are crap because they are made from soft rubbery coatings. They wire inside eventually takes all the force and will fray after the coating is gone. They need to just use better outer materials that can take the load.

+1. It annoys me when people say "You don't look after the cable" or "It's not Apple's fault". I've never had this problem with other phone cables, only with Apple cables, this is why I buy Anker Lightning cables now. Never had them fray or break

I've repaired cables with both Sugru and Flex Tape. The latter works far better. Never heard of Liquid Tape but I am very skeptical. Electric tape will only be good for a few weeks. Although I'm sorry to see Magsafe go, it's effing fantastic that the new chargers have replaceable cords as part of the design.

I would encourage folks to try silicon tape. This is a self-fusing repair tape that has been used by industry, the military, etc. for a long time and is a proven product. Silicon tape is made out of specially formulated silicone rubber. It contains no adhesives; yet chemically bonds to itself upon contact. Simply stretch and wrap for an airtight, waterproof seal. I have used it to successfully repair multiple magsafe chargers. Repairs are still going strong after several years. Cheers. Sent from the iMore App
Thank you for signing up to iMore. You will receive a verification email shortly.
There was a problem. Please refresh the page and try again.