Sprinkle your photo with captions, stickers, and emoji, all thanks to Microsoft Sprinkle!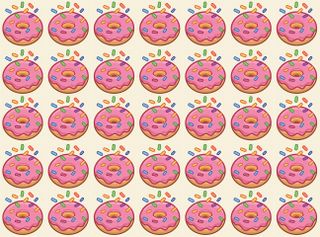 Alright, I'm just going to jump right into this:
Microsoft has just thrown its hat into the sticker-editing/caption-adding/photo-fun-ifying ring with Sprinkles, making it the 400th app available online that lets you add emoji and special effects to your photos.
Now before you say "Boy, Cella, you sound bitter, isn't this is completely different?", keep in mind: You can do exactly what this new app does in varying degrees with Snapchat, Instagram, Facebook AND Facebook Messenger.
Are there subtle differences? Absolutely.
Does it make the Sprinkles app worth downloading? That's really up to you!
How is this different from other apps that do the exact—er, I mean similar things?
Sprinkles doesn't just give you funny doodles and stickers to add, it also uses object recognition technology as described by AppAdvice) to identify the subject of a photo and provide "witty" automatic captions and editing options.
For example, if you upload a photo of a dog, it'll recognize that it is in fact a dog, and recommend emoji and captions based on said pupper.
The app also uses outside apps and features like "How Old" – a facial recognition app that guesses your age – and can match your facial features to that of celebrities. You know, if you like that sort of thing.
Also, you can't shoot video!
... And there aren't any live filters, either.
How is it similar to other apps?
Where do I start?
Captions, emojis, stickers…
When is it available?
You can download it in the App Store right now (opens in new tab)!
Will you be sprinkling your photos with Sprinkle?
What do you think, iMore folks? Is Microsoft's app worth sprinkling features onto your images? Or will you just stick with your Snapchat, Instagram, Facebook (the list goes on and on…) sticker app of choice?
Get the best of iMore in in your inbox, every day!
Cella writes for iMore on social and photography. She's a true crime enthusiast, bestselling horror author, lipstick collector, buzzkill, and Sicilian. Follow her on Twitter and Instagram: @hellorousseau
Thank you for signing up to iMore. You will receive a verification email shortly.
There was a problem. Please refresh the page and try again.