Subway UK Subcard app adds support for Passbook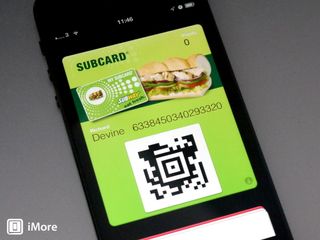 As time passes by here in the UK, Passbook support continues to grow. This time up it's the turn of Subway, with an update to their Subcard app that allows you to finally add your card to Passbook on your iPhone. Your Subcard ID and recent transactions can now be accessed from your Passbook wallet.
That's all that has been added, but to see such apps integrating Passbook is welcome news. Particularly here in the UK, Passbook enabled apps have been slow to take off, but in recent weeks we've seen two of the country's biggest Airlines add support, and Apple themselves have added Passbook to their iTunes Festival application. This also follows the news that Starbucks is the largest use case in the U.S. of mobile wallet apps, another Passbook integrated application. What do you guys have in your Passbook? Mine is a little slim, with only the Subcard and Starbucks card in there at the moment, how about you?
Since I don't drink Starbucks, go to Odeon or use a particular airline this will be the first time ill use passbook. It's a shame that technology like this isn't being fully explored by more shops. It's about time Subway optimised their app for the iPhone 5 and Regina display. GAME also recently done the same with their app so its possible they will expand into passbook in the future, we can only hope.

As with OllieLeake, this is my first ever use for Passbook. I've always used the app, which I'm not really seeing any difference against to be honest, it's essentially just the same thing isn't it (your card in QR code form). The only advantage I can see here is that it appears to be always instantly ready, whilst the app has to connect to data before it'll show your card. Also, can I now delete the Subcard app? There doesn't seem any point in having both the app and Passcard now, but not sure if they need to be linked somehow.

I wouldn't delete the Subway app, I think passbook reads the information from the app still. The benefit of passbook which Subway don't seem to be using is the geofencing. With the starbucks section, I have added my favourite stores so when I am close by and flash my screen on (no need to unlock) I have a notification so it only takes one swipe to get my card on the screen. With the subway passbook I still have unlock, find passbook, then open the subway card. Hopefully they will add geo fencing in an update.

hey look, an advertisement!

Honestly, I would eat at Subway a lot more if I could use this in the US. Sad but true.

can seem to find it in the "apps for passbook" bit

Works for UK & Ireland, just updated my app there.

If you load up passbook and go "apps for passbook" it's not there and I am in the UK
Get the best of iMore in in your inbox, every day!
Thank you for signing up to iMore. You will receive a verification email shortly.
There was a problem. Please refresh the page and try again.