Swiftkey for iOS update shows just how awful you type with Tap Map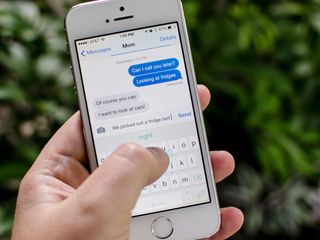 In the latest update, Swiftkey has introduced some new features to the popular custom keyboard for iOS, such as Tap Map, usage stats, and additional language support. Swiftkey is all about improving your typing accuracy, and the new tools give users visibility of their typing habits. Tap Map will show users where they are pressing on the screen, and how Swiftkey uses artificial intelligence (AI) to accommodate their habits. Behind the scenes the keyboard will adapt based on the information collected to give the most accurate typing experience possible.
In addition to Tap Map, Swiftkey is going to begin showing usage stats on iOS. Android users have previously been able to see how many taps they have saved, or how many words were corrected, and this is now making the move over to iOS as well.
Lastly, the update brings support for Arabic, Hebrew and Farsi, which is something many users have been requesting. Swiftkey will be dishing out prizes to the best and worst Tap Maps, to participate Tweet yours with the hashtag '#tapmap'. The update is available now on the App Store, and if you are not already using it be sure to give it a shot at the link below.
Jared started off writing about mobile phones back when BlackBerry ruled the market, and Windows Mobile was kinda cool. Now, with a family, mortgage and other responsibilities he has no choice but to look for the best deals, and he's here to share them with you.
Where are the features that the Android people have had for months? *No numbers row
*No arrow keys to move the cursor
*No themes No more gimmicks please!

One thing Android users have and I don´t is performance. Swiftkey runs wonderfully on my Moto X, but terribly on my iPhone 5. It is slow to appear etc. I know my phone is old, but most apps seem to run quite fine on it. I am stuck on the default keyboard.

I am also an Android and iOS user and I totally agree with this. However I believe that this is not the keyboards issue, but rather iOS 8 and the API developers are using that causes the issues.

Makes sense. Here is to hoping iOS 9 helps.

I'm in the same boat. I tried Swiftkey on my iPhone 5 and it was terrible... So, I was left with no choice except stock kb. Sent from the iMore App

Hello dc9, Sorry to hear that. We are always looking to improve the overall experience on all products. Our iOS app is still on version 1 with performance and features coming in future releases. If you ever have any issues, I'd suggest submitting it via our support site support.swiftkey.com Cheers, Ryan, SwiftKey Community Manager

Don't worry, it is slowish also on iPhone 6. At the moment stock keyboard is far more accurate and has better prediction than Swiftkey. Luckily for us, Swiftkey is being developed as is the OS. we just have to wait. Sent from the iMore App

I've been noticing lately that sometimes Swiftkey will not even initialize when tapping the text box in certain apps, Messages for example.

Thanks for the feedback. Our iOS devs are working hard on improving the overall experience with the app. All feedback and bug reports are welcome and better reported to our team via support.swiftkey.com Cheers, Ryan, SwiftKey Community Manager

I want to like Swiftkey and the other third party keyboards but I just can't. I have tried to use them repeatedly and j always go back to stock. They just aren't smooth like stock. Hoping they get up to par with stock soon, and that Apple will loosen some of the restrictions (like the dictation thing). Sent from the iMore App

Yeah, it's slightly sluggish. I've just moved from iPhone 5 to 6 and I can see a slight performance boost when the keyboard launches and in typing, but overall it hasn't changed much. Like the others have said previously, it's more of an iOS 8 restrictions than anything else. I used to love SwiftKey back in the day when I had Android - now I just use the stock keyboard on my iPhone 6, which with some of the restrictions works near flawlessly (I do miss swiping though).

I love Swiftkey, but I won't make it my go to keyboard until they integrate dictation and voice messaging. These functions are imperative when driving or when too busy to type a paragraph. Sent from the iMore App

Sadly, voice dictation is not accessible to 3rd party keyboards at this time. Cheers, Ryan, SwiftKey Community Manager

I am guessing apple didnt open the api for heptic feedback while typing cause thats the main feature i miss from Android.
Thank you for signing up to iMore. You will receive a verification email shortly.
There was a problem. Please refresh the page and try again.