T-Mobile introduces JUMP, upgrade/replace your phone any time you want (theoretically)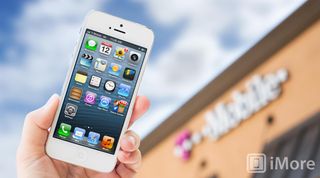 T-Mobile US has announced JUMP, a new phone trade-in program that lets customers upgrade their phone twice per year, or replace it in case of screen breakage, water damage, or device failure. For $10 per month, Jump allows customers to trade in their current phone and buy a new one for the same price as a new customer would. Additionally, customers will trade-in their old devices without having to pay off the remaining balance due. Here's how T-Mobile (opens in new tab) describes Jump:
Why would anybody want to keep you from having the phone you want at a great price? Introducing JUMP!, a revolutionary new upgrade program, only from T-Mobile.
Upgrade to the latest smartphones twice every 12 months. Not once every two years.
Existing customers can get the same great phone prices as new customers. Simply trade in your old phone when you upgrade.
Protect your investment with the included Premium Handset Protection and Mobile Security. Learn more about PHP. Only T-Mobile offers all of this with no annual service contract.
Jump is in direct contrast to those made by Verizon and AT&T, which have both recently changed their policy to force customers to wait the full 24 months of their contract before they can upgrade. This will be a good move for people who like to upgrade their iPhone every year, but also for the people who bought an iPhone 5 from T-Mobile when it launched on the carrier back in April who may want to upgrade to the new iPhone that is expected later this year.
T-Mobile also announced new family plans that would start as low as $100 for 4 family members, including 500MB of data each.
Anyone planning on jumping on Jump?
Source: T-Mobile (opens in new tab) via Windows Phone Central, x2
Joseph Keller is the former Editor in Chief of iMore. An Apple user for almost 20 years, he spends his time learning the ins and outs of iOS and macOS, always finding ways of getting the most out of his iPhone, iPad, Apple Watch, and Mac.
Okay, so how does this work if I got my iPhone in April and still owe on the eip?

First, realize this takes the place of their $8/mo protection package.. So if you're already paying for that, might as well as bump up to jump. ;) Second, senario: You have iPhone 5, you join Jump. 6 Months after you add it to your plan, you can walk in, hand them your old iPhone (or any phone on EIP) and pay the downpayment required for a new phone. 1. Your old EIP is no longer; it's paid for..
2. You start a new EIP for new phone. Just as if you had just walked in.
3. Now you have to wait at least 6 months before you can upgrade again.
4. This still covers lost and accidental damage like old protection plan. You have a downpayment to make to replace/repair phone. I wonder if there is a wait period like the upgrade part and if you just upgraded is it covered for the next 6 months? Not sure on details of that part. Need to read fine print.

If their coverage was good, I would do it. A smartphone without coverage is as useless as a bucket under a bull. I can only hope that VzW does this (cue laughter)

I currently have t-mobile and the price point is definitely a competitor. The features that come with each plan are competitive, if not down right the best of all the American carriers have to offer. The fact that they have seen the light and only require me to pay for the phone itself is groundbreaking. Being able to bring my own phone and use it is wonderful. However the service (data), which is what is really important now in 2013 is laughable. Here in my "metropolitan city" I get Edge In a lot of areas except near the major attractions (clubs, nightspots and the richer areas). Even when I do get 4g it never seems to work and the main servers are in the better areas... Meh hopefully it will improve though

And tmobile looks even better and more tempting. Sent from the iMore App

Way to go TMo! Love this, I only wish I could switch to TMo. The problem being coverage, and only because I travel across the country. My VzW contract is up in November and I will always pay full price for a phone so I don't have to renew a 2 year contract. Sent from the iMore App

I would do this in a hearbeat if my carrier (AT&T) offered it. Unfortunately AT&T and Verizon couldn't care less about what T-Mobile and Sprint are doing and are only competing with each other to see who can screw over their customers the most.
Thank you for signing up to iMore. You will receive a verification email shortly.
There was a problem. Please refresh the page and try again.