Take control over your Wi-Fi signal with NetSpot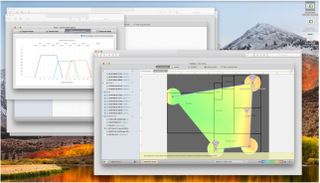 Planning Wi-Fi coverage of a large or Wi-Fi busy area can be a daunting task. Overlapping radio signals, building materials, practical installation locations, and the number of devices all come into play. If you've ever had to provide Wi-Fi coverage, or if you are having issues with dead zones in a current Wi-Fi network, then NetSpot can help you troubleshoot and plan better coverage of just about any sized area.
NetSpot
NetSpot by Etwok offers a professional Wi-Fi site survey application that includes signal strength discovery tools and an easy to read "heat-map" of your Wi-Fi coverage. It comes in three versions: a home user version that offers a single user license for up to two zones for $49; a Pro version with a single user license and a technician license for up to fifty zones for $149; and finally, an enterprise license for 10 users and 10 technical licenses for unlimited zones for $499.
Note: We were provided an unsolicited Pro version of the software free of charge for this article.
NetSpot's "Discover" tools
NetSpot's discovery tools, offer easy to navigate and detailed Wi-Fi radio signal information, including information on congestion, signal noise, frequencies, and signal strength of not only your network, but any adjacent network that is in proximity. This information can help you tailor your Wi-Fi signal to reduce interference and maximize throughput.
How to use MacOS Wireless Diagnostics to get the best possible Wi-Fi settings in your area
By itself, the "Discover" tools offered by NetSpot are nice, but not anything you couldn't already discern from your Mac with built in tools. NetSpot, however, gives added visual cues so that at a glance visual representation of various radio qualities can be quickly discerned. It's a very nice addition.
NetSpot's "Survey" tools
NetSpot's "Survey" portion is truly the gem of the software. You can provide a layout of your area — or if in a pinch, draw your own layout with built-in tools — and then run a multi-point site survey of the signal strength over the entire layout. Running my own quick and dirty site survey in my home showed me where I had a weak signal strength, which confirmed some anecdotal complaints I was getting. It offers a simple signal strength reading, or you can opt for a more comprehensive view of your network that can also report your download and upload speeds.
The color-coded heat-map helped me reposition my Linksys Velop mesh router system for even better coverage of my home.
Final comments
For home users, a site survey of your Wi-Fi signal strength is probably overkill if you're currently using a single access point. However, if you've found that you are in need of a mesh router system, or if you are experiencing dead zones that you can't overcome, then a $49 investment is undoubtedly worthwhile. For the professional or enterprise user (I'm looking at you hotel Wi-Fi suppliers) having good coverage can be part of a positive experience for your customers even if Wi-Fi isn't the principal focus of your business. You could potentially save thousands of dollars by running a site survey and repositioning access points rather than buying more APs.
What about you? Is getting a site survey worthwhile? Have you had experience with other applications? Let us know in the comments!
Get the best of iMore in in your inbox, every day!
Thank you for signing up to iMore. You will receive a verification email shortly.
There was a problem. Please refresh the page and try again.