With TeamViewer 13, sharing your iPhone screen is easier than ever!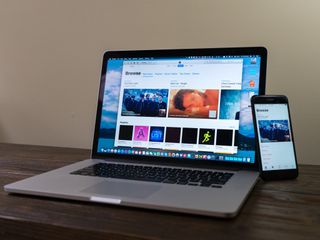 (Image credit: iMore)
So you're a tech support guru, or... you're the go-to tech genius for your friends, family, or anyone in earshot who knows your name. Traditionally remote support on a Mac or PC has been a cakewalk. There are dozens of VNC clients, from Apple's built-in screen sharing to Apple Remote Desktop, Messages' built-in screen sharing, and any number of other apps that allow you to collaborate with others by sharing a computer screen. Remote iOS device support is something else altogether and more akin to a round of Keep Talking and Nobody Explodes than actual "support" and much less fun.
With a recent update for TeamViewer, you can now remotely view what is on someone's iPhone or iPad screen using the iPhone's built-in screen recording feature. It's the best workaround remote mobile device screen viewing that's been created so far.
Back in the old days
Before TeamViewer viewing an iOS device screen remotely required Rube Goldberg-esque machinations that combined macOS screen sharing, iOS devices connected via USB, and QuickTime. With QuickTime open you can view the iOS device's screen. Not elegant, not conducive to good tech support, and not something you want to do.
Shortly after the release of iOS 11 TeamViewer announced the arrival of TeamViewer 13, which includes a new remote access feature for connecting to and viewing iOS device screens. TeamViewer's iOS screen sharing takes advantage of iOS 11's new screen recording feature and requires the installation of TeamViewer's iOS QuickSupport app to allow the TeamViewer Mac or PC client to connect.
Check out your mom's iPhone screen from your mac
Once you have both TeamViewer 13 and QuickSupport installed, viewing your iOS device screen is simple:
Swipe up from the bottom of your screen to access Control Center on your iPhone or iPad (If you don't see screen recording in Control Center, add it via the Settings app).
Tap and hold the screen recording button.
Tap TeamViewer.
Tap Start Broadcast.
A TeamViewer QuickSupport notification then asks you to open the app to get the device ID your Mac or Windows computer needs to connect to your iOS device.
Once connected you have several options:
View the remote screen
View System information
Add configuration profiles
It's not perfect, but its the best we've got
TeamViewer has limitations, some of which are due to security features built into iOS. Remote access is view only. Your remote users can send you screenshots, chat with you via text, and allow you to view everything they're doing on the screen. Of note: TeamViewer gives you full control over Android devices. Not saying that's better, only that it's possible.
TeamViewer has some oddities. You can use it to send files to devices, but I couldn't find any way to access those files once they were on the iOS device. I suspect they were in the app's Sandbox on the iOS device, but there was no way to figure that out. Additionally, my Mac kept telling me that TeamViewer was going to disconnect because I wasn't doing anything when I was actively working on a device, sending messages and looking at screens. And if the iOS device isn't being used actively, once the screen locks the TeamViewer connection drops.
How much does it cost?
You can use TeamViewer for free if you're not using it for commercial tech support purposes. The TeamViewer application on your Mac or PC pays close attention to how often you're using the app and warns you regularly if it thinks you're doing commercial work on a free license.
Paid TeamViewer licensing ranges from $50-$200/month. Mobile device management is an additional $33/month. That amounts to a minimum of $1000/year to support both computers and mobile devices. The additional $400/year for mobile support is a pretty large nut for the few times I'd need to use it. But if you support a lot of handheld devices, the price is easily justifiable.
Pricing aside, I found TeamViewer for iOS to be a useful and powerful tool for helping remote iOS users through tech support sessions and an excellent addition to TeamViewer's standard set of desktop support tools.
Have another iOS tech support headache?
Tell us what it is and we'll try to find a solution.
Master your iPhone in minutes
iMore offers spot-on advice and guidance from our team of experts, with decades of Apple device experience to lean on. Learn more with iMore!
Jeff is a writer, actor, Apple Certified Trainer, and IT consultant, born and raised in A-town and now living in NY. You can often catch him behind the scenes and on stage at County Players, Falls Theatre. Up next? He's stage managing *Cat on a Hot Tin Roof* at the aforementioned County Players.