This is Tim: Apple's CEO on iPhones 6s, China, and more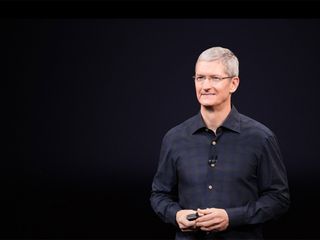 Apple CEO Tim Cook spoke with analysts during the company's Q4 2015 earnings call and answered questions about the iPhone 6s, China, and more. Here's our live transcript of his remarks, courtesy Serenity Caldwell and special guest Jason Snell of Six Colors!
Opening remarks
Good afternoon, everyone, and thanks for joining us. Today we're reporting a very strong finish to a record-breaking year, and I'd like to reflect on some of the highlights. We completed our fiscal year in September, and we are proud to report revenue of 234 billion, an increase of 28 percent, and 58 billion dollars over 2014. This is our largest absolute revenue growth ever.
To put that into some context, our growth in one year was greater than the full-year revenue of almost 90 percent of the companies in the Fortune 500. We made huge in-roads into emerging markets, generating over 79 billion dollars in revenue and growing 63 percent, despite very strong headwinds from foreign exchange rates.
These results are made possible by Apple's commitment to innovation, and creating the best products on Earth. In the past 12 months around the world, we've sold over 300 million devices, including 231 million iPhones, 55 million iPads, and 21 million Macs, setting new unit records and increasing our global market share for both iPhone and Mac.
We crossed 100 billion cumulative downloads from the App Store, and we added powerful new services to our ecosystem including Apple Pay in the United States and the United Kingdom, Apple Music in over 100 countries, and Apple News in the U.S. We also entered an entirely new category with Apple Watch, and we are in the very early innings of this promising new part of our business.
We generated over 53 billion dollars in net income, and grew earnings per share by 43 percent. We returned almost 50 billion dollars to shareholders through dividends and share repurchases, while continuing to invest competently in research and development, marketing and distribution, our retail and online stores, our supply chain, and our infrastructure. We also completed 15 acquisitions to enhance and accelerate our roadmap for products and services.
We accomplished all of these things while intensifying our efforts to protect the environment, to promote equality and human rights, and to ensure the security and privacy we know our customers deserve.
We're ending the year on a high note with a record-breaking September quarter, including sales of 48 million iPhones, beating our expectations and up 22 percent year over year. Momentum for iPhone 6 and iPhone 6 Plus remained very strong across the quarter, and we established a new launch record for iPhone 6s and iPhone 6s Plus near the end of the quarter.
We're seeing strong interest around the world, and we've been getting great feedback from customers who love the iPhone's new features, including 3D Touch, Live Photos, the new iSight Camera, and the powerful new A9 processor in the iPhone 6s and 6s Plus.
We exited the quarter with demand for our new iPhones exceeding supply, but we've made good progress with our manufacturing ramp in the initial weeks of October.
We sold an all-time record 5.7 million Macs, continuing to defy the negative trend in the global personal computer market, which IDC estimates contracted by 11 percent.
The App Store set new all-time quarterly records for both the number of transacting customers and overall revenue. The strong performance of the App Store helped fuel 5.1 billion dollars in services revenue, also an all-time record. Sales of Apple Watch were also up sequentially and were ahead of our expectations.
This quarter, we introduced beautiful new Apple Watch cases and bands, including new gold and rose-gold aluminum Apple Watch Sport models. We released watchOS 2 in September, paving the way for a whole new class of native apps that are faster, and can take advantage of the hardware capabilities of Apple Watch such as the microphone, speaker, and the heart rate sensor.
Today, there over 13,000 apps on the Watch App Store, including over 1300 native apps such as Facebook Messenger, MLB At Bat, and RunKeeper, and the number is growing rapidly. Apple Watch has already had a tremendous effect on customers' health and fitness, and the stories we're hearing about its impact are truly inspirational. I've personally heard from people who credit Apple Watch with saving their lives. And customers are finding new applications all the time in their day-to-day activities.
Revenue in greater China nearly doubled year-over-year, and we continue to focus and invest heavily there. I just returned from a four-day visit to Guangzhou and Beijing, where we announced major new initiatives to provide renewable energy for our supply chain. I also visited our retail stores in China, which are among the busiest in the world.
On Saturday, we opened a new store, our 25th in greater China, to a very enthusiastic crowd, and we are on-track to achieve our goal of 40 stores by the middle of next year.
Yesterday, we started taking orders for the all-new Apple TV, and it was a huge first day for this exciting new product. We want to provide the same innovation in the living room that we've delivered in our iOS devices. People are already watching more TV through apps today, and we think apps represent the future of TV. We've built a new foundation around this vision, with a new operating system called tvOS, innovative ways to connect with your screen, and a smart use of Siri to search for what to watch.
Next month, we'll begin shipping iPad Pro, the most powerful iPad we've ever made. iPad Pro will enable a new generation of apps for entertainment and productivity, design and illustration, engineering and medical, and much more. And with the Apple Pencil and Smart Keyboard, users can customize their experience, making iPad Pro an even more powerful tool for everyone from students to artists to business professionals.
iOS 9 has hit the ground running, on track to be downloaded by more users than any software release in Apple's history, with 61 percent of active iOS devices already running it less than six weeks after its September the 16th release. In late September we also launched OS X El Capitan, which has made the world's most advanced desktop operating system more refined and powerful than ever before.
Apple Music has set a new standard, redefining and combining the best ways to enjoy music in a single, immersive app. Over 15 million individual and family accounts are experiencing Apple Music, including over 6 and a half million paying customers. We're thrilled to bring Apple Music to China beginning this quarter, along with iTunes Movies and iBooks, and we're especially happy to offer such great, new, and diverse content to our large, highly-engaged, and rapidly growing customer base in China. We're also looking forward to bringing Apple Music to the new Apple TV beginning this week.
Apple Pay is seeing double-digit growth in transaction, month after month, and we continue to add major businesses including Starbucks, which will roll out Apple Pay support to all its U.S. stores in 2016. Apple Pay now supports merchant rewards programs as well, and popular retailers will be coming online in the next few weeks.
We're thrilled to announce today that we're partnering with American Express to bring Apple Pay to eligible customers in key global markets, so even more people can experience the easy, secure, and private way to pay. Apple Pay will be available to eligible American Express customers in Australia and Canada this year, and is expected to expand to Spain, Singapore, and Hong Kong in 2016.
The reach of our ecosystem continues to grow, and iOS is changing more and more aspects of our customers' lives in very meaningful ways—from their health, to their homes, to their cars. In health, there are now more than 1600 HealthKit-enabled solutions that are helping us live a healthier day. In the home, there are over 50 brands working on HomeKit-enabled accessories that can be privately and securely controlled from your iPad and iPhone. And in the car, more than 50 automobile models have been announced with CarPlay support, which provides a smarter, safer, and more fun way to use iPhone in the car.
And we will continue to work to make the iOS experience even more meaningful across more touch points of our daily lives.
The impact of ResearchKit also continues to build: We recently announced new studies on autism, epilepsy, and melanoma, adding to the important studies already underway on conditions from asthma to diabetes to Parkinson's disease.
Our iOS News app is off to a great start: Nearly 40 million people are reading Apple News, and we've been getting very positive feedback from the publishers. We have now signed more than 70 publishers representing hundreds of titles, and we're happy to announce that News just launched in the United Kingdom and Australia with partners such as the BBC, News Corp, The Telegraph, The Guardian, Financial Times, Daily Mail, and the Australian Broadcasting Service.
And finally, we're making great strides in the enterprise market, announcing a new strategic partnership with Cisco in September while furthering our progress with IBM in building our mobility partners program. We estimate that enterprise markets accounted for about 25 billion dollars in annual Apple revenue in the last twelve months, up 40 percent over the prior year, and they represent a major growth vector for the future.
I'd like to thank our talented and incredibly hard-working employees, our developers, and our business partners around the world, and of course our very loyal customers for making 2015 Apple's most successful year yet.
On guidance for the next quarter
Katie Huberty, Morgan Stanley: In light of December quarter revenue guidance for only low single digit revenue growth and what looks like increasingly tough comps heading into the March quarter, how do you get comfortable that Apple isn't on the verge of X growth for the first time in a decade?
Tim: You have to consider the constant currency growth rates, and so if you do that, our guidance is actually 8-11 percent, because we have about a 700 basis point FX headwind in Q1. And so, the growth is actually quite good, underneath that, and that's obviously a problem that everyone struggles with.
Sort of zooming out to the more macro question about growth, here's what I see currently: We believe that iPhone will grow in Q1, and we base that on what we're seeing from a switcher point of view. We recorded the highest rate on record for Android switchers last quarter at 30 percent. We also look at the number of people that have upgraded, that were in the install base prior to iPhone 6 and 6 Plus, and that number is in the low 30 percentages, so we feel like we have a very open field in front of us.
Our performance in emerging markets, although it's quite good, and our revenue is good, our market share is low, and the LTE penetration in these markets is quite low. Also, if I zoom out and look at China, as I've said before (and just to make the point once again), is we see an enormous change in China over the next several years. The latest study I've seen from McKinsey indicates that if you look back five years, China's middle class had about 50 million people in it, if you look ahead five years it will have ten times that number in it. And I feel like we're reasonably well positioned in China. I'm sure we can do better, but I think we're doing fairly well there.
It's not the only market that we're working on, obviously—I was really impressed last quarter with our progress in Vietnam and Indonesia and India among others.
Also from the currencies point of view and the weak global economies, we don't overly focus on this, my view is that it's a sort of a transitional kind of thing, and we invest for the long term. So we're continuing to invest for Apple's future.
In addition to those, Apple TV is off to a great start, Apple Watch is just getting going, the App Store hit a new record again last quarter and the growth seems to be really great there. I'm really happy with the early days of Apple Music and the people moving from the free trial to the music business. And finally, the enterprise business is not to be underestimated. I doubt very many people knew that we have a $25 billion enterprise business that we've quietly built in not too many years. Our penetration is low, but we have significant actions going on to really deepen that. So sort of everywhere I look, I see significant opportunity.
Long answer, but I thought you might be interested.
Huberty: If you look at large services companies, Facebook, Amazon, Google, they're all growing over 20 percent and it's largely driven by activity of Apple users on iOS devices. Do you feel like there's more that Apple can do to participate in that services growth? Or are you relegated to fundamentals that are tied to device upgrade cycles?
Tim: Well, the App Store is growing over 20 percent, it grew 25 percent last quarter. And so we feel very good about that. That's become a sizeable business. I would also point out that some of these upgrade programs that are in the market, they sort of begin to look more like a subscription business in terms the way they operate. And so we think that in the aggregate, that they may reduce upgrade cycles, and also the iPhone that has been sold to someone else hits a price point that we're not hitting today, largely, which could help further fuel the services revenue, which we did quite well on last quarter.
On the iPhone upgrade cycle and the Upgrade Program
Gene Munster, Piper Jafrray: Tim, you just briefly touched on reducing the time between upgrades, but how do think about the iPhone upgrade cycle compressing over the next few years? Obviously the impact from carriers changes and the iPhone Upgrade Program. Can you talk a little bit about when that's going to be rolled out internationally? And lastly, Luca, you mentioned some of the accounting changes related to the iPhone Upgrade Program, any sense of what percentage of the S upgrades were associated with Upgrade Program?
Tim: In terms of the Upgrade Program, it's early, but here's what we believe, what our current view is. We do think that the broader upgrade program, not just our program in retail—that is relatively small compared to our total iPhone sales in the company--but the broader thing obviously is that many of the carriers are offering these plans. And that if you look at them in the aggregate, we think that it would have a positive impact on the replacement cycles. We do like the fact that it creates a market for an iPhone at a different price point as well that's a better product than that customer may be currently buying, which will further help from an ecosystem point of view. And that's not to be underestimated.
It also seems like that from a roll-out point of view, you will see these plans offered in a significant way in the United States already, but in fact these plans are being offered in some derivation in over a dozen countries in the world. They're not as pervasive as they are in the U.S., but it seems like we're on the front end of a fairly major trend in the industry.
Luca: From a financial perspective, the transaction on our iPhone Upgrade Program is a purchase, it's not a lease, and so we recognize our revenue up front. Of course we deduct up front the cost associated with the program, essentially to provide interest-free financing and we need to estimate the full value of the upgrade option for the customer. But as Tim said, it's a popular program in our U.S. store, but in the scheme of things it's a small percentage of our worldwide iPhone sales, and so it will have really a negligible impact, for example, on ASPs for the phone.
Munster: And Tim, if we put it all together, is this something that puts a more measurable impact on the business two or three quarters down the road, is that a right way to generally think about it?
Tim: Yeah, we think about it as being… there were some, clearly, that were offered in the market prior to this cycle. But they became much more pervasive and they were communicated, I think, much wider with the September announcements. And so I would sort of expect to begin seeing this somewhere around a year from now.
On long-tail growth
Toni Sacconaghi, Bernstein: I appreciated the color you provided on the drivers of iPhone growth in Q1. I think the investor concern is that Q1 will benefit, at least on a year-over-year basis, from three extra weeks of availability in China, and it will also benefit from more of those initial launch days that only two of them were in the September quarter, and the remainder will be in the December quarter. And so I guess the investor concern is, December is a structurally advantaged quarter in the sense of benefiting from both of those tailwinds on a year-over-year basis. But if we look out beyond December, wouldn't that point to notably lower seasonal growth in the March quarter? And how do we think about the factors affecting unit growth beyond the December quarter.
Tim: We don't guide beyond December as you know, Toni. I do think that the macro things I spoke about earlier, the upgrade programs, the Android switcher rate, the iPhone momentum in the emerging markets, and the LTE penetration in these markets, these trends are not one-quarter things. These are longer term things. And so my same response applies. I think we'll do quite good in iPhone, I do believe we'll grow this quarter as we put in our guidance. When you start with a number in the low 30s in terms of the percentage of the install base that's upgraded, that had a phone pre the iPhone 6 and 6 Plus, that number's still likely to leave a lot of headroom beyond December. So that's how I look at that.
In terms of your first comment, you didn't ask me to comment on that, but just to be clear, our forecasting doesn't work like you articulated it. I recognize that people can have their own models and so forth, but just to make it clear that I'm not agreeing with your point.
Sacconaghi: The reported gains from currency hedging in fiscal year '15 were significant. Several billion dollar contributions to the company. And again, this is not an Apple specific issue, Luca, as you pointed out several times. But how do we think about this notion that currency hedges effectively rolling off and being replaced with hedges that are likely to have less of an impact? How do we think about that impacting the P&L on a go-forward basis, perhaps starting with Q1, but then qualitatively or directionally over the course of the year? And what are some of the kinds of things that you've undertaken or are planning to undertake to mitigate some of those concerns.
Luca: It's a very good point. What's going to happen in practice is that we've got this portfolio of hedge contracts that over time provides protection to our margins and to our results. But that protection diminishes as we go through the year, and so we should expect that. That over time during the course of fiscal 16, that protection will come off, assuming that the dollar stays at current levels. Keep in mind that there are some currencies around the world where we can not economically hedge, and so those currencies are a bit excluded from what we're talking about right now. My conclusion is that the guidance that we're providing for the first quarter, the 39 to 40 percent, is actually an incredible level of guidance given the foreign exchange headwinds that we're dealing with. How do we deal with them? We continue to hedge, so our program continues on an ongoing basis, and we will continue to buy some level of protection to foreign-exchange movements. In some cases we have realigned prices, particularly when we launch new products, we tend to do that in a number of countries where the foreign exchange moves have been particularly extreme. And so, we tend to recover that through pricing. And then finally, of course, we are putting in place a number of cost initiatives that will allow us to deal with the foreign exchange situation. So overall, we feel very strong guidance for the first quarter, and beyond the first quarter, as you know, we're not guiding. And so we'll see over the course of the year.
On the enterprise market and China
Shannon Cross, Cross Research: Tim, I wanted to go back to your commentary on the enterprise business. $25 billion, you said it was up 40 to 45 percent year over year. I know you have a relatively small sales force internally and obviously are utilizing the joint ventures, but as you noted you see it as an important driver of growth. So how do you attack that market going forward? Will there be changes, is this something you need to shift or focus product in a little bit of a different direction to make sure you can adequately attack it? Just in general, how are you thinking about it?
Tim: From a product point of view, we've actually been continuing to change and improve iOS for some time, sort of with every release there are more enterprise features. And so I would describe it as a continuation of that cadence. Perhaps with a little more intensity. From a go-to-market point of view, we are working with IBM, with Cisco, we're already working with 75 ability partners that are principally in the U.S. but that's expanded quickly to international as well. And so many of these companies have, in some cases, very large sales forces. In many cases, a reasonable size sales force. And in addition to a direct sales force, there is a huge worldwide indirect channel that many customers buy from and count on buying some services from. And so I don't envision Apple having a large enterprise sales force. We'll clearly continue adding some people, more on the engineering side, but I don't envision having a large direct sales force.
Shannon: Can you give me some more color on China? 120 percent year over year growth in iPhone, but can you talk in general about what you're seeing in the marketplace, and perhaps where you think you are in terms of penetration from a smartphone standpoint, especially with, say, China Mobile, which has a substantial opportunity to grow given the LTE penetration.
Tim: If you look at China, from an iPhone point of view, in greater China we grew 87 percent, the market grew 4 (if you take iPhone out of the market number, so the market ex-iPhone actually contracted slightly). So we've been able to grow without the market growing. iPhone 6 was the number one selling smartphone in mainland China last quarter, and iPhone 6 Plus was number three. And so we did fairly well. The economic question, which I know there's been a lot of attention on, frankly if I were to shut off my web and shut off the TV and just look at how many customers are coming into our stores regardless of whether they're buying, how many people are coming online, and in addition looking at our sales trends, I wouldn't know that there was any economic issue at all in China. And so I don't know how unusual we are with that, I think there's a misunderstanding probably, particularly in the western world, about China's economy, which contributes to the confusion.
That said, I don't think it's growing as fast as it was, but I also don't think that Apple's results are largely dependent on minor changes in growth. I think other things contribute to that much more. That doesn't say we'll never have a problem there because of the economy, I'm not saying that, I'm not dumb enough to think that. But I just think that the area that it's currently operating within, it's hard to tell a difference at the consumer level for us. You really can't tell the difference, if you look at our daily and weekly numbers. So we're very bullish on it, and I would point out that we're investing in China not for next quarter or the quarter after, we're investing for the decades ahead. And as we look at it, our own view is that China will be Apple's top market in the world, and that's not just for sales, that's also… the developer community is growing faster than any other country in the world, and so the ecosystem there is very, very strong. I was very impressed with a number of the developers I met last week, and of course the customers in the stores are enthusiastically contagious.
On new iOS customers and Android switchers
Steve Milunovich, UBS: Tim, I wanted to talk about the two sources of your iPhone demand, selling to current customers and selling to new customers. In terms of selling to current customers, you indicated about a third of the base has moved to the 6 line. As much as people talk about that being a huge upgrade cycle, and what does the 6s have incrementally, 33 percent's not that big of a number! I'd have thought it'd be bigger than that. Does this suggest that there's maybe more of a consistency to upgrading than the street perceives? And then, on the other side, in terms of new customers, just wanted clarity on the switcher number: Are you saying that 30 percent of iPhone shipments in the quarter went to Android switchers to iOS, and do you believe that you could actually have more new customers to Apple in fiscal '16 than you had in fiscal '15?
Tim: Uh, there's a lot there. Let me start with Android switchers. What this means is that for customers who purchased an iPhone last quarter and replaced a smartphone, that 30 percent of those switched from an Android device. And so, there would've been some switchers on top of that from other operating systems, but obviously, Android is the largest one, by far. And so, that's what that means, and that number is the largest that we've ever recorded since we began measuring it three or so years ago. And so, it's a huge number; we're very, very proud of that number.
In terms of 2016 vs 2015 new customers: It's hard to predict. I'm very happy with how we're doing; we're doing better than we've ever been doing. I know there's a fixation on the upgrade rate—when I look at the upgrade rate, Steve, what I see is, I feel good that it's a low number, because that low number means that there's 69 percent of the people that are out there prior to the iPhone 6s and 6s Plus that haven't bothered to upgrade just yet. That's a large number! And so, I see that as opportunity.
Do I think that it has anything to—does it link to consistency? I think part of it is, and I believe that the iPhone upgrade plans that are out there, as I'd mentioned before, it seems to me—only the future will tell if this is true or not—but it seems to me it's going to act as a catalyst to accelerate some of those upgrades, and I think that's not something that we're going to see this quarter or next quarter, but it seems like it's going to happen, y'know, beginning a year from now or so.
Y'know, it begins to be—you've seen the [new carrier] plans, they look more and act more like a subscription than they do like a purchase. And that's great for the customer, because many of them want to upgrade on a frequent basis, and they can do this very very simply. In terms of "new", I don't know whether we'll have more new or not; I can tell you that that's always our objective.
We want to add a lot more people to the ecosystem, and certainly if you look in the emerging markets… y'know, even, nobody's asking me about iPad on the call, but if you look at iPad as just an example, in China, 68 percent of the people that purchased an iPad, it was the first tablet they've owned, and 40 percent of those had never owned any Apple product. Y'know, just to go through one product with one set of numbers—I don't want to go through a bunch of numbers because it's competitive data that I don't want to share, but these are things that we're very focused on, and the first-time buyer number is surprisingly strong. And keep in mind that we have a good history of, once people buy one Apple product, they have a great experience, they begin to look at other Apple products. And of course we make sure they all work well together.
On percentage of new iPhone users and pricing changes
Simona Jankowski, Goldman Sachs: Hi, thank you very much. Just as a follow-up to that last question, and to put that in context: Roughly what percent of the iPhone shipments come from shipments to the install base versus from new user shipments?
Tim: Uh, I don't know the answer to your question.
Jankowski: Okay, and just a follow-up—as Luca mentioned, you've had to make some adjustments to the pricing in various regions, given the currency moves we've had. What has been the response in terms of demand, I guess both in terms of units and revenues in some of these regions, like Japan or India, parts of Europe where the local price has had to go up?
Luca: Simona, we've made a number of price changes during the course of fiscal '15; what we've seen in a number of these markets, we've seen that iPhone sales have been very resilient, and that's shown in our growth rates. Most recently, we've adjusted some prices around the world for the launch of the iPhone 6s and 6s Plus. We are, y'know, we are very positive about the sales trends around the world. It's a bit early to tell because the phones have been out there just for four weeks, so it's a bit early to tell there. Obviously, y'know, when we increase prices around the world, it's normal to see some impact on sales rates, but so far, we've been very encouraged by the response.
Tim: Let me go back to your question, and this isn't exactly what you're asking, but it will give you, I think, some color. The reason I don't, the reason I can't answer this is, we don't look at it in the aggregate, we actually look at the detail, because it's much more important to us to look at by-iPhone model, by country, what percent is going to a first-iPhone buyer. Somebody that's never owned an iPhone before. And so, if you look at China as an example, it's over 50 percent of people that bought a 6 and a 6 Plus were buying their first iPhone. As you move down the line, that number goes up. And so, a 5s, generally speaking, is higher in most countries. And so that gives you a feel for a very important market, and kind of where the numbers are.
On gross margin
Amit Daryanani RBC Capital Markets: Could you talk about the gross margin dynamic as you go from September to December? The midpoint implies down 40 basis points. I think the last five years that's only happened once that gross margins have gone down in fiscal Q1. So can you just talk about what the FX dynamic, and what are the other headwinds that you think imply that gross margins are down in December.
Luca: On the positive side, of course, as you mentioned, we will have positive leverage from the higher seasonal volume. Also, what we've seen over the last several quarters is a commodity environment that is quite favorable, and we expect it to remain favorable during the December quarter. On the other hand, of course, we are launching a lot of new products. We launched some in September, we're launching some now, and every time we launch new products, we make them better, we add features and new technology, and these products, when we launch them, tend to have higher cost structures than the products that they replaced. We have a very good track record over time to reduce those cost structures, but every time we introduce a new product, there is a headwind at the beginning of the cycle for gross margins.
What is different from a year ago, very significantly, is the foreign-exchange impact that we've mentioned before. It remains a very significant headwind, as I mentioned earlier to Toni I believe, we're dealing with that through a combination of hedging, price realignments, cost initiatives, but on a net basis foreign exchange will clearly be a sequential headwind.
** Daryanani:** Tim, when you talk about seeing iPhone growth in fiscal Q1, I'm curious, is that statement more reflective of iPhone units or iPhone revenues, because I think ASPs could help you get growth even if units aren't there. And then, would you expect to exit within the 5-7 week optimal inventory range in fiscal Q1?
Tim: I don't know about where we'll exit, we make that call late in the quarter as we see what the demand is, because we're actually trying to position the inventory for the following quarter, instead of the current quarter. And so it's very difficult to predict. What was your other question?
[Daryanani restates.]
Oh, is it revenue? I was making a revenue statement, but yes, we expect units to be up as well.
On choosing an iPhone 6s or 6s Plus and the Upgrade Program
Rod Hall, J.P. Morgan: Tim, could you comment on the mix between iPhone 6 and iPhone 6S and whether the mix of demand is any different than what you'd say at the iPhone 5/5S point. Whether there's more demand for the iPhone 6, I know you highlighted that the iPhone 6 is the number one phone in China, for example.
Tim: The statement I made in China was about Q4, and the 6S was only available in China for two days last quarter. The iPhone 6S is the most popular iPhone that we currently sell. In terms of, "Has there been a change?" If you look at iPhone 6 today, and add iPhone 6 Plus, and compare that to last year's 5S, we are doing better at that price point than we were previously.
Rod: On the Upgrade Program, can you envision a time ever, maybe in the U.S. or elsewhere, where you would not have to come into an Apple Store to take advantage of the upgrade? You might be able to do that somewhere else?
Tim: That's a really good question. We actually solved that problem back in 2007, but then quickly had to change it in order to scale in a major way. And so that is something that we is always in our mind, that one day from a customer experience point of view, we would like to make things as easy as possible for the customer. And to some degree, you can already do that with buying online. But there are many different plans and so forth that people buy that they have to come in for. Yes, over time we'd love to have that automated, working with our partners with service providers.
Co-written by Serenity Caldwell and Jason Snell of Six Colors
Master your iPhone in minutes
iMore offers spot-on advice and guidance from our team of experts, with decades of Apple device experience to lean on. Learn more with iMore!