TomTom updated, now optimized for iPad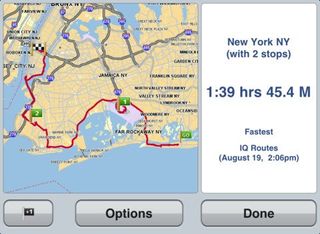 TomTom, the GPS enabled navigation app has just been updated and it now includes an optimized version for the iPad. The app is now a universal binary so there will be no need to pay for an additional navigation app for your iPad if you already have it on your iPhone.
Make the most of your iPad, with a full-screen display that shows you driving view and Advanced Lane Guidance images at the same time. Purchase connected services in-App or easily transfer your existing subscriptions (cellular connection required). When you want to go bigger, move your TomTom App to iPad.
Because roads are constantly changing, on average 15% of roads change every year, your TomTom App update comes with the latest and most up-to-date map.
Your TomTom App is quicker and easier to use than ever. See driving view with one touch from anywhere, access guidance options in a tap, and switch between different route types more easily. It's a simpler way to enjoy TomTom navigation on your iPhone or iPad.
A word of warning to those still using TomTom with an iPhone 3G. This will be the last version of the app to fully support it. Future versions should still work but any new features added will not be supported.
TomTom is available for the iPhone and iPad for $49.99.
[App Store link (opens in new tab)]
Have an app you'd love to see featured on TiPb? Email us at iosapps@tipb.com, tell us about your app (include an iTunes link), and we'll take a look.
[gallery link="file" order="DESC" columns="2" orderby="title"]
UK editor at iMore, mobile technology lover and air conditioning design engineer.
The universal app is a great idea, but sadly, the purchases can be used on the iPhone OR on the iPad, not both.
Also sad is the fact that favourites and settings are not synced across devices.
I just hope they'll sort this one...

I can already envision some people trying to mount their iPads in their windshields so that they can use this.

want me to send you a picture, look great!

Inc increased iPad related accidents!

Damn. Been using TomTom for over a year on iPhone and was waiting for the app to go Universal... But I sold my iPad earlier this week..

They still haven't fixed the issue with restoring purchases!!! Got my 4S last Friday, loaded TomTom back up and it won't restore any purchases. I alerted them and they said they're working on it......
I had hope this update would have fixed it.
Get the best of iMore in in your inbox, every day!
Thank you for signing up to iMore. You will receive a verification email shortly.
There was a problem. Please refresh the page and try again.