Torchlight game for Mac, Windows free from GOG.com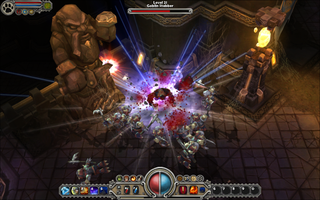 GOG.com has announced the free release of Runic Games' dungeon crawler Torchlight, but you have to act fast, because the deal only lasts for 48 hours, and they announced it yesterday.
Torchlight was created by some of the folks behind Diablo and Diablo II, and its heritage shines through - it's a classic dungeon crawler action role playing game. You make your way through randomized dungeons, rendered in an isometric (or three-quarters) perspective.
There are three character classes to choose from: the Destroyer (a warrior), the Alchemist (a magic user) and the Vanquisher (an archer who can also set traps). You set out to explore the mines beneath the bustling town of Torchlight, rich with a magical substance known as Ember. As you make your way through more than 30 levels, you discover that Ember can corrupt its users (and those who are exposed to it). Eventually you have to square off against the evil Alric and the source of Ember's corruption.
GOG.com is kicking off their "2013 #NoDRM Summer Sale" with the free Torchlight promotion. And yes, as the name implies, there's no DRM on the game.
Get the best of iMore in your inbox, every day!