TP-Link vs WeMo vs iDevices: Making a smart decision on smart plugs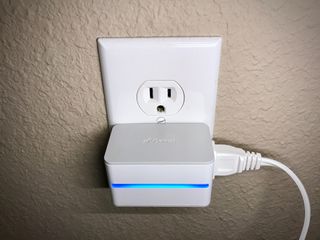 If you're new to home automation, a smart plug can be a good first step — a toe in the water, if you will — in building out your automated home. And for those of us who've been all-in on home automation for quite some time, a smart plug is an easy way to add smarts to our pesky dumb devices. But with so many smart plugs on the market, how do you decide which to get? We can help you answer that question!
Deciding on a smart plug
First thing's first: There's a ton of feature overlap between the various available smart plugs. Turns out when you've got a device that's meant to give you wireless ON and OFF control, you quickly run out of differentiating factors. That said, there are some considerations to make when you're deciding on the smart plug that's right for you:
Price: How much does the darn thing cost? If you're planning on replacing a ton of dumb plugs in your home with smart plugs, you might want to look at cost effective models. If you're just smart'ing a couple lamps, fans, etc., then a more expensive, more feature packed plug might be better.
Design: If you're choosy about what throw pillows go on your couch, you're probably going to be choosy about what your wall wart smart plug looks like on your wall. If you're hoping to maximize space, you'll want to be aware of the shape and size of your smart plug as well as the placement of the receptacle.
Compatibility: If you regularly use Siri to control your home automation accessories, you're probably going to want a HomeKit-enabled plug. If you're privy to Amazon's Echo or Echo Dot, you'll want it to be compatible with Alexa.
Unique features: Does it talk? Does it light up? Does it emit a scent? Look for unique features that might be of interest to you. If a certain brand of smart plug offers a feature that really excites you, who gives a crap about all the other considerations?
OK, let's take a look at some smart plugs currently on the market!
For the frugal: TP-Link Smart Plug
The TP-Link smart plug is a no-frills Wi-Fi-connected plug that offers all the basic features of a smart plug — nothing more and nothing less.
Price: At just $30, the TP-Link smart plug is one of the least-expensive smart plugs I've ever come across. There are other models available from TP-Link with higher prices — price increases seem to correspond with additional features.
Design: The white, egg-shaped design is simplistic and understated. The receptacle is positioned on the front of the device and the housing is tall, meaning you'll only be able to fit one smart plug in your wall outlet.
Compatibility: The TP-Link smart plug works with Amazon Alexa and its own Kasa app. You can issue voice commands via your Echo or Echo Dot and control the switch both in and out of the home with the Kasa app.
Unique features: The $30 base model doesn't offer any unique features, but other, more expensive models offer energy monitoring.
For the minimalist: Wemo Mini Smart Plug
The Wemo Mini Smart Plug is a new addition to the smart plug market and a respectable upgrade to Wemo's non-mini smart plug.
Price: The Wemo Mini Smart Plug will cost you $35 — just $5 more than the TP-Link plug.
Design: This is where the Wemo Mini shines. The glossy-white, stackable rectangular plug makes it possible for you to fit two Wemo Minis on one wall outlet. The plug features a forward-facing receptacle and a power button on the front side of the device.
Compatibility: The Wemo Mini smart plug works with Amazon Alexa, Nest, IFTTT and its own Wemo app. You can issue voice commands via your Echo or Echo Dot, automate your switches by pairing with your Nest products, set triggers with IFTTT, and control the switch both in and out of the home with the Wemo app.
Unique features: Arguably, the stackable, miniature size of the Wemo Mini smart plug is its unique feature. Other than that, though, it's just a typical smart plug.
For the HomeKit-enthusiast: iDevices Switch
The iDevices Switch is hands-down, without a doubt, my absolute favorite smart plug. It's the WiFi-connected plug I recommend any time someone asks me what plug they should get.
Price: At around $40 it's certainly more expensive than the other two models we discussed, but it makes up for that jump in price with some stand-out features.
Design: The gray and white rectangle is small enough that it — like the Wemo Mini — is stackable. The receptacle's unique placement (on the side of the housing) makes for a svelte, less-conspicous look. In other words, you don't have a cord sticking out of the front of a plug that's sticking out of a plug in your wall.
Compatibility: Unlike the other plugs on the list, the iDevices Switch works with Apple HomeKit. That means you'll be able to control it in the iOS Home app and using Siri voice commands. It also works with Android, Amazon Alexa, and its own iDevices app.
Unique features: The iDevices Switch lets you monitor your energy consumption, so you can keep an eye on your devices' energy usage. It also sports a nifty LED light strip across the front of the housing. The multi-color, multi-brightness LED strip is a great night light that also serves as an indicator light for the plug's status.
Sporting any smart plugs?
Do you have a smart plug (or nine) in your home? What made you choose it over other plugs? Send me your thoughts over on Twitter or post them in the comments below!
Master your iPhone in minutes
iMore offers spot-on advice and guidance from our team of experts, with decades of Apple device experience to lean on. Learn more with iMore!
Mikah Sargent is Senior Editor at Mobile Nations. When he's not bothering his chihuahuas, Mikah spends entirely too much time and money on HomeKit products. You can follow him on Twitter at @mikahsargent if you're so inclined.