Turn iPhone photos into real prints with the Impossible Instant Lab Kickstarter project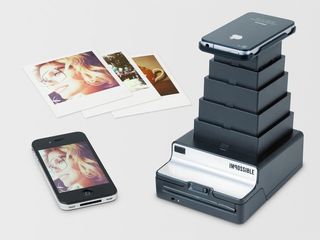 If you yearn for the days when you had a Polaroid instant camera and loved the square white bordered instant prints that it produced then this Kickstarter project is for you. The Impossible Instant Lab looks to transform your iPhone's digital photos into real instant photos that you can touch, feel and share with your friends.
The Impossible Instant Lab is very simple to use too, you just fire up the companion app, select an image you would like to print, place the iPhone face down into the cradle and open the shutter on the Instant lab. The signal will tell you when it has received the image and then it ejects it where you can watch it develop right in your hand; just like the good old days!
If you like the look of this nostalgic Kickstarter project and would like a piece of the action then you had better be quick; it has received a phenomenal amount of interest already. The first two pledge options are sold out so you are looking at a minimum pledge of $229 to secure one of the first off the production line. The Impossible Instant Lab set out to achieve a funding total of $250,000; it has already smashed through that goal and currently sits at $414,000 and still has 22 days to go. It is safe to say that there is a lot of demand for instant iPhone printing.
What do you think of the Impossible Instant Lab?
Source: Kickstarter
Get the best of iMore in in your inbox, every day!
UK editor at iMore, mobile technology lover and air conditioning design engineer.
This. Is. Awesome. I know I'm not the first to notice that using digital cameras almost made many people stop printing photos at all. This type of project has the very real potential of succeeding in a mass market. Imagine if Apple got behind this. A little re-branding. A bit of spit shine. A sprinkle of marketing magic.... And BOOM! iInstant. I may pledge, because this is really cool.

It looks cool but $229 is kinda high, maybe $99.

Yeah I'm not spending $229. Thats the Kickstarter price too, so when they actually start, it'll prob be more expensive. I'll pass and digitally print my stuff at Target for a few bucks and 1 hour.

Seriously. Awesome idea though.

The Polaroid CZA10011 PoGo Instant Mobile Printer is $61 on amazon. The paper is cheap but people complain about battery life.

Why oh why are we bringing back Polaroids via a reverse image of a iPhone screen.... Buy a mobile printer there cheap and work well plus there cheap and wow WIRELESS you don't have to strap your phone in likes its taking a ride on the space shuttle (come on manufacturers provide ways to put a phone on a mount or device WITH its case on I am sick and tired of having to remove my case to use them.)

Whats the difference between this and a small portable printer. Seems like a gimmick that you have to attack your phone to a printer, it's not exactly instant because you have to connect your phone 1 by 1 after you take a photo. Neat project though :)
Thank you for signing up to iMore. You will receive a verification email shortly.
There was a problem. Please refresh the page and try again.