Uber: Everything you need to know!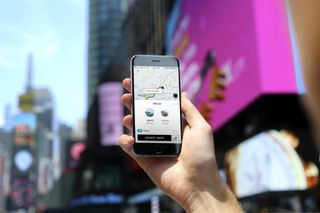 Uber is is a transportation company that employees everyday people that drive their own personal vehicle to take you on trips from one place to another. Because of the low overhead, Uber rides tend to be less expensive than transportation services like taxis and shuttles (though not always). If you've been wondering what this ride-share business is all about and are thinking about trying Uber, we've got everything you need to know.
What's new with Uber?
July 20, 2018: Some can now buy snacks, earbuds, and more on Uber rides thanks to Cargo
Ever get a sudden, all-consuming craving for Swedish Fish while in the Uber on your way to meet your friends for a night out? You're in luck! Earlier this week, Uber announced a partnership with Cargo, a company that supplies drivers working for ride-sharing services with a box full of items they can sell to their passengers. This means that in select cities, customers can now purchase (and get free samples!) of things like gum, snacks, phone chargers, and earbuds during their trip. Here's how the Cargo/Uber driver relationship works, as Uber revealed to TechCrunch:
This means that the average driver could earn up to $100 extra per month, according to the company. That's about $1,200 of additional income per year — definitely nothing to sneeze at.
To order Cargo items while on an Uber ride, all you need to do scan your driver's Cargo box's QR code to open up Cargo's mobile site. Once there, they can select the items they wish to buy and pay with a variety of payment options like Apple Pay, PayPal, Venmo, Android Pay, and credit card.
The Cargo/Uber team-up is rolling out in Los Angeles and San Francisco first, as those cities have established locations where Uber drivers can pick up their Cargo box. However, Uber hopes to expand Cargo and all its goodies to more cities in the near future.
May 29, 2018: Uber adds 'Panic Button' to its app
Amidst a plethora of lawsuits and a tarnished reputation for being unsafe for riders (and even pedestrians), Uber has finally rolled out a previously announced panic button feature to its app that allows users to directly call 911. The 911 assist is found in Uber's new Safety Toolkit, which includes a way to add Trusted Contacts and allow you to share your trip with those trusted contacts. Currently, calling 911 from within the Uber app will show you your real-time location — both on a map and as an address — so you can share it directly with the operator. Additionally, Uber notes that deeper tracking information will begin rolling out, which sends detailed information about your current trip to the 911 operator.
How this is any different than simply calling 911 is unclear, but if Uber does implement the detailed trip information worldwide, it would be useful for helping emergency responders to find the caller faster.
February 9, 2018 - Uber, Waymo reach settlement
Uber and Waymo have reached a settlement in the ongoing legal dispute between the two companies. Waymo accused Uber last year of obtaining trade secrets by way of one of the company's engineers — the engineer had been hired by Uber and lead the company's self-driving car efforts. Uber later fired the employee.
Uber will be paying $245 million to Waymo in equity (not cash), thereby settling the dispute. The company reportedly sought a $1 billion settlement at first, but Uber wasn't on board.
Uber CEO Dara Khosrowshahi had this to say about the settlement:
September 24, 2017 - Uber's new feature helps you communicate with drivers who are deaf or hard of hearing
Today Uber announced Uber Sign Language, a feature within the app that teaches you basic words and phrases in American Sign Language (ASL) so you can better converse with your driver if they're deaf or heard of hearing. You can learn to say hello, introduce yourself, and say thank you — all interactions that are important and usually second-nature during any Uber ride, but that might be a bit more difficult for the thousands of Uber drivers who predominately use ASL to communicate. Here's how it works:
Once you've requested a ride, you'll see a special card in the Uber feed at the bottom of your screen. Tap it.
Select the word or phrase you'd like to sign.
Once you've done that, you'll be shown a gif displaying how to sign the word or phrase in ASL.
If you want to practice on your own beforehand just in case, you can also visit the Uber Sign Language website for tutorials.
Uber discussed their goals for this new feature in a blog post:
August 10, 2017 - Uber adds in-app chat for riders to communicate with their driver
Gone are the days of awkwardly calling or texting your Uber driver when they're having trouble finding you. Uber is adding an in-app chat option that connects riders to drivers. It's clear Uber gets the current mixture of awkwardness and frustration that comes from having to contact a driver when they arrive:
Same feels, Uber. Same. Feels. Uber makes it very simple (and as safe as possible) to communicate with your driver and have them communicate with you:
Uber says the feature will be rolling out over the coming weeks. Aside from alleviating some of that frustration, this is a good move for safety. Sharing your number with a stranger gives them the opportunity to contact you even after you've left their vehicle. By keeping communication in-app, Uber is keeping your number private and insulating riders from potential safety and privacy concerns.
July 7, 2017 - Uber adds option for riders to tip drivers
Uber just rolled out an update to its mobile app that allows riders to tip their drivers at the end of the ride. When you are prompted to rate your driver, you'll also be given the option to add a tip. The driver, in turn, has the ability to accept or decline your tip.
What is Uber?
Uber is a transportation service that allows riders to contact drivers that are in the area for a ride via the Uber app. When you request a ride, the closest available driver will be contacted with your request. That driver can agree to the ride and will pick you up.
Your payment information will already be set up in the Uber app, so you won't have to exchange cash or have your credit or debit card swiped at the end of the ride. You can just say, "thanks" and hop out.
Everything takes place within the Uber app, so there isn't any fuss or muss. You don't have to call a cab operator or make sure you have enough cash. You don't even have to have your credit card on your person as long as you have your phone with you.
In larger cities where Uber is permitted, there are oftentimes a lot of drivers on the road, waiting for their next ride, so you can easily get picked up within 5 to 10 minutes, which is much faster than the average taxi ride, which usually takes about 15 minutes unless you're already in a taxi-heavy area.
Because Uber drivers are hired as contractors, they are responsible for their vehicle, license, and insurance. This makes it possible to keep the price of a ride relatively low compared to taking a taxi or shuttle (most of the time).
How do I sign up?
The first thing you'll need to do is download the Uber app. Once installed, you can register your information, which includes your name, email address, phone number, and your payment information.
Uber supports Apple Pay, so you can connect your Apple Pay account and you won't have to give out your credit card information. It's a nice, convenient way to take care of payments.
You'll also have to allow Uber to know your location. This is required because the app pinpoints your location and suggests the pickup spot for where you currently stand.
How do I request a ride?
After you've signed up with Uber, you'll be directed to a map that shows your current whereabouts. There is also a pop up that asks, "Where to?" Tap the pop up and enter the address you want to go to. Then, you'll be asked to select the type of car you want. Pick the one that fits your needs and preferences.
Once the ride is officially requested, you'll see the app preparing your ride by finding a driver. Once a driver agrees to the ride, you'll be able to track the car to your location. You can also continue to track the car until your ride is over.
How can I request a ride for someone else.
If you want to help friends or family members get around who don't have the ability to download, install, and use Uber themselves, you can request a ride on their behalf. When you set a pickup location that is not your current location, the app will ask if this ride is for someone else. When you select yes, you will be asked to select the person's information from your contacts list. Uber will then send a text message to the rider with the name of the car and the license plate number, as well as other important information about the ride.
You'll still be the one to pay for the trip, and the rider doesn't have to do anything except get in and out of the car at the right time and place.
What are the differences between car tiers?
Uber provides a variety of options for your needs and preferences. You can choose a standard car that seats up to four, or a luxury SUV for you and five other friends. It's up to you.
UberX - This is the standard car. It's usually a sedan or basic SUV and is set up to seat up to four people.
UberXL - This is the standard car for up to six people. It is usually a basic SUV or a mini van. It is never a sedan.
Select - This is a high end model of car. It's usually a luxury vehicle or larger-sized sports car. It seats up to four people.
Black - This is a high-end model of car with a professional driver. It can sometimes be a limousine or other luxury vehicle that denotes expensive taste. It seats up to four people.
SUV - This is a luxury SUV, fancier than a standard model. It seats up to six people.
Assist - This is a standard vehicle with a certified assistant driver. It's meant for people needing help getting in and out of the car, but is not wheel-chair supported. It seats up to four people.
WAV - This is a wheel chair accessible vehicle. It is a van with a raise/lower lever and a designated spot for the chair. It seats up to four people.
Español - This is a standard car with a driver that speaks Spanish. The car model is the same as an Uber X. It seats up to four people.
If you don't see the type of car you want or need to request a ride for, swipe to the left across the ride options for more.
What if I change my mind and don't want a ride from Uber anymore?
You can cancel a ride if you change your mind. But, you must cancel within two minutes to avoid a cancelation fee. After two minutes, you will be charged a $5.00 cancelation fee. To cancel a ride, just tap the Cancel button next to your driver's name.
How do I know what a ride will cost before I agree to it?
Your ride is based on a base fair, a booking fee, and a price per minute plus a price per mile. There is a minimum fare price if you're ride doesn't meet the baseline amount.
In locations where up-front costs are available, you can see what your fair will cost after you enter the destination location. The cost will appear just below the type of car you can choose. The price will only change if you make changes in your route. For example, if you ask the driver to go through the drive-through on the way home from the bar.
For locations where up-front costs are not available, you will receive an estimated cost for your trip, but it won't be the final price. Usually, the estimated cost and final price are pretty much the same within a few cents.
How am I charged?
When you set up your account, you are asked to add a credit or debit card, or to connect your Uber account to PayPal or Apple Pay.
When you request a ride, you are agreeing to pay for it. Everything after that happens automatically. You don't have to do a single thing. The amount is automatically charged to your account after the ride is over.
If, for some reason, you are charged for a ride and don't feel you are obligated to pay for it, you can request a refund from the My Trips section in the Uber app. Your request will be reviewed and you'll receive a response within a couple of days, at the most.
What are Uber's hours of operation?
Uber drivers work around the clock. Any time of the day or night, you can request a ride. Some times of the day are slower than others, and it might take your driver longer to get to you, but you can always request a ride, no matter what time it is.
Can I schedule a ride in advance?
You can. If you know you're going to the airport at 5 o'clock in the morning and want to make sure someone is available to pick you up, you can schedule a ride in advance.
Follow the same steps to requesting a ride. But when you get to the section where you select a car, tap the little clock icon next to the Request a Ride button. Here, you can select a date and time for your ride. You can also get to the advanced schedule screen by tapping the clock icon next to the Where to? button pop up before you enter a location.
How do I get in touch with my driver before getting picked up?
If, for some reason, you need to ask your driver a question or let your driver know about a particular issue you have (like you have a dog and want to make sure it's OK to bring it in the car, or you are going on a 2 hour trip and want the driver to be aware of the length of time), you can contact him or her through the Uber app.
To contact your driver, tap the bar that displays the information and select Contact. You can then choose to call or text your driver. Be aware that texting while driving is unsafe, so a phone call might be the optimum way.
How do I know which car is my Uber driver?
Sometimes, you'll be in a situation where there are dozens of people leaving an event, and all of them have called for a car. Just because a car has the big Uber "U" logo in the window, doesn't mean it's your driver.
The first thing you should look for is the type of car and the license plate. The Uber app shows you this information, as well as the name of the driver and his or her picture.
When you think you've spotted the correct car, open the passenger door and ask the driver's name. This will ensure you have the correct driver. Once you've confirmed this information, you should respond by confirming with the driver that you are the correct rider. Your driver needs to know this, too.
Sometimes, though not very often, a driver will show up in a different car, or a different driver will show up in the correct car. There are a variety of reasons why this might happen. If you don't feel safe getting in a different car or riding with a different driver, you can deny the ride and report your issue in the My Trips section of the Uber app.
What are surge prices?
Ah, the surge price. Uber calls this "dynamic pricing," but it is a standard practice in high-demand industries like transportation. Basically, when drive times are busier, it costs more to get a ride. If you're going on a trip during commute times, you're cost might be twice what it would be during off-hours. If you try to request a ride at midnight on New Year's Eve, prices are known to surge by four or five times the standard rate. A $10 ride could end up costing you $50. It's happened.
If you're requesting a ride during a surge, you'll see the fare increase in the upfront price. If you live in a city where upfront fares aren't available, you'll get a notification that you are about to request a ride during a price surge.
How do I split the fare with my friends?
If you and three of your friends are all catching a ride together, you can split the cost amongst you by using the fare splitter. Everyone on the trip has to have an Uber account to participate in the fare split.
When you request a ride, you'll see the option to Split Fare when you swipe up from the bottom of the screen. You can then enter the names or phone numbers of the people that you want to split the fare with. Those riders will get a notification and be able to accept the charge. This feature costs an additional $0.25 per person.
You can't use the Split Fare feature after the trip is completed.
How do I leave a tip?
After your ride is over, you'll get a pop-up in the app, offering you the chance to rate your driver. After you rate your driver, you'll be able to add a tip to the transaction. You can select a preset amount of $1, $2, or $5. You can also enter a custom amount by tapping Enter custom amount. Drivers don't see whether the rider has left them a tip until after they rate the rider. So you don't have to worry about whether a poor (or no) tip will negatively affect your rating.
Does Uber offer any other transportation services?
It does. Uber seems to be expanding all of the time. What started as a simple ride-sharing service has grown into a massive transportation corporation.
UberEATS - You can have food delivered to you by an Uber driver. It's pretty much just like Postmates or GrubHub, but works with Uber drivers that are free at the moment instead. UberEATs requires a separate app.
UberTAXI - UberTAXI, believe it or not, is a service for the taxi industry. Using your Uber account, in some locations, you can request a yellow (or orange or white) cab and pay for it through Uber.
UberBOAT - I know what you're thinking ... "a boat?" Yes, a boat. In some locations, especially island dwellers, you can request a boat ride. The service provides a car for you and your friends from your current location to the dock where a boat is waiting for you. Uber takes care of the car transportation and the boat rental, which is all paid for within the Uber app.
Uber Freight - For companies that ship a lot of stuff, Uber Freight offers a convenient way to settle up with the logistics of the operation. You can take care of the transportation and shipping arrangements without having to speak to a middle man. Uber Freight requires a separate app.
Any questions?
Do you have any questions about Uber or the services it provides? Put them in the comments and we'll help you out.
Get more iMore in your inbox!
Our news, reviews, opinions, and easy to follow guides can turn any iPhone owner into an Apple aficionado
Lory is a renaissance woman, writing news, reviews, and how-to guides for iMore. She also fancies herself a bit of a rock star in her town and spends too much time reading comic books. If she's not typing away at her keyboard, you can probably find her at Disneyland or watching Star Wars (or both).