Unlock your out of contract AT&T iPhone with the new online unlock request form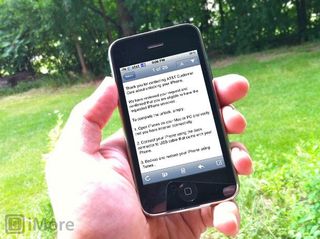 AT&T has just launched a new webpage that allows you to request a SIM unlock for an out of contract iPhone. AT&T has always made it reasonably difficult to unlock a device on its network but now it seems to be softening its approach and actually trying to make it easier for iPhone users. The form is fairly simple to fill in and if you meet a few simple requirements you can have your iPhone unlocked in 5-7 days.
To qualify for the free unlock from AT&T, you must either be a current AT&T customer or a former AT&T customer who can provide the phone number or account number of the account. The iPhone to be unlocked must have been designed for use on the AT&T network and all contract obligations must have been fulfilled. Also the iPhone in question must not have been reported lost or stolen.
AT&T will unlock up to five iPhones per year per account as long as the account is in good standing. Additionally, AT&T will also unlock any active and deployed member of the military who can provide AT&T with deployment verification; and purchased the iPhone from an authorized location at the "no commitment" price and can provide proof of purchase.
If you meet all of the criteria, you are good to go and can request an unlock online without the need to talk to anyone at AT&T customer service. Anyone with an out of contract iPhone 4 or iPhone 3GS considering selling to fund the iPhone 5 when it is released, should take advantage of this free service from AT&T. Having your device unlocked officially by AT&T will certainly increase its value and salability.
Source: AT&T (opens in new tab)
UK editor at iMore, mobile technology lover and air conditioning design engineer.
It's nice having the iPads unlocked, I just added my Verizon iPad to my AT&T account.

so an vzw ipad works on at&t? I don't think the reverse is true.

For the people who lost hope in unlocking their ATT phones, go google att iphone unlocking, I used the first seach result, and my new 5 is unlocked in 3 hours.

Well, I have used unlocktotalk.com for unlocking my 4s, but it took them more than 5 weeks to do it, such a waste of time.

If you are using ATT phone, I suggest to check out attiphoneunlocking, they are the most reliable site around here.

Hi ALL !!! AT&t just had a database renew, this means AT&T doesn't permit the access with their database for anyone cheap unlocks anymore, but there is a site that does, you are able to have a look at ATTIPHONEUNLOCKING, they are still in a position to unlock any AT&T stuff. You can check their facebook page they have feedbacks back from 2012 and they are still the best!! You can check at http://www.facebook.com/attiphoneunlocking Hope it helped!

Nice, I unlocked my device trough http://www.attiphoneunlocking.com/ Generally they offering permanent unlocks for ATT iPhones but i was asking them and they were able to unlock my ipad.

Thx alot, they did a good job, pretty fast as well

thanks for this service very help me to unlock my iphone 6

People who are having trouble unlocking their AT&T iPhones can use IMEI based factory unlocking service. Here's the one i used myself. They unlocked my iPhone 5 in 4 hours. Here's the link.
http://www.iphoneattunlock.com/

Does unlocking your phone cancel whatever service you have with AT&T? My two year contract ended in July, but I'm still with AT&T at the moment (I'm waiting for the iPhone 5 so I can switch carrier). If I were to unlock my iPhone 4 today would my service be cancelled or will I still have service until I cancel it myself?

No, won't cancel service. I am doing the same for my sisters iPhone on at&t. Unlocking now, then switching to Verizon. Phone service will have no interruption of service.

Just in case you don't know, your sister's unlocked AT&T iPhone will *not* work on Verizon. It will only work on a compatible GSM carrier which, for the US, is T-Mobile & AT&T.

That's not true. Your iPhone basically becomes a world phone especially if you have a 4S. You will be able to connect that with Verizon sprint or tmobile if you chose to.

I do not believe you can switch between Verizon & AT&T in the United States with an unlocked phone. It "sounds" like you should be able to but you can't. http://news.cnet.com/8301-1035_3-57495076-94/why-you-cant-take-your-unlo...

Nope, you are wrong. The GSM do not have the CDMA chip enabled and unlocked of not WILL NOT work on Verizon or sprint. Please do your research.

That is true. ATT's iPhone does not have Verizon's CDMA chip thus you cannot use them on Verizon. You can take them to any GSM supported countries (as I do) and have no problem with Voice but very slow data perhaps, and even if you want to use it with T-Mobile, it will only be on their Edge network.

Att's iPhone 4S DO have CDMA chips and GSM chips inside as well. that was the whole purpose of having 1 phone for all providers.

Go to apples website about unlocked phones...It clearly says on apples website that unlocked iPhones will not work on CDMA networks.... CDMA customers can get the privilege of roaming with GSM networks when traveling abroad since CDMA is not worldwide... But if you're on a GSM carrier to begin with... U can't go to CDMA.... Or better yet just go to Verizon and try... We will c u back on this post when u "try"

FYI I have an unlocked AT&T iPhone 4S and went to Verizon where they pointed me to the apple website... So it's impossible because they're provisioned with MEIDs from the factory to utilize the CDMA... But if u bought a phone locked to AT&T and then got it unlocked, it was originally provisioned for GSM with an IMEI rather than starting with an MEID... It's rendered useless on CDMA networks unless u started on a CDMA network

All 4s' are the same hardware wise, correct, just the AT&T can not be used for any CDMA. EVER.

the same goes with all GSM carriers.... and so far CDMA carrier unlocks of the iphone 4S are for international SIMs.... not even local sims... thats what i call a half assed unlock

Thanks stephen007. I guess I should have clarified before starting this chain, though good info came out of it. I know her phone won't work on Verizon. I am getting her the iPhone 5. I wanted to unlock to simply increase the value before selling on ebay/craigslist.

Just used this so I could sell my and my wife's iPhones before the craziness next week. Thanks for the heads up!

Anyone know why Apple makes you wipe your phone to unlock it? Does that mean anytime you swap a sim card after it's unlocked that you need to wipe the phone?

To answer your 2nd question, no need to wipe (or even turn off) your iPhone when swapping SIM cards. I do this all the time traveling between Canada and USA.

They don't. Just insert the other sim and sync with itunes. If that doesn't work, reset network settings.

It's best to call into customer support and they can unlock it while on the phone with you. You'll need to backup to icloud or itunes, then restore on your own. From experience, I've learned to not pass something off to a carrier (Especially AT&T) to perform on their own time. 9/10 it won't be done in the time interval given.

I could get more on eBay if I unlock it, I'm gonna give it a try.

I have an AT&T iPhone 4. Besides T-Mobile, what other carriers can I use when I unlock?

That's it in the USA. Tmobile has a few other MVNO's that you can use but you get less bandwidth and there are data restrictions.

Can you still continue ou unlimited data plan if you unlock?

The last field on form is "AT&T Account Passcode", what is this, I hope it is not my account login password for AT&T, that would be insecure to ask on a form would it not? Also, does unlocking effect my grandfathered "unlimited" data?

It's a code you may add to your account for extra security. If you log into your AT&T account, go to the My Profile page and it will tell you if you've added one to your account or not.

makes sense, thanks! submitted my request, will see what happens...

Just submitted mine! Thanks!!

Which type should I use to unlock an iPhone 4 that used to be on my account but is now on a friends t-mobile account. Would it be previous or current customer? Cause I mean i'm still on at&t but the phone isn't. It's gevey sim unlocked at the moment. Looking for an official way.

It will work, I did a friends AT&T phone with MY account a few months ago. Just remember you get like 5 unlocks per year.

Well, I've been trying this steps many times, unfortunately could never get my iPhone unlocked. Then I saw a friend of mine likes a link of iPhone IMEI Unlock service on Facebook and I get it unlocked within 8 hours upon payment. Yeay, that was amazin rather than wasting time on AT&T unlock request. Simply type >> "unlock at&t imei senseiphone" and you will find the site!

Looks overpriced to me, some on ebay run $17 and they work. I have used them.

Can recommend one please?

If AT&T doesn't unlock your iPhone so you can switch to T-Mobile, you can use UnlockStreak activations for iTunes, which basically turns iTunes into iPhone unlock software. The UnlockStreak activation is executed through iTunes and does a permanent unlock just like the unlock from AT&T.

Called Rogers to unlock my out of ontrack phone. As I am a arge business customer (individual of many) I have to talk to their BSG group. Two days so many answered - help. ps I bought my own phone from hem. How do you unlock a Rogers phone - who do you call?

I also had problems with unlocking my iphone 4 on att, i found some help here:
https://addons.mozilla.org/en-US/firefox/user/6519798/

Hello guys, I had AT&T iPhone 4 purchased in Jan 2011 and broke contract for the same by paying early termination fee.
1.Will this phone be unlocked by AT&T ?
2. Currently I am in India and using it with Gevey Sim. So once AT&T unlocks the iPhone with the help of IMEI no, how does my phone know its unlocked?
Any inputs are much appreciated. Thanks in advance.

Hello guys, I had AT&T iPhone 4 purchased in Jan 2011 and broke the contract for same by paying early termination fee.
1.Will this phone be unlocked by AT&T ?
2. Currently I am in India and using it with Gevey Sim. So once AT&T unlocks the iPhone with the help of IMEI no, how does my phone know its unlocked?
Any inputs are much appreciated. Thanks in advance.

Guys, If I buy an iPhone from at&t at eBay, can I use this phone with my current account with AT&T, just sweeping the sim cards?

For ATT users, if you want to unlock your phone, and can't do it through ATT, you can always go to
attiphoneunlocking, it's the site I have been using for unlocking mine and my friends' phones.

Unfortunately, att is giving a big headache with their iphone devices and those wanting an unlock for their purchased, out of contract or newly owned devices. Don't freak out is christmas time and sales need to go up. Unlocking the iphones now is harder since I guess they are verifying more deeply and prices has gone up on all iphone unlocking from att. Please guys don' believe no site who is unlocking your iphone for cheap on att network since they are way above the roof. Check out this website which unlock my iphone 4 and 5, unlockmajic or email me , they'll unlock your devices in less than 10 days guaranteed or money back. PLEASE RESEARCH FURTHER WHEN CHOOSING OTHER WEBSITE TO UNLOCK IPHONES SINCE IT'S TIME OF THE YEAR FOR BIG SCAMMERS.

pls is it possible to unlock iPhone ryt after signing a contract with them...........lets say u sign with at&t 3 days ago n you want to unlock it .....is it possible.
Thank you for signing up to iMore. You will receive a verification email shortly.
There was a problem. Please refresh the page and try again.