iOS 7: All the features you might have missed!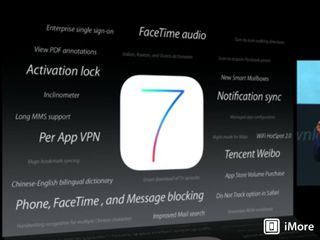 When Apple unveiled iOS 7 at WWDC 2013 on Monday, they spent most of their time talking about ten major features of the new OS, including a refreshed interface, better multitasking, and iTunes Radio. But, as with past years, they also spent a couple of minutes highlighting additional features that, while they enhance the user experience, don't merit a five or ten-minute explanation of of their own. The following is a breakdown of other features that we know of that users will see when iOS 7 is released:
Phone, FaceTime, and Message blocking - Block messages, phone calls, and FaceTime calls from unwanted individuals.
Handwriting recognition for multiple Chinese characters
Improved Mail search
Per App VPN - VPN settings can be changed on an app-to-app basis.
Activation lock - Prevents someone from wiping and then reactivating your device without your Apple ID and password. Read more here.
Inclinometer - Devices running iOS 7 will be able to determine your elevation.
Long MMS support
View PDF annotations - View annotations, probably inside of iBooks, and perhaps email attachments as well.
Enterprise single sign-on - Enter a username and password once to access any enterprise app that requires that username and password.
FaceTime audio - Audio-only calls over Wi-Fi.
Notification Sync - Notifications from apps on the iPhone and the iPad will be able to sync across devices, allowing users to dismiss once and be done with them across on every device.
Wi-Fi HotSpot 2.0 - If a user is able to access public Wi-Fi hotspots, like those provided by cellular carriers, for instance, they will be able to connect to them automatically.
App Store Volume Purchase - Volume purchasing already exists on the App Store, but it isn't widespread. This could be an expansion of the program.
Do Not Track in Safari - Prevent websites from tracking you after you leave them, depending on website participation.
Night mode for Maps - Makes Maps easier to use at night.
Managed app configuration
Scan to acquire Passbook passes - Scan a code using your iPhone's camera to add passes to Passbook.
Turn-by-turn walking directions
Italian, Korean, and Dutch dictionaries
Maps bookmark syncing - Users can now bookmark their directions and sync them across devices, most likely including the new Maps application in OS X Mavericks.
Chinese-English bilingual dictionary
Smart download of TV episodes - We don't know exactly what this is, but it could mean that your iOS device will download new episodes of TV shows that you have a season pass for when they become available in the store.
Tencent Weibo - Support for the Chinese microblogging service.
There are undoubtedly many other features present in iOS 7 that won't be talked about until after iOS 7 ships in the fall.
Get the best of iMore in your inbox, every day!
Joseph Keller is the former Editor in Chief of iMore. An Apple user for almost 20 years, he spends his time learning the ins and outs of iOS and macOS, always finding ways of getting the most out of his iPhone, iPad, Apple Watch, and Mac.
All I wanted was a way to leave a group message...

Sadly they didn't add that.

Also a way to close all the apps in multitasking... Like wow. That was a huge miss. If you don't actively close windows, after a week, this might become the biggest chore ever...

Quit lying. You wanted more than that.

Would a smart dial feature be asking too much??

What would a smart dial feature do? I haven't heard that term before.

A smart dialer similar to HTCs. When u open phone app, it always opens to dialer. Instead of hitting contacts then searching for a particular person, you can hit the numbers that correspond to their name. About three taps in you have a list above dialer of the potential contacts you might be looking for. Tap their name and the call begins. Pretty speedy way to find someone quickly. IMO, way better set up than whats on the iPhone. The one thing I really miss badly from my HTC evo....

Couldn't you just use spotlight search? Quick & easy for me.

Who the heck memorizes the first few #s of the phone number of their contacts? I don't really understand in what situation this woud be useful.

I think he said the numbers corresponding to the letters in the contact's name... Like 1 is ABC, 2 is DEF, etc.

http://youtu.be/d9vVxuFGGZw
Quick demo

Hell my cheap Kyocera cricket phone in 1999 had this feature!

I just use spotlight for that.

I would appreciate a setting for allowing the dialer to be the default for opening the app. It's better which app am I in? feedback than a contacts list. Besides, I'd like to keep my brain in shape by dialing a few numbers, thank you very much. Engineer away physical activity, we get obese. Engineer away all mental effort and we get dementia.

Just use favorites and spotlight... Lol Did you miss that ?? Don't point missing that when there are here since 3 year but you don't know how to use it. Juste go to spotlight and make Contact appears on top of the list...

http://youtu.be/d9vVxuFGGZw
Way easier...and more intuitive.

How about calendar improvements, like being able to forward calendar events or emailing to attendees of a meeting?

OR being able to search back more than a year?

Or being able to duplicate an event?

Do you mean to allow you to add an event to multiple sync'd calendars? Because I would love that. I play in several bands, each has their own group calendar in Google Calendars that we add our gigs. I have to create 3 events in my iOS calendar so I can mark out that I am busy on all of my different bands calendars and it is a) time consuming and b) looks messy

No, I mean literallly... just duplicate an event and then maybe modify the copy, as opposed to having to start over creating a new event. It's such a basic thing (which the desktop version has done forever) that it's simply amazing we're this many years down the road without it. My only conclusion can be that the teams just don't communicate (OSX-iOS) and/or that there is like 1 person working on it who never has time to actually think about it.

That's why I use Fantastical. Press hold and duplicate!

Can someone explain how long mms support differs from how it is today?

http://www.nokia.com/us-en/support/faq/?action=singleTopic&topic=FA120178

What is "long MMS support"? Just longer videos? Larger picture files? Irelandjnr just kinda stated how a long SMS gets converted to MMS. If that's the case, wouldn't it be labelled "long SMS support"?

I think what Irelandjnr and what Apple are saying is probably the same thing. But honestly it probably doesn't matter to many people because i am sure a lot of us use iMessage. long mms support would be something relating to messages to no iMessage users.

What exactly is Facetime audio? Wouldn't that just be a phone call?

Yes but only over wifi and only between iOS 7 devices. Useful but limited.

How about text reflow and a finder app? How about proper handling of email attachments? If Apple really wants a presence in the enterprise they need to speak more than they do to power users.

Uh, Apple's products (iPhone, iPad) are getting a bigger presence in the enterprise than any other smartphones or tablets out there, so not sure what you're talking about. Better enterprise support features are added in every iOS release, and there's a reason companies and corporations are overhwelmingly adopting iOS devices over Android, Windows Phone, or BB.

Apparently you have missed many companies that have banned iPhones and Androids.

come on guys , you have been asking too much from Apple, if you guys need all of these options just by Android phone

These aren't requests, these are features that will be in iOS 7 that Apple just didn't take the time to talk about on Monday.

Should add background downloading/improved scheduling. TBD how developers are going to capitalize on these, but it is going to have a big impact.

My one and only wish is for the iPhone not to vibrate or alert in my ear when I am on the phone!

Agreed! I don't want it to vibrate or notify me loudly in my ear when I'm having a conversation. It has actually gotten louder in iOS 7!

Yeah, I've been slightly embarrassed when my callers repeatedly have asked, "What was that," when I get an email notification or something. It seems like a no-brainer, like being able to easily transfer and delete large blocks of photos, etc. But these are the sorts of things that kept me away from ios for so long. My existing smartphone os's were mature, if not modern. But then, they went away.

Don't forget parental controls for safari. It'll be extremely useful for people who were having to use buggy "safe" browsers like K9 or SafeEyes.

Hrmmm... the Z10 has that, too!

ohh well same old stuff different day...

How about making the email search (when the emails aren't on your phone) actually work?

Apple really needs to organize photos better. It copies everything instead of moving it.

What about replying to SMS or iMessages? Can I do that anywhere or do I have to go to the messaging app for that?

Watched the dev videos. The Volume Purchase Program addition is licenses in stead of Codes. No more spreadsheets and you can give out and retrieve a license without plugging the device in. This is a big deal for those in education.

Disabled Searching Email Subjects?
looks like searching in email can't be limited to a particular field any more... You used to be able to limit searches to subject, from, etc. Did they really remove this feature?