Untethered jailbreak your iPhone 4S, new iPad and more with Absinthe 2.0 for iOS 5.1.1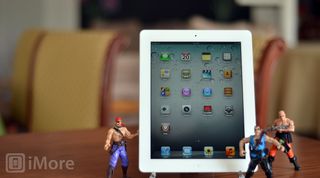 Absinthe 2.0 has launched and it provides support for a fully unthethered jailbreak under iOS 5.1.1 (and only iOS 5.1.1) for the following devices:
iPad, iPad 2, new iPad (except the 2012 iPad 2, which will come later)
iPhone 3GS, iPhone 4, iPhone 4S
iPod touch 3, iPod touch 4
Developed by a collaborative "Dream Team" between Chronic-Dev Team and iPhone Dev Team, Absinthe 2.0 and promises to be so easy, your "grandma could do it." Here are the steps:
Make a backup of your device in iTunes by right clicking on your device name under the 'Devices' menu and click 'Back Up'.
Once your backup is complete return to your device and go to Settings – General – Reset – Erase all Content and Settings. This will make the jailbreak process much faster.
Open Absinthe and be sure you are still connected via USB cable to your computer.
Click 'Jailbreak' and wait…. just be patient and do not disconnect your device.
Once jailbroken return to iTunes and restore your backup from earlier. Right click on your device name under the 'Devices' menu in the left panel of iTunes and click 'Restore from Back Up…' then select the latest backup you created before. (restoring this backup will return all the content previously on your device ie, apps, photos, etc.)
You can grab the download via the source link below, and if you need any help, jump right into our Jailbreak Forum.
Source: greenpois0n.com
Get the best of iMore in your inbox, every day!
Rene Ritchie is one of the most respected Apple analysts in the business, reaching a combined audience of over 40 million readers a month. His YouTube channel, Vector, has over 90 thousand subscribers and 14 million views and his podcasts, including Debug, have been downloaded over 20 million times. He also regularly co-hosts MacBreak Weekly for the TWiT network and co-hosted CES Live! and Talk Mobile. Based in Montreal, Rene is a former director of product marketing, web developer, and graphic designer. He's authored several books and appeared on numerous television and radio segments to discuss Apple and the technology industry. When not working, he likes to cook, grapple, and spend time with his friends and family.
I am ready for some "android configurations" for myiphone 4s

Um I think you missed a step, so sounds like the very first step should be to update your device with the latest iOS update correct? Then there is the last unmentioned step of trying to get your phone back to the way you had it with all of the jailbreak tweaks. Should probablly offer the best solutions for how to do this easily, and add that as also another step before you update the iOS.

Cool, windows version out as well.

Doesn't work. Gave up after 10 attempts, including a wipe and start fresh.

I was having issues with my Ipad 2 and iPhone 4s using Windows 7. I got it working, what I did was:
I downloaded the file,
extracted the zip absinthe-win-2.0 file. (when I did that it opened up a .cmd window and flew through it loading files.)
when that got finished it made a new folder with the absinthe.exe file with the data file and changelog.
I ran the absinthe.exe under administrator (right clicking on file and clicking run as admin.)
I clicked jailbreak and it worked for me...
I figured the issue was the was I downloaded and extracted the file. hope this helps. GL all! -J

Do you update, then jailbreak? - im not sure what to do with my non 5.1.1 devices :-\

Yes, you need to update to iOS 5.1.1 before jailbreaking because that's the only firmware it supports.

Is it mandatory to erase all content before doing it, or will it just take longer if I don't?

I'm wondering the same thing, can any1 shed some light on this? cuz I don't want to erase everything

If you're not on 5.1.1, back up your phone, restore to 5.1.1, set up as new, jailbreak, then restore from backup. That is the easiest way.

Doesn't work at all. iPAd 3 GSM/Wifi, 16 GB with Mac 10.7.4
Seems that I'm not the only one. Already seen hundreds of complaints. Will be more than a thousand in a few hours.

Every new jailbreak seems to need an update or two at first. Have patience.

Huh? What's the point of this intro then?
Better release it after proper internal tests maybe, but this doesn't make any sense.
Ok, I can understand that a few have a problem, but the amount of error messages/complaints is huge.

The proper testing is taking place now with users. This is a jailbreak. Not a release by Apple along with a 3 month beta period. Every new jailbreak has glitches.

Seriously JACK, this is all free of charge to you so before you bash them, mentally realize it's free, and then have a little patience.

Yea! You should demand your money back!
I mean its ridiculous, you paid for this jailbreak, it should work right out of the box!
oh wait...

so easy, your "grandma could do it."
Asked my grandma, but she couldn't do it either....

And if follow the instructions laid out, Grandma would have to renenter her passwords for her email accounts and iTunes account. My mom has a hard enough time for that. I can only imagine how hard it would be for Grandma!

I'll wait a few days to jailbreak. It seems there's still some issues to be worked out.

Yep, approx 90% of the message I read are negative, caused by "some issues". :)

Seems like it doesn't work either with the iPad 2,2. Jailbreaking it on Windows 7.

It seems like mine is giving an error saying that "something seems to have gone wrong... restoring from backup"

Mine is up and working (must be one of the lucky ones). Now if I could get SBSettings downloaded...

Which iDevice did you jailbreak?

AT&T iPhone 4s. I was on 5.0.1, jb. I updated by restoring with 5.1.1 that I downloaded ahead of time, set up as new, jailbroke, downloaded my cydia apps, then restored from my backup. Took about 2 hours, but that included syncing back my music and photos.

Won't go through for me, using an iPad 3 wifi and Windows 7

Didn't work for me either..
But now my iPad (3 gen, global) is finally jailbroken.
I updated my iPad with the OTA-Update a few days ago. That seemed to be the problem. After i did a clean restore to 5.1.1 it finally worked!
You might want to try that if you also did the OTA-Update

Can you explain what an OTA update is?

Over the Air. Updating just using your phone and not itunes.

You should probably add a disclaimer that if you're currently on a tethered redsn0w jailbreak, DO NOT do the "Erase all Content and Settings" .. if you do, you'll be stuck in the infinite reboot (Apple, nothing else).

It worked on my iPhone 4S quick and flawlessly. However, not so much on my iPad 3 GSM. Currently running OS X Lion. Since I have dual boot Windows 7, I'll be giving Windows 7 a shot with my iPad 3

Did not work! I tried it 4 times on my Sprint 4S and it failed every single time.

Tried with IPhone 4s on Windows and Mac and it didnt work with any of them. Gives me same error as everyone else, no matter wether ios or windows..

Should not talk about illegal things like this in an official blog.

Jailbreaking is not illegal...

Is that why the FBI is knocking at my door?!?

Worked for me! Only really wanted to JB for Zephyr. Im a happy bunny.

There seems to be a missing part of instructions for people who are already jailbroken. I did some searching and it seems the "erase all content and settings" takes a very long time if you are already jailbroken. Can't we just "restore as new" in iTunes instead?

Yes, just do a restore to 5.1.1 and then run Absinthe, install any essential Cydia apps, and then restore your iTunes backup.

lol this is so easy worked for me on iphone 4s windo 7
so quickly and so easy lol

Someone please remind me next time not to Jailbreak on release day!! The servers are always slammed and you can't successfully install any Cydia apps. I need to hold off a few weeks next time. I say this every time but never follow through. :)

I never JB the first just because of the server stress on Cydia. Learned a long time ago to hold off a few days and let the congestion calm down some.

Wish someone had me warned me before seeing that this would be my first jb...I started the process 2:30 hrs ago and still nothing.

Just Jailbroke my Ipad3 wifi and am now doing my iphone4s, after i've updated to 5.1.1
no issues on WinXP :-)

tried this, seems to have worked but do not have Cydia on my iphone4s - dissapointing.

Fix for the "something seems to have gone wrong... restoring from backup" error:
Restore you device with ITUNES! Resetting the device from Settings.app doesn't work.
Could be an incremental update thing!?

I was having issues with my Ipad 2 and iPhone 4s using Windows 7. I got it working, what I did was I downloaded the file, extracted the zip absinthe-win-2.0 file. when I did that it opened up a .cmd window and flew through it loading files. when that got finished it made a new folder with the absinthe.exe file with the data file and changelog. I ran the absinthe.exe under administrator (right clicking on file and clicking run as admin.) I clicked jailbreak and it worked for me... I figured the issue was the was I downloaded and extracted the file. hope this helps. GL all! -J

Here's what I had to do to get it work on the New iPad (Wifi) using a Mac.
Did fresh restore to 5.1.1, activated the device (went thru set up as a new device and not restore to backup), run Absinthe 2.0
I had initially tried it on Win7 but it wasn't working at all. Hope this helps someone.

Telling people to do Erase all Content and Settings was the worst piece of advice I've ever seen on this site.

Seems fitting coming from the "editor"

Worked perfect for me. I did not erase or restore as new. I never do with any jailbreak though. All I did was first back up my device. Then I used the jailbreak tool. Worked first time and without problems. Took a total of 5 minutes to jailbreak. Good luck to all.

Sorry forgot to inform. I am using a Verizon iPhone 4s

Matt,
Then you restore from
your backup?

I have to agree, telling people to erase all content and settings was the worst piece of advice! I did not restore or erase and it worked fine for me.

agreed. adding an extra step just to save a minute or two seems to cause more issues than anything. Do not reset your phone. Just upgrade to 5.1.1, jail break and install your cydia apps. no issues so far with 8 devices doing it this way. Still wont do my own until some of the congestion on Cydia goes down.

If you're already at 5.1.1 on a redsn0w tethered jailbreak, all you have to do is install "Rocky Raccoon 5.1.1 Untether" from Cydia.. that's the exploit used to untether. Confirmed on MuscleNerd's Twitter.. I installed it and rebooted, works like a charm!

Yaayyy !!! Took me 10 mins to jailbreak. Super stuff. Thanks to developers of this jailbreak !!!! Big thanks !!!!

Tried it on At&t Iphone 4, It JB the device however I lost almost all stock apps. Will restore and wait for a more stable version.

Same here. You need to make sure that you do not interfere during the jailbreak process. It worked for me the second time. It might also help if you backup, restore and , if you need to, update, from the backup, and then jailbreak.

When people backup on iTunes, it would be wise to backup not on iCloud, but to the computer. In case something goes wrong and you're not near wifi to restore your backup via iCloud,it would be available since it backed up to the computer on iTunes.

just finished jailbroke my AT&T iPhone 4S and Verizon iPad 3. My suggestion would be: do not erase contents through Setting.app. Just back it up, then do a clean restore. I did that and it immediately succeed in jailbreaking my 4S. I have tried about 5 times after I erase the contents through Setting.app and it keeps failing.
Oh, and Absinthe 2.0.1 is just released, that also maybe is the reason I finally succeed in jailbreaking my 4S. Now, time to tinker around!

Install worked perfect. But I noticed some of my sources are empty. What is the reason for this

Because of Cydia traffic, some sources aren't fully downloading properly. Just try to download over again.

Alright how do I download ones like modmyi that are already part of cydia?

Open Cydia, go to Changes and hit "refresh". if you have any failed packages it is due to server load on Cydia and you might have to repeat the steps until you get everything to load right.

Thank you. Got one to finally Load

Hello, worked for me with Macbook os x 10.6.4 and iPad 2 wifi 16Gb.....Wohooo!
With Windows 7 Absinthe 2 did not jailbreak my iPad 2 :(!
I'm so happy I ordered iPad 3 64Gb + cellular and wifi, can't wait to jailbreak that 1 next week!

Ipad 3 5.1.1 Wifi
after JailB, clicking on Cydia just crashes on startup
what to do now ?

iphone 4 32gb from at&t program installed correctly and iphone backed up and erased and absinthe says it doesnt recognize the device... any suggestions???

Just curious before I do it, all I'm looking for is to get Siri on my iPhone 4 is that possible with this jailbreak?

yes it is possible. google Spire.

Ok thanks! Hopefully iOS 6 will let me when that comes out!

I have an iPhone 4 5.1.1 and when i download the absinthe software and try to jailbreak it just says please connect your idevice and doesn't recognize that the iPhone is plugged in even though it is and iTunes recognizes the device. I am running 10.7.4 and i even tried starting the phone in DFU mode and it still doesn't recognize the device as being plugged in. I tried 2.0.1 and 2.0.2 and neither recognize the phone as being connected. I also have an older mac running 10.5.8 and when I tried it on there absinthe says that the device is not supported but it does recognize that it's connected but either way no way to jailbreak my iPhone 4 5.1.1 so Im not sure what to do, any suggestions?

Another thing is that while searching for a good on the web electronics retail outlet, look for web shops that are constantly updated, trying to keep up-to-date with the latest products, the very best deals, in addition to helpful information on products and services. This will make certain you are getting through a shop that really stays on top of the competition and gives you what you should need to make intelligent, well-informed electronics buys. Thanks for the significant tips I have really learned from your blog.

It is in reality a nice and helpful piece of information. I am happy that you simply shared this useful info with us. Please keep us up to date like this. Thanks for sharing.

Doesn't work for my factory unlocked IPhone 4S. I've tried on both Windows and Mac OS.

Thank you Tech in a Flash For all you have done. Getting our business computers and website up and running was one of the most difficult things I've ever attempted to do on my own. I've dealt with so many other computer repair companies and website builders that just do the bare minimum and charge you through the roof for nothing. With Tech in a Flash I know I'll get my problems solved, questions answered and I don't have to drain my bank account. So glad you were the one I contacted! I couldn't have done it without you.

Thanks for the auspicious writeup. It in truth used to be a entertainment account it. Look complex to far added agreeable from you! By the way, how could we keep in touch?

Its like you learn my mind! You seem to grasp so much about this, such as you wrote the e-book in it or something. I believe that you just can do with some percent to force the message house a little bit, however instead of that, this is great blog. A great read. I'll certainly be back.

Perhaps no other sports collectible is as revered as the cigarette baseball cards produced in the late 18th and early 19th century. Still striking in appearance, even today, these vintage cards were landmark at the time of issue and considered the gold standard among today's sports card collectors.

I relay don't understand people's obsession with lying. It started (as far as I know) with the Iphone 5 and hologram function. I work in the IT sector and a day doesn't go by that people don't ask me have you seen the Iphone 5 and hologram etcetera. Than I have to explain how someone was making a fool of them. Than they get in a discussion that that that they saw is real. And usually (after half an hour) I come out of that conversation a little stupider than I went in.
This phenomenon seams to linked only to Apple products. It would be fun to see a response from HTC or Samsung. Something on the lines, their phones transform into robots and go fight crime, transform into nano machines, build a car in seconds and back into a phone. I relay don't understand whats with the laying and where is the limit?
Do people that use Apple products realize that they are paying for overpriced technology? Is their PR campaign so much successful, that people are paying and paying and are being fooled into thinking by doing this they are special?Platte daken
Anyway, trust me holograms are far, far away.

Hi my family member! I wish to say that this post is awesome, nice written and include approximately all significant infos. I'd like to look extra posts like this .

Yes, all themes will get the IDX-MLS integration.

Generally I do not learn article on blogs, however I would like to say that this write-up very compelled me to try and do it! Your writing taste has been amazed me. Thank you, very nice article.

After I jail broke my device keyboard and international are blank when I click on them under my settings, what do I do?

i have a question regarding jailbreaking. I was just experimenting today and was able to do it the way you instructed. Got Cydia on the phone. If you back up your phone after you've jailbroken I notice Cydia does not appear in the list of APPs in iTunes? Is that normal? I then did a restore to unjailbreak my phone and used the backup I created before hand. will this put my phone back to the way it was or did jailbreaking perminently change the inner workings? Likewise if you restore from a post jailbreak backup is you're phone still jailbroken after a restore? Would appreciate any insight. Thanks.