US Air Force begins transition, swapping 5000 BlackBerry devices for iPhones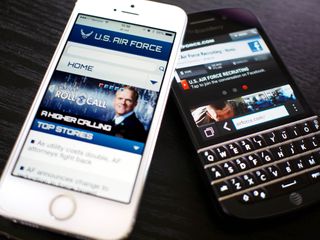 The United States Air Force is replacing 5000 legacy BlackBerry smartphones with Apple's iPhone, and eventually all of their BlackBerry users will have to make the changeover. The announcement, reported by Defense News, comes as the future of BlackBerry within the Department of Defense is debated, with the chips seeming to fall on the side of transitioning away from a network supporting a mish-mash of BlackBerry 6 and 7 devices to a mix of modern devices — though apparently without BlackBerry 10 in that mix. The situation has changed dramatically since this time last year, when the Department of Defense was adamant they weren't dropping BlackBerry.
Brigadier General Kevin Wooten, the communications director for Air Force Space Command (which manages the Air Force's IT infrastructure), said that "in order to keep costs down and save on network resources, BlackBerrys will be turned in and shut off once the user is transitioned to an iOS device." Additionally, anybody who hopes to activate a new BlackBerry on the Air Force network will require approval from the Air Force Space Command. The general that's attached to his BlackBerry is going to have to write an awfully compelling memo justifying why he should get a new one.
Both iOS and Samsung's Knox-enabled Android smartphones have been approved for use on Department of Defense networks, though the process of adding those new devices has been slow. Given the nature of government purchasing contracts, that's little surprise. BlackBerry 10 has also received DoD approval. Transitioning the tens of thousands of BlackBerry smartphones onto iOS and maybe Android will take time and money, the latter of which the US government has been more prudent about than in recent years.
But it seems that either way, BlackBerry hasn't presented a compelling case to the U.S.A.F. The Air Force has long led the advancement of technology in the Department of Defense (they are the ones with stealth planes and satellites, after all), so where the airmen go, so too will the Soldiers, Sailors, and Marines of the United States Armed Forces.
Source: Defense News
Derek Kessler is Special Projects Manager for Mobile Nations. He's been writing about tech since 2009, has far more phones than is considered humane, still carries a torch for Palm, and got a Tesla because it was the biggest gadget he could find. You can follow him on Twitter at @derekakessler.
It's going to be a totally locked down phone with very little access to apps. It'll honestly be a glorified feature phone. At my employer (bank), "regulated" users such as Traders have really crappy bb10s. No Bluetooth, HDMI out, no apps Email and limited web browsing. Posted via the Android iMore App! on BlackBerry Z30

I wonder how long the switch will last

Until the first major hack most likely. Posted via the Android iMore App!

As much as I love Apple I'm wondering if the military have considered Apples penchant for dropping support quite quickly for non current OS.
They buy at iOS7 and have to use it for a while as it's trusted and stable and then iOS8 comes out and AAPL forget all about iOS7. Then iOS7 gets broken and is now a far less viable option, just like 10.6, 10.7 and 10.8............

I'm wondering why they did this? There's also way more Air Force men than 5,000. I wonder what group is getting the Iphones.

It isn't locked down, the user can buy AF approved apps (which has been quite a few and growing) using their own iTunes account and their AF Exchange data (calendar, contacts, email, etc) will be accessible through a custom sandboxed app, which is password protected separately and more complex than the one used to unlock the phone. So the issue of upgrading the OS isn't any different than dealing with BB upgrades. Each base has IT professionals, so a small number are ordered to allow them to familiarize themselves with how they work and connect to the servers before fielding them out to everyone wishing to upgrade. As we rely more and more on email with various attachments, the BB phones have been too difficult for viewing the PDF, Word, and PowerPoint files. I eagerly await the roll out - which primarily happens as the contracts allow for the line to be eligible for an upgrade (similar to your personal phone line). Some people still wish to remain using their BB, I'll make the switch as soon as eligible.

If reading email attachments is a priority I don't understand why they chose a phone with such a tiny screen. If I were using it largely for email I would choose a Samsung Note not a tiny iPhone. Posted via the Android iMore App!

The choice isn't restricted to iPhone. Users will have the ability to choose iPhone, various Android phones, possibly even Windows Phone if/when the app is developed for that platform. The goal is to allow for more platforms and have the sandboxed app available for the user's preferred device.

That's really a sign when the government is switching! Blackberry was good while it lasted! Sent from the iMore App

It was! I did have hopes for OS10 but when they didn't have the apps coming out, they started their limping to the finish line with low-app support. Even they were losing support with OS6 and 7. An example of this was with Barnes and Noble with their Nook app. It was not available for the new OS but they kept going to the old Reader app and saying it was the same (which it wasn't) which you could not get for the new book files or even download it to OS 6 or 7. I sent them an email about this and finally they don't even support blackberry anymore. I posted something under another username on CrackBerry Forums.

We'll see how this goes; push notifications still don't seem quite as reliable as on BB. We haven't switched yet out here that I've seen, but I guess it's a matter of time. The revamped AFI on cell phones kinda gave it away. Sent from the iMore App
Get the best of iMore in in your inbox, every day!
Thank you for signing up to iMore. You will receive a verification email shortly.
There was a problem. Please refresh the page and try again.