Verizon iPhone iOS 4.2.6 Jailbreak via greenpois0n RC 5?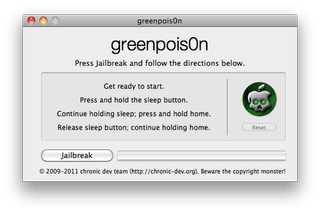 We're getting a bunch of tips about the new greenpois0n RC 5 untethered Jailbreak working on the Verizon iPhone under iOS 4.2.6 but nothing we feel comfortable confirming right now. If you've gotten your Verizon iPhone and put it through greenpois0n let us know how it worked for you and we'll update with more information as it comes in.
If you want to Jailbreak but aren't sure how we've got a complete greenpois0n how-to ready and waiting for you as well as a Jailbreak Starters Guide to get you going. If you need extra help or trouble-shooting then head on over to our Jailbreak Forum.
Senior Editor at iMore and a practicing therapist specializing in stress and anxiety. She speaks everywhere from conferences to corporations, co-host of Vector and Isometric podcasts, follow her on Twitter @Georgia_Dow and check out her series at anxiety-videos.com.
I haven't tried it yet. I'll post the results and the steps I took if I get around to it. - iphone.blogupdates.net

I received my Verizon iPhone 30 minutes ago and attempted to use greenpois0n (rc5 b2), but it will not recognize my phone in DFU mode. This is not my first rodeo as I know for %100 certainty that the phone is in fact, in DFU mode.

Yeah just got trying on my phone and hit the same problem limerain didn't do anything either

Doesn't seem like it would work but I guess anything is possible. I'm sure there will be a VzW JB soon enough though.

This seems funny. I have my phone and it says Firmware 4.2.5 . So that stands to be the reason why it's not working. Is there and update for it?

it works everyone go try it

Did you use version rc5, b2? Greenpois0n recognizes your phone in DFU?

don't works for me what version you guys using? rc5 b2 -b3?

Don't forget, the VZW iPhone ships with 4.2.5 you may have to update it via iTunes to 4.2.6 before trying the jailbreak.

Mine actually shipped with 4.2.6 (8E200)

Mine comes with 4.2.6 but don't work any way

Thank you! I was at a loss and you were right--i was on 4.2.5

Same story here... tried 3 times to no avail..

Mine worked flawlessly with limera1n/redsn0w first time. Wait I'm on 4.2 with AT&T. Nevermind

Sir, you deserve a golden doughnut for that remark!

Mine worked! 4.2.5 with greenpois0n! Give it a whirl

pod2g posted on Twitter: "We have fixes for verizon i4. Please join us on IRC to test." Guess some of us will just have to wait until RC6 is released

No luck on 4.2.6 here either.

Yall Should of stuck with at&t

My 4 is 4.2.1 and wonderfully jailbroken with greenpois0n rc5... Oh, and I can watch the gamecast, send emails, look up an address and directions AND TALK on the phone all at the same time. Try that VZW users, while not on WiFi. ;)

Haaaaaater! I never have to do all of that while on a call.

Neither do I. But I do, quite often, use data and voice at the same time. Like when on a teleconference or on hold and stuck in traffic and I want to play a quick words game or send an email or read tweets or Facebook. Just saying.

I concur, voice and data simultaneous is far superior to me, than phone calls. If I had it my way, I'd never talk on the phone again.

Funny how we didnt hear all this "simultaneous voice and data is SOOOOO WOOOOONDERFUL!!! FAR SUPERIOR TO EVERYTHING!!!" chat until recently. Look, NO...ONE...CARES...THAT...YOU...LIKE...AT&T...SO...MUCH. Sorry, I know its heartbreaking but guess what, us Verizon users have an iPhone now too so either get used to it, or go use simultaneous voice/data to get in a phone call, send a text message, write and send an email, look up sports score, stream a movie, and play words with friends while driving 85 miles an hour down the interstate and tell me how important was to you when you split your car in half...just saying.

Well, I have been saying this for a long, long time. I was a Sprint customer for 6 years until last year when I switched to AT&T. I can't tell you how many times a call went straight to voicemail because my CDMA device was busy updating something via the data channel. So when your phone gets a push notification or you look up something at the same time someone calls, boom, voicemail. I have had more CDMA handsets than you can count... Probably every device sprint has carried. I worked for Sprint for 2 years and every one had the same issues. In fact, the newer the device, the more frequent. My last devices with Sprint were a Palm Pixi, Palm Pre, HTC Touch Pro, HTC mogul, Moto q9c, hTc Touch and a Palm Centro. All are smartphones and all plagued with the drawback of CDMA 1x, simultaneous voice an data. It's why I left Sprint. Otherwise their network is far superior to AT&T an probably VZW's. Don't hat because you are realizing a flaw in your provider. :)

Ha! Don't hate because I realized a flaw in my provider? This forum is filled with Verizon haters, not AT&T haters. Not really sure what everyone has against Verizon but whatever. Im still not sure who cares about the simultaneous voice/data. I have had Verizon for 10 years and had 1 call go straight to VM. Also, I do recall only 2 times where it would have been nice to have simultaneous voice/data. But where I live, I'll take bring able to actually MAKE/HOLD a call aside from that. I think it's ridiculous that people are so mad at Verizon. Did they kill your firstborn? (sarcasm). Just be happy that other people get to use Tyne iPhone. Or should Apple have checked with you guys before they started selling it on another U.S. carrier?

@DBsooner
Guess what? That's just cause of your POS Sprint phones. Or you're just flat-out lying. Or just a rahtard. Phone ALWAYS trumps data. Always. Straight to voicemail, my a$$.

I'm a network engineer.. No it doesn't always trump. If in a active data session, phone sessions don't always initiate. By theory the network is supposed to put the data session on hold while the voice session runs, but this is not always the case. Look it up, you'll see.

Just got my verizon iphone a couple of hours ago. Greenpois0n RC5, and every other jailbreak for the matter, DOES NOT work :(

Go to twitter.com/pod2g -- They have just released RC5.4 (for Mac users currently) for 4.2.6

Hey guys well I just jail broke my phone i just got it today from Verizon. Greenpoision did work with no problems.

if you download the jailbreak what do you download to the free mifi??

In Cydia, it's a program called MyWi.

Loader is on my springboard but it won't open. When I touch it my screen just blinks..any suggestions

I had the same problem with the loader app on my AT&T iPhone. Just restore your phone in iTunes and run greenpoison again. It WILL eventually work! I had to do it maybe 3 times but I'm happily jailbroken now and I've restored all my Cydia apps! MyWi included!!!

Not sure if it works on the verizon phones but I just ran redsn0w 0.9.6rc8 (newer versions should work too, just google it for the download) over the top of my greenposi0n rc5 jailbreak. This installed cydia without having to use the "loader" that comes with greenpois0n and I am still untethered :)

I'm happy to Welcome my Verizon brothers and sisters to the iWorld. I know that you've had the iPad for a while now but you'll soon see that it's not the same. iPhones rule!!! They set the pace for the entire mobile world! Android and WebOS phones are cool in their own way. But there is only one iPhone! ONE PHONE TO RULE THEM ALL!!

THANK YOU! Thank you, thank you, thank you. It's about time that someone welcome us instead of wish we weren't here. I really appreciate that. Glad to join the iFamily and can't wait to enjoy all the features as well as the community. Can't we all just get along!?!? Lol

I don't see why we can't all be one happy family! We shouldn't let the carriers divide us! We are all a part of the "Fellowship of The Ring!" Opps! I mean "The Fellowship of The Phone!" We will all have questions and there will be people on both sides with the answers at any given time. At the end of the day its all about the phone. Not the networks! It's about a love of the greatest phone ever created. No HATING!!! ITS for HATERS! DON'T BE A HATER!!!! It's not cool unless you're a chick dress in leather with a whip!!!!

I have the same above issue..Loader is on my springboard but it won't open. When I touch it my screen just blinks..
anybody else get past this?

Redeyes, first try a full reset. If that doesnt fix try using redsnow rc0.9.6 b6 or up I had to do that in order to get cydia installed, if that docent work (not sure as I'm AT&T) try restoring and rejailbreaking

TO THE GUY YESTERDAY IN THE COMMENTS SAYING THE VERIZON JAILBREAK WOULD TAKE 4-6 MONTHS, WHERE ARE YOU NOW??? LMFAO!

greenpois0n rc5 b4 worked for me 4.2.6

I really loved read this blog. It has lot of information's to the public. Thanks for sharing this information in internet

So does this mean all Cydia apps like
Winterboard, 5dock icon , SBS settings
All work?!

got Verizon iPhone this afternoon at 1pm... in a matter of hours it was jailbroken with greenpois0n and confirmed that cydia, winterboard and all that jazz is working.... great success

Thanks for the heads up
I gotta wait until Thursday to get my iPhone 4 , but glad to know all still works in CYDIA

It worked for me with Verizon iPhone 4 on iOS 4.2.6
I got RC 5.4 from here:
http://www.iclarified.com/entry/index.php?enid=13817

Wow, why is this such a big deal to you guys?
In the UK we have a choice of 4 networks, and nobody cares which one your on. You make your choice and try it, not happy, switch another SIM in.
I just find the "rivalry" over which network you're on so infantile...

Wish it was like that here. Over there you guys pay full price for phones and choose your own network with no contract right?

This stupid @$$ tool is not working!

I'm all jailbroken! It was my work computer with the issue.
Did a run as on the progam at home and it worked.

I updated the software to 4.2.6 and got it to jailbreak.

Just updated to 4.2.6 and jailbroke without any issues. Did have to run greenpoison twice, then used the loader to install cydia. THANKS GUYS!

I received my iPhone from Verizon on Feb 8th. I have OS 4.2.6. I used the GreenPois0n RC5.4 and it worked like a charm... Just follow the instructions to the T.
T

Got it into DFU mode greenposiOn 1.0 RC6 Would do nothing or if it started the jailbreak it would quit

finally worked following this videohttp://www.businessinsider.com/how-to-use-greenpois0n-to-jailbreak-the-v...

I have jailbreaked my Iphone4 with greenpoison and it works perfect I love the way I can change the themes awesome Cydia works perfect too....thanks to greenpoison there the bomb....

I tried to jailbreak 4.2.6 with greenpois0n when I power on the skull appears but I dnt have the loader app so what should I do

It's perfect time to make some plans for the longer term and it's time to be happy. I have learn this publish and if I may I want to recommend you some attention-grabbing issues or tips. Perhaps you could write subsequent articles regarding this article. I desire to read more issues about it!
Get the best of iMore in in your inbox, every day!
Thank you for signing up to iMore. You will receive a verification email shortly.
There was a problem. Please refresh the page and try again.