Verizon, AT&T, T-Mobile, or Sprint: Which American iPhone 6 or iPhone 6 Plus carrier should you choose?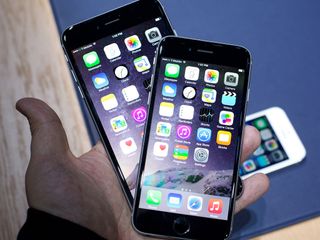 You've decided to get an iPhone 6 or an iPhone 6 Plus, and now it's time to figure out which carrier to go with. In the U.S., the major carriers are Verizon, AT&T, T-Mobile and Sprint. All of them will carry the new phone, so how do you decide? We've gone over their plans and their coverage, and here are the details.
The Big Four: Verizon, AT&T, T-Mobile and Sprint
Each of the big four carriers are the first out of the gate in the United States to offer the new iPhone models. And each are trying to sweeten the pot to get customers to jump at the new iPhones too. Some are giving billing credit incentives, some are offering generous trade-in allowances for working phones, and more.
Regardless of which carrier you choose, the 16 GB iPhone 6 will start at $199 on contract, with $299 on contract the base price for the larger iPhone 6 Plus. Add $100 to increase either phone from 16 GB to 64 GB, and another $100 for 128 GB.
Over the past year all four companies have changed the way they handle phone sales, all with an emphasis on helping you turn over your phone more quickly.
For Verizon, it's called Edge — buy an iPhone in 20 payments. After 30 days and once you've paid off 60 percent of the cost of the phone, you're eligible for an upgrade. Verizon is also giving a $200 credit if you buy a new iPhone 6 (not the 6 Plus) from them, assuming you're willing to trade in an iPhone 4 or newer and agree to a new two-year contract. They're billing this as a "free iPhone 6." Not quite, but a $200 trade-in gift card may be a strong incentive for some customers.
AT&T's program is called Next. It's 20 monthly payments as well, but you're not qualified to upgrade until the 12th installment. (There's a 24 month, 18th installment version available too). Once you upgrade, the cycle starts again. AT&T also incents customers to use Next by offering a $100 billing credit if you sign up. Like Verizon, AT&T's offering a trade-in credit for working phones, with a pretty generous allowance - you can get $200 for a working, unblemished iPhone 4.
Sprint's new program is called "iPhone for Life," and it's specifically geared towards customers interested in the new iPhone models. You can get the 6 or the 6 Plus for $20 per month. And after 24 months, you can trade in your old phone for a new one. It's essentially a leasing arrangement that makes you pay out $480 for the privilege of using the phone, then turning it in when you're eligible for a new one. You can get up to $300 in credit for an eligible iPhone trade-in.
T-Mobile breaks up the cost of the iPhone over 24 months, and your cost depends on your credit (with a 16 GB iPhone 6 starting at $27.08 a month). The company offers a trade-up upgrade called Jump that lets you upgrade as soon as you've paid off 50 percent of the balance of the phone. T-Mobile is also offering its customers a trade-in value guarantee: They'll meet or beat all the other major carriers' deals, and if you find a better deal within seven days, you'll get the difference back plus $50.
Pricing plans
It's enough to make your head spin. There are a lot of different plans available from each wireless company. What you'll pay depends on how many lines you're managing and how much bandwidth you're willing to pay for, but here's a quick breakdown. I'm going to focus on each company's shared plans for now, since so much consumer attention is focused on that right now. All the plans offer unlimited domestic talk and text.
Verizon's program is called "More Everything." A pool of data that can be shared on up to ten devices (smartphones, tablets and so on), personal hotspot support for your iPhone, and some other perks, like cloud storage, international messaging and more. Line access for each phone costs $40, with a fee for data on top of that which varies depending on how much bandwidth you're paying for. Verizon incents its customers to enroll in its Edge program by offering them $10 off per smartphone for the More Everything plan.
AT&T's variation is called Mobile Share. Just like Verizon, up to 10 devices can share a pooled data allotment. International messaging, and 50 GB of free cloud storage using AT&T's Locker service. Plan charges start at $20 per month for 300 MB of data, running up to $375 for 50 GB of data, with lots of stops in-between. Each smartphone costs $40 for line access, though you get a better price break than you do with Verizon if you're in AT&T's Next upgrade program: 6 GB or less data plans knock that line service fee down to $25 per month; 10 GB or more play only $15 per month for each smartphone line.
Sprint's new Family Share plan waives monthly access charges through 2015. Up to ten devices can be connected, with data plans available ranging from 1 GB per device to 6 GB per device. The company is also pushing a single-line unlimited data offer for iPhone customers for $50 per month.
T-Mobile's Simple Choice plan lets you scale savings based on how many lines you need. You can pick and choose data allotments for each line, with 2.5 GB to unlimited data available. T-Mobile also offers unlimited data and text in more than 120 countries, along with music streaming that doesn't count against your data cap, and a recently announced deal that gets you Visual Voicemail and texting capabilities on board airplanes equipped with GoGo Wi-Fi.
Who should get their iPhone 6 on Verizon?
Verizon remains the dominant player in the U.S. market, with the biggest 4G LTE network and the biggest footprint. After focusing on modernizing their network over the past few years and migrating to 4G LTE, They've spent a lot of 2014 building out capacity to improve network congestion in urban areas. However, you will pay for the privilege. Verizon isn't the most competitive on price, simply because they don't have to be.
One problem that Verizon has faced with the iPhone in the past is going away: simultaneous voice and data communication; namely, that iPhones on Verizon's network couldn't do it. That's changing thanks to two factors: Verizon will soon bringing online Voice over LTE (VoLTE), voice call technology that is encoded as data instead of a dedicated radio channel, and the iPhone 6 can do VoLTE. So users in the past who were worried about not being able to access the web while they were talking, or pull up map information and so on, won't need to worry going forward.
Who should get their Phone 6 on AT&T?
AT&T is second to Verizon in terms of customer base, but the company hasn't let that stop it from aggressively building out its 4G LTE network. AT&T boasts better reliability than the competition, with high scores from independent testers for call quality and Internet speed.
While VoLTE will level the voice/data playing field in the future, AT&T's use of the GSM networking standard makes simultaneous voice/data communication the way things have long worked on their network, so you don't need to worry about the switch getting flipped in the future — it works now, just as it always has.
Who should go with Sprint?
Sprint's been playing catchup as they build out capacity and speed on their 4G LTE network. They've tried to make up for it by offering some really good deals to sign up new customers, which makes them an attractive offer for bargain-hunting mobile users looking for the best possible deals.
There's a big glimmer of hope from the iPhone 6 - it's the first iPhone to support Sprint's "Spark" service, which offers faster data speeds on their network. It's something already available on some Android phones, but the iPhone 6 will be Apple's first phone to support Spark.
Who should go with T-Mobile?
shook up the mobile industry in the U.S. a year ago with their "Uncarrier" program. It seems like every month or two they're giving customers a new reason to come, whether it's eating Early Termination Fees (ETFs) for customers switching mid-contract, making music-streaming available without dinging your data allotment, free Visual Voicemail and texting on some Wi-Fi equipped airplanes, and more.
They're also aggressively building out their 4G LTE footprint and really have improved their network over the past year. They still have a long way to go before they'll catch up to AT&T, but their customer-friendly attitude and their simplified pricing plans make them an attractive choice for a growing number of mobile users.
Still undecided?
If you're not sure which carrier to go with, pop on over to our iPhone discussion forums and chat with the fine folks there, or drop a message here and hear what others have to say.
Get more iMore in your inbox!
Our news, reviews, opinions, and easy to follow guides can turn any iPhone owner into an Apple aficionado