Best clear cases for iPhone 6 Plus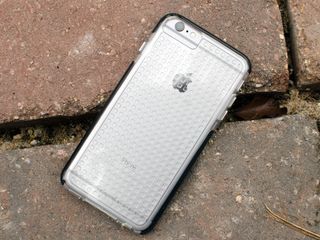 While some people like bright and bold colors, others people prefer the original look of the iPhone: as Apple intended it #ApplePurist.
Unfortunately, carrying a naked iPhone around makes a lot of people nervous, so if you're someone that prefers the naked look but still would like some kind of protection, these are currently our favorite transparent cases for the[iPhone 6 Plus and iPhone 6s Plus!
Oh! Have a regular sized iPhone 6 or iPhone 6s instead? We've got clear case recommendations for you, too!
Case choices & original descriptions have been updated with more details and information on the products.
Case-Mate Naked Tough Case
Sleek, slim and barely there, the Case-Mate Naked Tough Case is a protective yet clear accessory to pair with your iPhone 6 Plus.
Case-Mate's Naked Tough Case offers a bumper and case shell layer that are separate, adding an additional layer of protection to your iPhone 6 Plus. The buttons are super easy to press and this case fits snug and securely around your phone.
Case-Mate uses a great material that doesn't stick to your pockets either, but still manages to keep a firm grip to almost any surface. You can either pick this case up in clear or if you want to switch it up a bit, go with the clear smoke or the champagne/sheer glam version with sparkles.
See at Amazon (opens in new tab)
Case-Mate Tough Air Case
While not the most minimalist clear case for your iPhone 6 Plus, the Case-Mate Tough Air Case is super thin, impact-resistant, and perfect for anyone looking for a simple-to-use case.
The Case-Mate Tough Air case is thin and has easily pushable, metal buttons, whilet he inside of the back of the case is lined with tiny textured squares that gives this iPhone 6 Plus accessory a little bit more shock protection than some other options.
While the case itself is clear, you can choose from two types of bumper/bezel colors, including black, turquoise, lime, hot pink, and purple.
See at Amazon (opens in new tab)
Poetic Atmosphere Series
Poetic's Atmosphere series is not only a bargain, it's one of the only silicon/hard shell cases that adds next to no bulk, making it the perfect day-to-day iPhone 6 Plus case!
It may not be as grippy and sturdy as some of the other clear cases available, but it feels extra secure in your hand. It also has tons of fun colors available for the frame edges, if that's your thing. You can of course opt for straight up clear.
The case itself is made from a dual-injected polycarbonate material that's designed with a raised bezel for additional screen and camera protection for your iPhone 6 Plus.
See at Amazon (opens in new tab)
Griffin Reveal Case
If you're looking for a clear case that's not only perfectly transparent, but also super duper thin, then we suggest taking a peek at the Griffin Reveal Case.
The Griffin Reveal case offers a transparent back on your iPhone 6 Plus and lets you pick either clear, pink, or back edges. The polycarbonate material adds a little extra grip and additionally protects your iPhone from minor surface scuffs and scratches.
While some cases can add a fair deal of bulk to your iPhone, the Griffin Reveal Case adds a little over a millimeter in thickness. The inside of the case is lined with a protective rubber lining, making it safe in the event of a small drop or fall.
The best thing about the Griffin Reveal? How easy it is to take on and off!
See at Amazon (opens in new tab)
Power Support Air Jacket
If you don't like branding on cases, and prefer the minimalist, basic look, then the Power Support Air Jacket is worth checking into for you and your iPhone 6 Plus!
A perfectly clear case that perfectly encases your iPhone 6 Plus in a truly clear and unmarked shell, the Power Support Air Jacket feels great in the hand and even comes in a few different finish styles including clear, smoke, and matte. And if clear isn't your thing, there's a solid black option as well!
The only downside to the case is that it's so sleek and minimal that it doesn't have a bezel to protect against dropping your iPhone 6 Plus on its face, so if you're someone who shatters their iPhone screen quite a bit or is tough with their tech, then the Power Support Air Jacket might not be necessarily for you.
See at Amazon (opens in new tab)
Case Ace Crystal Clear
Inexpensive, highly-rated online, durable, and reliable, the Case Ace Crystal Clear case is a transparently fantastic option to consider for your iPhone 6 Plus.
The Case Ace is a favorite budget clear case for both the iPhone 6 and 6 Plus. It may be on the cheaper end of the spectrum but it feels great, doesn't pick up dust and lint, and provides a decent amount of protection.
Designed from a premium silicone material that's meant to repel the harsh outside world, the Case Ace fits snuggly and securely to your iPhone 6 Plus without any of the additional bulk.
As a bonus, the buttons are easy to push and it doesn't seem to stretch out too badly over time like some other cases. Plus, for less than $10, you just can't beat the quality!
See at Amazon (opens in new tab)
What's your clear case favorite?
If you prefer to keep your iPhone 6 Plus in a clear case, which one is currently your favorite? Let us know in the comments below and we'll be sure to check it out!
Get the best of iMore in in your inbox, every day!
iMore senior editor from 2011 to 2015.
I have the Power Support Air Jacket (#5 in this list) in both the clear matte and the smoke. I absolutely love them. The matte finish provides some grip where the smoke is kinda slippery and smooth. These cases are hard to get off until you get the hang of it, but they look awesome on the phone while still giving it a "naked" look. They also have a lip on the front so that you can put your phone face down and not have to worry about the screen getting scratched.

I have been using the tech21 case and I like it so far. Not to thick yet enough to keep it protected.

This may sound a little cliché for the iPhone 6 and iPhone 6 Plus, but I absolutely love the Tech 21 Clear Impact Mesh with Non-Newtonian Fluid for my 6 Plus. Ultra protection without the bulkiness!

I have a Tech21 and an air jacket. I agree both are great. The only problem is the flexibility of taking the air jacket on and off. The matte clear is good because it adds grip. Sent from the iMore App

Not sure why this was reposted, but for a moment I thought Ally was back, and that made me smile!
Thank you for signing up to iMore. You will receive a verification email shortly.
There was a problem. Please refresh the page and try again.