WaterField's new iPhone 11 leather sleeve is a perfect alternative to a bulky case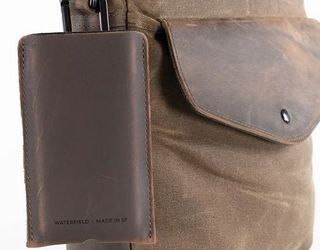 What you need to know
WaterField Designs unvieled its new Executive Leather iPhone Sleeve for the new iPhone 11.
It is a premium alternative to the countless cases that are available.
It is available in full-grain cow or pebbled bison leather options for $69.
With Apple's September event in the rearview mirror and its new iPhones announced, countless iPhone 11 cases have popped up commanding your attention. Some of them are really good, they just don't stand out. WaterField's new sleeve will definitely stand out in a sea of cases.
WaterField Designs unveiled its new Executive Leather iPhone Sleeve with six custom-fitted sizes for the iPhone 11, 11 Pro and 11 Pro Max. It is a perfect alternative to bulky cases that also provides an elegant experience.
The sleeves themselves are made of full-grain cow or pebbled bison leather leading to an ultra premium finish. They are available in brown and black options respectively.
WaterField's Executive Leather iPhone Sleeve is now available for every iPhone 11 model for $69. You can also add the optional loop and carabiner for an additional $5.
iPhone 11 hands on: Apple's most intriguing iPhone got even better
Nope, no, definitely not...
Get the best of iMore in in your inbox, every day!
Thank you for signing up to iMore. You will receive a verification email shortly.
There was a problem. Please refresh the page and try again.