The iPhone Blog Week in Review for October 27, 2008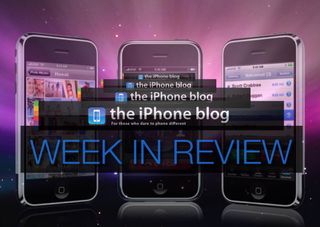 Every week I will be bringing you what I think are the week's biggest stories and articles. Let's get started, after the break!
If you are looking for a soft, flexible silicone case for your iPhone, this one might be for you!
What? RIM's BlackBerry to copy Apple's App Store... no, you are kidding me
Ah. Ya know, pundits often knock Apple for things; too pricey on the hardware, etc. Yet, Apple continues to innovate and others try to catch up. Take the most recent BlackBerry Developers Conference. They essentially annouced talking point by talking point, Apple's strategy for the iPhone. Come on RIM, can you create something on your own without copying a rival?
OMGZ! Apple has sold 10 million iPhones!
I have to admit, when Steve Jobs said that Apple would sell 10 million iPhones by the end of 2008, I was not a believer. Not that the iPhone wasn't great, but that the price would prevent it from achieving that goal. Well, then comes the iPhone 3G...
Intel talkin' smack
This is just insane! Why would Intel do this? I mean... the iPhone is selling very well and, um, Intel and Apple are business partners! Last time I checked, there is no other mobile device that can deliver what the iPhone can.
Always wanted to remote control your computer form your iPhone? Read this article to learn more!
AT&T: Show me the money
I bet Verizon feels really stupid right now.
Goodbye BlackBerry, hello iPhone
DOH! People want iPhones! Even Congress! Heck, half of my co-workers have iPhones now... too bad we aren't on Exchange...
I want to tether, don't you?
AT&T says their network is not robust enough yet? Hmm... no comment. I wish I had this though... I should have bought NetShare when I had the chance.
Microsoft: 10 Million iPhones in less then 2 years is nothin', blah!
Oh Microsoft, talking smack again, eh? I am sorry, but when you compare Windows Mobile to, er wait. This is kind of like the Windows versus OS X debate. it is pointless and silly. We know which is better, don't we. I don't see anything coming from Microsoft in the near future that even remotely gets me excited... unless I missed a press release somewhere. Wait? Have they had any Windows Mobile Press releases recently?
Flashback: Heads of competitors say the iPhone won't succeed. Oops.
This is probably my favorite post this week. Why? It makes me laugh. Give it a read.
Phone Different Podcast
Your favorite podcast is back!
Firmware 2.2 features!
Like everyone, I am always very excited for the next iteration of iPhone firmware. I think that Google street view will be fun indeed. But where are the basics? A to-do list that syncs with iCal? Spotlight? Oh nevermind. I say the same thing with every firmware update.
Master your iPhone in minutes
iMore offers spot-on advice and guidance from our team of experts, with decades of Apple device experience to lean on. Learn more with iMore!
Software trainer, blogger and mobile technology enthusiast living in the suburban Midwest.