The weird world of old Apple accessories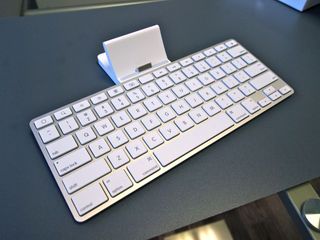 While the Apple of today sells more accessories than ever, the company has been in the business of add-ons for decades. The Smart Battery Case may be in the news for its Band-Aid hump design, but looking back, there's a lot more where that thing came from. Here a few of my favorites:
iPad Keyboard Dock
Apple made a big productivity push when it first launched the iPad in 2010, showing off its iWork suite on the tablet during the keynote.
And to put writers at ease, Apple announced a $69 dock that grafted a version of its aluminum keyboard to the bottom of the iPad. The iPad could be charged and pass audio out via its 30-pin Dock Connector, but it required the iPad to sit in portrait mode. After the keynote, I'm not sure the company ever mentioned this device again; it was quietly removed from stores with the introduction of Lightning-based iPad models.
iPhone Bluetooth Headset
Alongside the original iPhone, Apple sold a $129 Bluetooth headset for those who wanted to use their new smartphones hands-free.
While it benefitted from some clever integrations, the Bluetooth Headset wasn't for everyone. (Sound familiar?) Audio quality wasn't great, and with just one size of earpiece, many found it uncomfortable to use.
As it turns out, Apple still sells the charging cable. If you are need of the charging dock, however, you're out of luck.
iPod Socks
There are a lot of weird—and sometimes expensive—iPod cases, bands and lanyards that Apple sold over the years, but there's one accessory that always drew a smile and a laugh.
Put on sale in 2004, iPod Socks are still a crowd favorite.
Sold until 2012, these cloth accessories came in six bright colors, and were designed to keep your iPod—or iPhone, I suppose—nice and snuggly while in your bag. The entire pack sold for $29.99.
My iPod classic is still housed in a green one, in fact. It's not protective for anything beyond some scratches, but geeze, it is downright adorable.
VideoPhone Kit
Years before the external iSight camera and FaceTime, Apple sold the VideoPhone Kit, which allowed for video conferencing from a Mac, as long as you had OS 7.5.5 and a 28,000 bps modem, ISDN, or Ethernet connection.
Image Credit: Jonathan Zufi, iconicbook.com
This was all powered by Netscape's CoolTalk audioconferencing platform. If you needed to video chat in 1997 with a Macintosh, this was the way to do it.
Apple PowerCD
Released in 1993 as part of Apple's "Mac-like Things" initiative, the PowerCD was the only product to ever ship from the team.
Image Credit: Wikipedia
It was the first stand-alone consumer device the company had ever shipped, as it did not require a computer for it to operate. Basically a re-branded Phillips player, the PowerCD could be purchased with the AppleDesign Powered Speakers. The original line of speakers didn't match the PowerCD's dark gray exterior, but Apple resolved this with the AppleDesign Powered Speakers II in 1994.
The upright optical disc drive could also be used with a computer, however, becoming an external drive via SCSI connection. It came with a remote, and the whole thing could run on AA batteries for portability. Due to its Phillips roots, it could be used to play Photo-CD discs as well.
Duo Dock
The PowerBook Duo was a line of small notebooks that Apple sold from 1992-1997.
Like the first MacBook Air or the MacBook with Retina display, the Duos lacked most normal ports. But Apple did include a 156-pin Processor Direct Slot port, giving access to the machines' processor and data busses.
Apple took advantage of this port to offer numerous docks for the small notebooks, but the crown jewel was the $519 Duo Dock, which included a CRT, floppy drive, second hard drive, additional VRAM and more:
Your favorites?
What Mac or iOS accessories hold a special place in your heart? Let us know in the comments.
Master your iPhone in minutes
iMore offers spot-on advice and guidance from our team of experts, with decades of Apple device experience to lean on. Learn more with iMore!
Stephen Hackett is the co-founder of the Relay FM podcast network. He's written about Apple for seven years at 512 Pixels, and has more vintage Macs than family members living in his Memphis, TN home.