What colors does the Withings Move come in?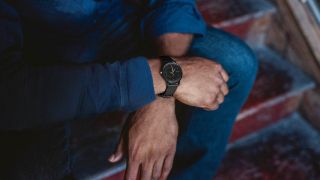 (Image credit: Withings)
The Withings Move is a fantastic entry-level fitness tracker that can track your calories, steps per day, sleeping habits, and even go for a swim with you. With its swappable bands and different color watch faces, the Withings Move is currently being sold in a range of color combinations. There are two main off-the-shelf collections, "Basic Essentials," which offer five different faces and a variety of silicone bands, and "Timeless Chic," which gives you a metallic watch case and the option of different wristbands. However, Withings also offers a wide range of replacement wristbands, which means you have hundreds and hundreds of possible combinations. We're visualizing some of the different options so you can choose your perfect Move solution.
The possibilities are endless...
As you now know, the Withings Move is available in a vast range of colors, and a choice of materials, too, with silicone, leather, and metal in the mix. Our overall Staff Pick, the Black & Yellow Gold (opens in new tab), is in the silicone camp, offering a practical option in a classic color scheme.
If you're looking for something a little more traditional, then do consider the Withings Move Timeless Chic collection. These, like our favorite the Blue & Rose Gold (opens in new tab), get metal watch cases and hands, for a classy look and feel.
The fact you can buy official replacement straps for your Withings Move means if you do fancy glamming things up with a metal or leather band more suited to evening wear, you can. Similarly, the official Silicone Collection (opens in new tab) of alternative plastic straps are great to quickly swap on for sports and exercise.