What iMore wants to see from the iPhone 8 event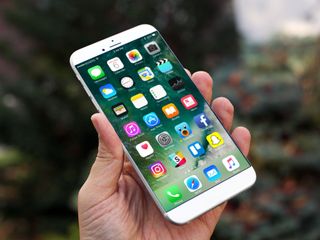 With the recent leak of the Gold Master (GM) of iOS 11, we've learned a lot about what Apple is probably going to unveil tomorrow morning at the fall iPhone event. We were already as excited as kids on Christmas morning. Now we're practically exploding with anticipation to see what Apple is going to present.
You can follow along with our live blog of the iPhone 8 event starting Tuesday, Sept. 12 at 12:00 PM ET/11:00 AM CT/9:00 AM PT.
Rene Ritchie
A decade later and the iPhone Event is still the biggest show in tech. Every September everyone locks on the Keynote to see what Apple has in store for the holiday shopping season. And this time, there are twists!
Next year's iPhone this year. It'll be expensive but it'll also be interesting. How much can Apple do when the scale is reduced and the price point increased?
Apple Watch LTE. Right now Apple Watch is a shuttle craft to iPhone's star ship. LTE will give it warp nacelles of its own. How far will it be able to go?
Apple Park and the Steve Jobs Theater. It's not just about the what but the where: Our first public look at Apple's biggest product ever. Can't wait.
Serenity Caldwell
The iPhones are coming! The iPhones are coming! And, if what we're hearing is correct, a whole lot more. I'm with Mikah here — despite working in tech journalism, I try to avoid reading too deeply into the Apple rumors. Being surprised is the best part of an Apple keynote, and I suspect that even with all the leaks (hi, HomePod and iOS 11 firmware), the folks at Cupertino will have a few surprises in store for us.
The Apple Watch Series 3: LTE is the rumored keynote feature, and as such has gotten most of the press, but I'm more curious as to how Apple will support LTE on the Apple Watch. How will it work for data? Will it support streaming Apple Music? Just how much of a battery hit will 38mm watches have to take?I also want to hear more about Apple's fitness lab, potential other workout options, and additional sensors. The Apple Watch may be the most accurate smartwatch for heart rate in the world, but the company shouldn't rest on its laurels if it's serious about continuing that trend.
"Wireless" charging on the iPhone: Magnetic charging makes using the Apple Watch a cinch, and I'm looking forward to bringing that same ease of use to my iPhone. I do wonder how wireless charging will work for devices in other situations than a nightstand or desk — how will Apple make it work in a car, for example, or on the road? — but I'm excited to find out.
AR Developers: AR is taking off in a big way this year, and if the iPhone X indeed has special AR sensors, I expect to see lots of great AR demonstrations. Made with ARKit has a slew of interesting uses for the technology, but I want to see what Apple decides to showcase — like HomeKit and Camera apps, demos can help smaller showcased developers and give inspiration to new ones.
Lory Gil
For years I've watched the Apple big wigs walk on stage to show us what the company has been working on, and every time it's exciting as the last. Apple really knows how to put on a good show, to the point that it is mocked in comedy and copied by the rest of the tech world. The iPhone event is always my favorite because everyone is excited to see what's to come. This year, I'm hoping Apple will announce some long-awaited hardware updates.
4K HDR Apple TV - I use my Apple TV almost exclusively (I switch over to Amazon Fire when I want to watch something specific to Prime Video, but not for long!), so I've been longing for a major update for a few years now. If Apple TV gets 4K HDR support, then I can finally justify getting a brand new TV set. Secret revealed: My current TV set is only 720p (#embarrassed).
A larger screen on a smaller iPhone - Rumor has it that Apple's going all-screen on the front of, at least, the iPhone X. If Apple could give me an iPhone that's as small as the SE, but with a screen as big as the iPhone 7, I'd be overjoyed. I know the dimensions won't be quite this perfect, but I'm thinking it'll be an iPhone the size of the 7 with a screen the size of the 7 Plus, which might be good enough to make me switch from the four-inch form factor.
Apple Watch LTE - I know we don't need our Apple Watch to be untethered from our iPhone, but I really want to be able to leave my iPhone at home and just use my Watch to get text messages and notifications when they pop up. I realize that the rumored "hybrid" LTE Apple Watch won't quite meet my fully-untethered expectations, but a girl can wish.
Mikah Sargent
My fingers are nimble, my heart is full, and my body is ready. As Apple prepares to announce its next round of product and software updates, I'm attempting to suspend my speculative mind and tuck away the rumors and reveals that have already hit the news cycle. I like to be surprised. Working in tech and doing tech podcasts means having a good idea of what Apple's going to announce, but not how they're going to announce it. I love watching the presentations and paying close attention to the story they tell for any given product. Plus, not everything leaks … although that HomePod firmware reveal didn't help this year. grimacing
HomePod - I was pretty down on HomePod when it was first announced. Because of the rumor mill and the endless hot-takes about Apple's next big thing, I was expecting a full-featured home hub that could serve as command central for my HomeKit-enabled devices. What we got instead was a high-quality speaker with Siri built in. Now that Apple's had some time to work on the software (and will have more time since it doesn't come out until December), I'm curious to hear what other features we can expect from the HomePod, if any. My hope is they'll give Siri more attention this time around, showing how the device can compete with Amazon Echo and Google Home smart speakers.
Apple TV - Yes, I'm serious. I'm looking forward to Apple announcing a new Apple TV not because I'll buy one (necessarily), but because I want to see how Apple sells this device. I have two fourth-generation Apple TVs in my home. When they're not serving as home hubs for my HomeKit-enabled devices, I use them almost exclusively to watch Netflix and Hulu. I have two non-4K, non-Ultra HD televisions connected to them. I don't need a new Apple TV, but you'd better believe I want Apple to try to sell me one! I'm curious what features — aside from the 4K and Ultra HD — Apple's going to tout, 'cause for the folks without a 4K Ultra HD TV, this is more than just a hundred-and-some dollars on a set-top box — It's an invitation to spend more money on a new TV.
The fancy new iPhone - Firstly, yes, that's what I think Apple is going to call it. When Tim Cook says, "This is the Fancy New iPhone," I expect all of you to send me lots of animoji applause on Twitter. By this point, we've gotten a pretty good idea of what the Fancy New iPhone is going to look like and a bit of an idea of how it'll work. But there are details to fill in. I'm curious how Apple handles the "notch" everyone loves to point out. I'm curious how Apple will sell a Touch ID-free phone (should that be the case). I'm curious how Apple will handle a home-button-free iPhone. There are lots of questions still left to truly, officially answer and — as I mentioned — my body is READY FOR THEM.
Joseph Keller
After 10 years of iPhone reveals, you might think that these events start to become a bit rote, wouldn't you? But year after year, Apple manages to surprise us, no matter what we think we know going into each event. While some of the surprise is always spoiled before the big day, the company always has something interesting up their sleeve, and there' no doubt that this is the case once again.
iPhone Pro/Edition - Though it's unofficially been discovered it'll be called iPhone X, I prefer to think of it as the iPhone Pro or Edition. This is the one that's supposed to have an OLED display and, an all-screen front, and no Home button. I'm excited to see what Apple's done here, not only in terms of hardware, but software as well. If it is indeed an all-screen phone with no physical Home button, that could drastically change one of the central interactions that we've had with our iPhones going back to the very first one, and I'm very intrigued to see how Apple may have pulled that off.
iPhone 8 and iPhone 8 Plus - As interested as everyone is for the OLED iPhone, I'm equally intrigued by the rumored iPhone 8 and iPhone 8 Plus. While Apple has released multiple iPhones in a year before, this will be the first time that the company has announced three "flagship-level" phones at the same time. What sort of story will Apple tell around these two phones? If I had to guess, I'd imagine that Apple will frame the iPhone 8 and iPhone 8 Plus as the best versions of the iPhones we've always loved while the Pro/Edition will be a glimpse at the future of the iPhone.
Apple TV, now in 4K - Not everyone is ready for 4K just yet, but with the prices on 4K TVs continually heading down into more affordable ranges, now seems like the right time for Apple to offer a compatible set-top box, one that also supports High Dynamic Range, which is really going to be the thing that turns heads (I'd bet on Dolby Vision HDR support, by the way, but HDR10 would also be welcome). I'm curious as to how 4K content is handled on the Apple TV, and in the iTunes Store specifically. Will I have to buy all of my movies again to see them in 4K, or will it be like iTunes Plus (remember that?), and I'll just need to pay a small fee per movie to upgrade them to the 4K versions? Or better still, will they just be available in 4K for me to watch at no extra charge? On that last one, I'm not holding my breath.
Luke Filipowicz
Ten years since the first Apple iPhone Event and I still get goosebumps! The original iPhone changed the smartphone landscape forever and the newest (and most expensive) integration of the iPhone is about to hit the market and might have the potential to do the same.
iPhone X: We're pretty sure that's going to be the actual name, and I for one, have fallen for the hype. If the rumors are true, that minimal bezel design with an AMOLED display will be drop dead gorgeous. Add in some cool features like facial recognition and wireless charging, and I'm more than sold.
Everything AR: Everything I have seen out of ARKit so far has blown my mind and I can wait to see if we get to see anything else. The potential for AR games is what really has me excited, and I'm hoping a few of my favorite developers will hop on board the AR train.
HomePod: I know the HomePod won't launch till the holidays, but as someone who has a plethora of Bluetooth speakers and various audio devices, I'm eager to see what the HomePod sounds like.
Cella Lao Rousseau
I. am. SO EXCITED for this upcoming iPhone event, and the main reasons come down to the new iPhones camera, the iPhone's camera, aaaaand the iPhone's camera (and a couple of other things too, of course!)
New camera features/iPhone camera updates
The potential ability to integrate 3rd-party camera apps in place of the classic camera app
New iPhone colors (plz)
Mike Tanasychuk
I'm an Android user, so I don't really hope for much from Apple in any given year, though as the lines between iPhone and Android begin to blur ever so slightly, there are some things I'd like to see.
Android integration (like the ability to control my Apple TV from my Android phone)
More third-party app integration with Siri
A phone that doesn't annoy the hell out of me (shots fired 😱)
What are you excited to see?
By now, you probably at least have an idea of what Apple's going to unveil at its iPhone 8 event tomorrow. What are you most pleased to see coming?
Get more iMore in your inbox!
Our news, reviews, opinions, and easy to follow guides can turn any iPhone owner into an Apple aficionado
Lory is a renaissance woman, writing news, reviews, and how-to guides for iMore. She also fancies herself a bit of a rock star in her town and spends too much time reading comic books. If she's not typing away at her keyboard, you can probably find her at Disneyland or watching Star Wars (or both).