What an Intel/AMD partnership means for MacBooks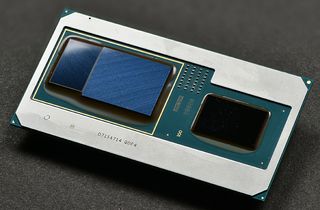 Late last year Intel announced its partnership with semiconductor rival AMD to create a new 8th generation mobile chip with RX Vega M graphics that has CPU performance that Intel is known for and integrated GPU performance that Intel isn't known for.
Intel has now officially launched these chips and is touting a 3X performance boost in frames per second for devices as thin as 17mm. It also has up to 4GB of second-generation High Bandwidth Memory (HBM2) that allows for very high speed data transfer on a very thin profile. What does this mean for the future of our beloved MacBooks?
No more excuses
We all love our Apple devices. The integration of software and hardware make for some of the best computing experiences you can have in day to day computing. However, I've always have had my reservations about the anemic graphical components that came with our mobile and iMac lines.
But the alliances they are a-changin' . With the integration of AMD's Radeon RX VEGA in the new iMac Pro and now with Intel's release of these new RX VEGA M-enabled CPUs, Apple can finally say that it too has graphical capabilities that rival the best gaming laptops on other OSes. No more can tech enthusiasts and developers say that Apple just can't cut the polygon count for running and developing software that requires high-performance components in the CPU and GPU fronts. I can't predict if we'll see more cross-platform high performance software being developed for macOS, but I can say that there will be no more excuses to not create them due to the performance aspect.
Improvements Across the board
AMD is expecting to have VEGA improve performance over many domains such as machine learning and OpenCl, and greatly improved gaming performance for both traditional flatscreen games and for the currently high-end-only VR gaming.
Apple, as we already know, has a keen interest in AR and VR development and instead of having end users requiring an unwieldily external GPU to run or develop high performance applications, we'll be able to use the integrated graphics on the new Intel/VEGA chips. The less cumbersome a technology is, the more quickly it will be adopted and grow. Will MacBook become the go to system for machine learning or gaming? Time will tell but as of this point forward, it's capabilities will be in line with that goal.
Final thoughts
How are you reacting to having three times the graphical performance in upcoming Mac products? Is it much needed? A happy update or simply not useful at all? Let us know in the comments!
Master your iPhone in minutes
iMore offers spot-on advice and guidance from our team of experts, with decades of Apple device experience to lean on. Learn more with iMore!