What music services work with Sonos?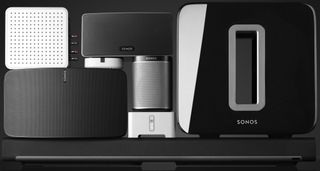 With support for over 30 different music services, Sonos will fill your house or office with music—whether you only want to hear your favourite 80s one-hit-wonders or a playlist of new music, curated to match your tastes.
With so many options and sources to choose from, you'll always have the right music, no matter the occasion. All the most popular streaming services are covered—Apple Music, Google Play, Pandora, Spotify, TuneIn Radio—as well as a slew of others you may have never heard of but might absolutely fall in love with.
We'll break these into a few general categories: Internet radio, curated playlists, subscription services, international music services, and services designed for businesses and workday productivity.
Once you've found a service you want to add to your Sonos network, you'll need to sign up through the service itself if you haven't already. Then, It's simply a matter of adding your account within the Sonos Controller app.
Internet Radio Streaming
Accuradio offers free, customizable internet radio featuring "thousands of hand-crafted music channels" designed to improve your workplace.
Calm Radio features over 185 commercial-free channels with streaming audio quality up to 320K for audiophiles. Memberships run from 30-day renewable memberships ($6.99) to a $249 lifetime membership.
With DAR.fm, you can record and listen to your favourite syndicated talk radio shows and listen to them at your own leisure at work or at home. It's free, with an option to upgrade to a Pro account for as low as $39.99, per month to schedule recording automatically.
iHeartRadio features include a useful music recommendation program as well as a collection of internet radio stations. It's only available to US residents.
Radionomy is a free music service that allows you to choose from thousands of radio stations, as well as create and stream your own radio stations based on your favorite genres or moods. It's free to sign up and use.
Are you a fan of old-timey radio programs? With RUSC—short for R U Sitting Comfortably—you can download or listen to over 30,000 radio programs from the golden era of the radio drama, comedy, sci-fi, and more. Memberships are offered monthly, quarterly, or yearly.
Slacker Radio prides itself for having music streaming stations curated by human ears. Listen to over 200 stations for free with commercials, or upgrade to Slacker Radio Plus ($3.99/month) or Slacker Premium ($9.99) and ditch the commercials.
Stitcher features over 40,000 radio shows and podcasts, including some of the most popular podcasts out there. Discover new radio shows and podcasts and create your own playlists to play through your Sonos system. Free to sign up and use.
TuneIn is one of the best radio apps out there. Listen to all of your favorite local stations or browse by location, music, sports, news, talk… It's all there! And, it's all free, unless you opt for TuneIn Premium ($8.99/month), which features NFL and MLB play-by-play, audiobooks, and more.
International Music Services
Anghami is the first music service catering to the Middle East and North Africa market. It features millions of songs to stream, from Arabic and international music labels. Sign up for free or try the premium version for $5/month
Gaana is a music service from India and is chock-full of Bollywood hits. It comes jam-packed with features found in other major music services such as radio and curated playlists as well as the ability to browse and discover new music and create custom playlists. Subscribe for unlimited downloads on mobile and an ad-free music experience.
Saavn features English, Bollywood, and regional Indian music. That's over 7 million tracks all available to be streamed over your Sonos system.
Curated Playlists
22 Tracks is a music discovery service featuring 22 playlists filled with—get this—22 tracks curated by the top local DJs from Amsterdam, Brussels, London, and Paris. Stream for free through their website or through the iPhone, then set things up through your Sonos. It's free!
If you're into discovering new and up-and-coming indie acts, Daytrotter is for you. Featuring sessions recorded at the Horseshack recording studio in Illinois going as far back as 2006, there's hours and hours of great, live music it's free for college students with a .edu email address. Monthly and yearly subscriptions are available.
If ambient electronica is your jam, Hearts of Space is the music service you've been waiting for. Their motto is "slow music for fast time," so if you're looking for non-invasive music to help keep you focused while you work, there's a playlist of free stuff to try out before deciding whether to subscribe for $7, per month.
If you're always scouring through music blogs looking for the newest and trendiest music, Hype Machine does all the legwork for you. It's been described as an "amalgamation of Pandora Radio and Pitchfork Media", so if that sounds like a dream come true, you can sign up for free.
Previously known for it's internet radio service, Last.fm shifted focus to music recommendation in 2014. It will look at all the music you stream and have on your computer and then make recommendations using an algorithm that looks at other users with similar music tastes as you. It's free, with an optional subscriber service.
Mixcloud is a free music service that features "millions of different shows, genres and styles" curated by DJs, podcasters and music lovers from around the world. All at no cost.
Pandora is one of the most popular music streaming services. Create custom stations that are curated based on your musical tastes. Free or premium accounts. Only available to US, Australia and New Zealand residents.
Subscription Services
Apple Music was launched in the summer of 2015, and features the entire iTunes library available to stream via your iPhone, Android device and now your Sonos system. Browse through curated Apple playlists, or search for your favorite artists, albums or songs and create your own. Apple's selection is deep and constantly updated with the latest tracks. Sign up for a 30-day free trial to see if it's worth the $9.99 monthly subscription.
If you love listening to live music from the comfort of your home or office, check out Concert Vault. They've got master recordings stretching as far back as 1965, so there's a good reason why Concert Vault calls itself "the world's greatest collection of vintage concert recordings". Monthly subscriptions ($3.99/month) are available, as well as one- and two-year memberships.
Offering 40 million tracks, a music reccommendation feature and curated playists from editorial staff, Deezer lets you take your music with you wherever you go. Deezer is available for a long lists of devices, including Sonos. Requires a monthly subscription.
If you were a fan of Songza, you're probably going to want Google Play Music in your life. Google acquired the popular streaming service in 2014 and redesigned their built-in music app for Android to include Songza's mood and activity-based song reccomendation services. You are also able to upload your own music collection (up to 50,000 songs with a free account) and stream your own music wherever you go. And since it's Google, you know you can trust the quality here.
Groove is Microsoft's entry into the music streaming space. Boasting ad-free music with the option to create playlists and customized radio stations based on the music you love, you're also able to integrate your personal music collection via OneDrive and stream your music through the Groove Music app. Try it for 30 days, then pay just $9.99 a month.
MLB.com Gameday Audio is a must-have if you're a baseball fan. Choose between the home or away radio broadcasts for most every regular season MLB game—including the Grapefruit Leagues! With the regular season just around the corner, you'll want to sign up for the 2016 yearly subscription for only $19.99.
If you've got a Sirius XM receiver in your car, chances are you love it and want to get the most out of your subscription to the biggest satellite radio service in the world. Connect your Sirius XM account to Sonos to bring your favourite satelite radio stations to your home or office.
Spotify has been blowing up for years now, and is arguably the most popular music streaming service out there to date. 30 million people can't be wrong! Search and discover the music you love, or tune into Spotify Radio and listen to one of countless stations for free, or upgrade to Spotify Premium for unlimited skips, no ads and offline listening.
Kanye West would really like it if everyone bought into TIDAL. It's a subscription-based music streaming service that purports to provide lossless HiFi tracks for the true audiophiles, and is the first artist-owned streaming service—Jay Z, Beyonce, Jack White and Chris Martin to name just a few key investors. You start a 30-day free trial before deciding whether to start a monthly subscription.
Business/Work Flow
If you're always looking for music to help keep you focused at work, Focus@Will might just be the music service you've been waiting for. Featuring phase sequenced playlists of instrumentals, the developers have implimented some neuroscience to create a subscription streaming service that will allefgedly improve your productivity. Adjust the music energy intensity to match your mood and even track your productivity to see how it works. You can try it for free before deciding whether it's worth subscribing to.
If you're in the hospitality business, you know the importance of creating an inviting and comforting atmosphere for your guests. Hotelradio.fm is specifically designed to create ambiance for your hotel lobby or business. Hook your business up with a Sonos system and let the tunes flow.
Another music service for businesses, Sound Machine offers playlists to suit the needs of a wide variety of business types, from banks and grocery stores to spas and high-end fashion boutiques. The service also allows for promotional messages to be incorporated within the music, as well as other services to help craft the perfect musical experience that reflects your brand vision. Note: Only the Business Class and First Class subscription services are available for streaming over Sonos.
Other
This one's a bit different, as Murfie at its core is an online music marketplace for buying, selling, trading, downloading and streaming CDs. What you do is sign up, and then ship Murfie your entire CD collection, then they upload all your music and safely store your CDs for you. Then at any point you're able to stream your music, or go in and buy, sell or trade them with the community. It's an interesting prospect if you've got a huge CD collection collecting dust and want to digitize it without going through the hassle yourself.
If you love the DJ remixes and music artists share through Soundcloud, you can connect your account through Sonos and play music you liked, playlists you've created. or simply explore the vast collection of music and find the perfect mixes for your upcoming party or to get you through workday. Soundcloud is free.
If you've stuck with Napster throughout all this time, you'll be happy to know that you can stream your music collection through Sonos. Napster was notoriously known for being the first peer-to-peer file sharing service—and a highly illegal one at that. After many legal battles and a few buyouts, the Napster brand lives on as an online music store.
If you're absolutely obsessed with podcasting, Spreaker is for you. Create and share your own podcasts, or discover new ones from the Spreaker community. And then pump them all through your Sonos System. It's free to sign up.
If you've got an Amazon Prime membership, you can buy DRM-free mp3s through Amazon Music, and then stream them through your Sonos system at home or work. If you want to learn more about how to use Amazon Music or Amazon Prime, check out our guide here.
Master your iPhone in minutes
iMore offers spot-on advice and guidance from our team of experts, with decades of Apple device experience to lean on. Learn more with iMore!
Pop culture geek, hopelessly addicted to streaming movies, tv shows, and podcasts. Would be lost in life without unlimited data.