What's changed in iOS 9 for your iPhone, iPad, or iPod touch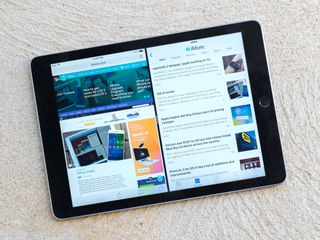 Rene's put together a 20,000-word behemoth of a review, but if you don't have the time and you just want to know what's new, we've got your back. Here's an overview of what's changed in the latest version of iOS.
Haven't downloaded it yet? What are you waiting for? Get at it!
User interface
By and large, iOS 9's interface has remained largely the same from iOS 8's reinvention. You've got a few new blurs and animations, but that's about it. There are a few UI tweaks here and there:
iOS 9 now uses Apple's new system font, San Francisco
Siri has a new interface and waveform
The multitasking screen has been replaced with a compressed cards-like interface, removing Favorites from the top bar
The Music app has a new, more compressed More button (looks like •••) that makes it easier to access albums and specific features.
The keyboard now changes from uppercase to lower-case when changing shift
There's a redesigned Notes app (more on that later)
Siri and Search
Perhaps the bit I most looked forward to about iOS 9, Siri has become prettier, smarter, and now runs the underlying search engine in iOS. Apple's voice-activated assistant has a new, watchOS-inspired look, and can now search for a variety of new items:
Date- and face-contextual photos: "Show me photos of Georgia Dow from last Sunday"
Contextual awareness: "Remind me about this when I get home"
Car-based reminders: "Remind me to buy dog food when I get in the car"
Apple Music-based commands: "Play the top song from 1990"
More HomeKit phrases: "Leave home"
For even more fun, try asking Siri what you should say to Tim Cook when preparing to interview him.
Siri's power isn't just in speech anymore, though: Apple's assistant now powers all of iOS 9's search functions behind the scenes, and opens up doors for new, proactive actions, like so:
Knowing what music you like to listen to when in the car, connected to Bluetooth running headphones, or on your speakers at home—and queuing it up for you
Guessing unknown phone numbers based on whether iOS has seen them in Messages or emails
Providing estimated driving directions to your usual places at this time of day when you get in a CarPlay- or Bluetooth-equipped vehicle
Providing estimated driving directions and "Leave Now" warnings for events on your calendar with addresses
Suggesting contacts you normally pair in a group email or calendar event
Offering app and contact suggestions based on time of day on the Search screen
All of this "proactive" functionality is done on-device, so there's no server-side storage of your personal information.
Deep links, universal links, and back links
More magic under-the-hood will now allow your favorite apps and services to register for deep links and universal links: Universal Links let iOS 9 turn normal Web URLs into direct links into your app. So if you're searching Twitter, for example, and click on a link to a tweet, you'll now see that tweet directly in the Twitter app. (You sadly can't force a deep link to use a third-party client; primary clients only.) Deep Links work within iOS 9 itself, and let you use the Search screen to actively search within your favorite apps.
In addition, whenever you tap on a link or button to switch from one app to the other, you'll get a new bit of text in the upper left corner of your screen: This allows you to quickly jump back to the app you were just in, without having to access the multitasking bar. It's called a back link, and it exists seamlessly all over iOS 9.
Spotlight is no more: It's been renamed "Search", and you can now use it with natural language the same way you would Siri. Type in "who's greg" and get a Contacts listing of your pal from high school. Ask it basic math problems, or who won the Cubs game last night, or what the weather is in San Francisco. The Search screen can handle it all.
When you first visit the new Search screen, it's populated with Siri Suggestions: Contact and app suggestions based on the current time of day. (This replaces the multitasking screen's Favorite section.) You'll also see Yelp-sourced "Nearby" suggestions that include time-based food suggestions, shopping, and gas. And if you're in a country that supports the News app, you'll see some of the top stories currently circulating. You can dismiss all this by pulling down on the screen, which will activate the Search bar, or by simply tapping the search bar itself.
You can get into the Search screen one of two ways: By swiping down from the middle of any Home screen, or by swiping right from the foremost Home screen. Swiping down from the middle will only get you app suggestions and a search bar, saving the rest of iOS 9's proactive information for a proper right-swipe visit from the Home screen. It's a little shortcut—ha ha.
Apple Pay and Wallet
There are a bunch of little tweaks here. Perhaps the biggest is that Passbook has been renamed Wallet and now contains credit cards, Passbook passes, store credit cards, and loyalty cards. For a complete list of what cards are supported, you'll want to check Apple's website (opens in new tab).
On the Apple Pay side, it's available for both the U.S. and U.K. now (though still no Canada—sorry, Rene!). You can also enter the Apple Pay screen by double pressing on the Home button from the Lock screen, Apple Watch-style, rather than having it automatically trigger whenever an NFC reader was nearby. (If you find yourself accidentally triggering this, it's easy to turn off in the Settings app.)
Notes
Notes has been completely rethought and now allows rich attachments, photographs, drawings, lists, and more. You can add styles like Titles and Headings, put together a quick little to-do list, draw your favorite cartoon character, embed a music clip or a Safari webpage, or really whatever your heart desires.
Notes keeps the in-app controls simple: You can embed an image from Photos by tapping on the camera icon, but if you want to add anything more complex, you're doing it from that app's Share screen. Tap the Share button and tap Notes, and that piece of information can be instantly added to the note of your choice. (You can even do this without the Share button proper by highlighting any text in an app and tapping Share.)
As before, Notes syncs between all your iOS devices—save for the Apple Watch, womp womp—and offers both text and attachment search.
Maps
After several years of yearning and wanting, Maps has heeded the call: Transit directions are real, they're here, and they work (pretty well)! In iOS 9, you'll have access to transit in a number of major American, European, and Chinese cities (with more coming soon); transit directions include trains, buses, and ferries, and you'll be able to see individual schedules for each as well as plan specific trips. One bonus feature: When you search for a transit stop, Apple will actually show you where that stop entrance is located—particularly useful if you spend a lot of time on the subway.
With iOS 9, you can also peer inside major venues, stadiums, and shopping malls, thanks to a major update in the company's indoor mapping data.
Maps also has a much-improved new search screen, offering shortcuts for local Yelp-sourced food, drinks, shopping, travel, services, fun, health, and transport (gas stations) in the area, along with a list of your Favorite locations, a quick link to go home from your current location, and recent searches.
News
Goodbye, Newsstand folder: You are no more. (And good riddance.) In your place, we have the News app: Apple's new answer to news and information on the iPhone and iPad. The News app collects both RSS feeds and custom-built News Format articles and curates them for your reading pleasure: You can check out what the app thinks you'll like in For You, bookmark some publications under Favorites, Explore new topics and publications, Search for content, and save pieces to read later. It's early days for the News app yet, but it's a fun place to explore and a clean way to read RSS.
And yes, there will be unblockable ads—but they'll be served by Apple's iAd service, so you hopefully won't have to deal with full-screen monstrosities or over-eager trackers.
QuickType
Apple's iOS 8 predictive keyboard gets a huge bump in iOS 9, especially if you own an iPad. UI-wise, the keyboard has lost its large character preview loupe—the one that popped up a big version of the key to let you know you were typing the correct character—and it now switches from uppercase to lowercase when tapping shift or caps lock. (Yes, our long national "is the shift key on?" saga is over.) If you hate change, however, you can reinstate the loupe or force the keyboard to stay uppercase in the Settings app.
In the iPad realm, the QuickType keyboard has gotten a lot more interesting: There are now customizable shortcuts on either side of the predictive text entries that change depending on the app. You can have a photo insertion point, attachment button, Bold/Italics option, Undo, and tons more.
On top of that, you can lay two fingers on the keyboard to turn it into a pseudo-trackpad and finely place your cursor anywhere in your current text entry. (You'll be able to do this on the iPhone 6s and 6s Plus, as well, but you'll use a 3D Touch gesture to do so.)
iPad Bluetooth keyboard users can also rejoice: Apple's added two new awesome features for you. First, Command-Tab now works on the iPad like it does on the Mac to allow you to quickly switch from app to app. Second, holding down a modifier key will now display all the keyboard shortcuts you have available in any given app.
iPad Multitasking
The iPad's getting smarter. As of iOS 9, you'll be able to use three new multitasking features: Slide Over, Split View, and Picture-in-picture.
Slide Over can be accessed on most iPads by swiping from the rightmost bezel, and lets you open a tiny quarter-size pane on the right side of your device for a second app. When the Slide Over app is present, you can't edit or work in the main app; dismiss the Slide Over pane to return to your main app. (You can even switch apps in Slide Over view by pulling down from the top of the bezel in that side pane.) Slide Over should work with most of your apps as long as they support size classes.
Split View is only available on the iPad Air 2 (and soon, the iPad Pro) and lets you work on two apps simultaneously. To enter, start in Slide Over and continue to pull the drawer out until it takes over half of the screen in landscape mode—or 40/60 in portrait. (Note: Apps need to be custom-configured to support Split View, so you may not be able to do this for many apps in the beginning.) Sadly, you can't drag and drop between split apps. (Maybe for iOS 10?)
Finally, Picture-in-picture lets you shrink any video (that's incorporated the PiP APIs) and let it hang out in quarter-size on your screen while you work in other apps. It'll continue playing while you do just about anything else on your iPad—save for watching another video. You can even tuck PiP in a corner of your screen and listen to it audio-only if you don't want the video in your way. (PiP even works for FaceTime, so you can multitask while chatting with your buddies, family, work pals.)
Safari
Safari has three major new tweaks in iOS 9, one of which isn't even technically part of the Safari app. The Safari View Controller offers third-party apps a better, faster way to present web pages inside a specific program; it disables the URL bar, but lets apps display the current web page (and anything you navigate to within it) in its full glory.
The second big feature in Safari has a lot of people buzzing: content blocker extensions. These allow you to install an app that, when given permission in Settings, can block all sorts of HTML, CSS, and Javascript content. That could be spoilers from the new Star Wars film, all GIF images, or—the thing that most will use blockers for—advertising.
Safari also gets a second app extension, Shared Links, which lets third-party apps add recommended links to your Shared Links pane.
If it's miscellaneous improvements you've come for, Safari gets a few of those, too—searching for weather in Cupertino, for instance, gets you a brief snapshot of the day; Safari Reader has new fonts and background colors; you can upload files to the web from myriad locations, including iCloud Drive, Dropbox, and more; and there are new Share Sheet options. (One of those new share sheet options? Save to iBooks, AKA "Print to PDF." Awesome.)
Performance and Battery Life
iOS 9 should be faster, smarter, and easier on your battery than ever before. Under-the-hood tweaks to Metal and battery optimization means that your device is working more efficiently and using less battery to do it—giving you up to an hour more of battery on each device.
On top of that, there's Apple's new Low Power Mode: It automatically asks you to activate when you hit 20 percent battery, but you can turn it on as soon as you hit 79 percent. Low Power Mode disables the following: - Mail fetch is turned off. (You'll have to open Mail to get new messages.) - Background refresh is paused. (You'll have to open apps to get new content.) - Non-urgent networking is put on hold. - Motion effects are dialed way back. - CPU and GPU are prevented from ramping up to their fastest, most power-hungry speeds.
Once it's done so, Apple claims you're able to get up to three more hours of battery life on your devices. I believe them: I almost wish I could run Low Power Mode on my iPhone all the time, because it makes the device much more efficient.
You can also now monitor your battery (and who's hogging it) in Notification Center, along with the battery life of any Bluetooth-connected accessories.
Security and Privacy
There are a few new fun security and privacy bits in iOS 9 to be aware of: For one, you're now required to have a 6-digit-or-more passcode. (Well, mostly. You can revert back to a 4-digit by digging into the Touch ID & Passcode settings screen, but we're going to recommend that most users stick with 6 digits or more.)
Apple will also begin offering two-factor authentication setup for on all new iOS 9 devices when first activated. (You can set up two-factor on an existing device by going to Settings > iCloud, tap on your account at the top, then tap on Password & Security.) Unlike most other two-factor systems, there's no emergency recovery key: If you lose your authentication device, you'll have to call up Apple and undergo a multi-day recovery process. Time-consuming, but probably effective against social engineering hacks.
There's also a new way to authenticate enterprise apps, and better secure under-the-hood transmissions between the web and apps in the form of App Transport Security.
Miscellany
I feel like I've written a quarter of a novel on iOS 9's new features, but yes, there are still plenty more hiding about in the operating system! Here are just some of the awesome little tidbits you can look forward to in iOS 9:
Photos gets a thumbnail scrubber (with video scrubbing incorporated)
Screenshots and selfies (front-facing camera shots) get their own smart albums
You can insert file attachments in Mail from iCloud Drive
Save email attachments to iCloud Drive or open them elsewhere
Mail gets Markup and Reply, which opens a new email message with the attachment ready to be annotated.
Music gets a new More button interface (looks like •••) with easier access to albums
Home Sharing returns to the Music app
You can now stream high-quality tracks in the Music app over cellular (via the Settings app)
Notification Center organizes alerts in reverse chronological order, rather than alphabetically by app
Anyone can incorporate quick text reply from a Notification banner into their app
Find My iPhone and Find My Friends are now built into iOS 9
Redesigned Podcasts app to bring it more in line with the new Music app
iCloud Drive now has an app (if turned on in Settings)
Game Center gets guest players (for when you don't want to mess up your high scores because a friend is playing)
Games have the option to include ReplayKit, which lets you record what you're playing (with optional voiceover commentary)
The Health app adds reproductive tracking, water intake, and UV exposure
The Settings app now offers a search bar
HomeKit now supports window coverings, doors, alarm systems, sensors, and switches, and offers new pre-defined scenes
You can now manage your HomeKit house in the Settings app
CarPlay goes untethered (if you have a compatible car)
Over-the-air updates will be smaller—iOS 9's update is just 1.3 GB.
Right-to-left localization for languages like Arabic and Hebrew
Accessibility gets Touch Accommodations for folks with motor control issues, allowing you to set a customizable tap-and-hold duration, ignore tap repeats, trigger actions with an initial touch point, and keyboard customization
Apps can offer audio extensions, essentially creating audio plugins, and network extensions for VPN and Wi-Fi management
Content filters for education have gotten better with on-device content filtering
Questions, comments?
What's your favorite feature in iOS 9? Got a question about something in the OS? Let us know in the comments.
Get the best of iMore in in your inbox, every day!
Serenity was formerly the Managing Editor at iMore, and now works for Apple. She's been talking, writing about, and tinkering with Apple products since she was old enough to double-click. In her spare time, she sketches, sings, and in her secret superhero life, plays roller derby. Follow her on Twitter @settern.
That would be cool to have the split screen on a phone. Posted via the iMore App for Android

So far only Samsung Galaxy phones do that (at least the Note does). It's not even a part of Android.

Samsung Galaxy devices and the LG G3/G4 have it on phones. Nothing else does.

Shame in itself that more devices don't have it except the Koreans Posted via the iMore App for Android

I'm curious to see the Notes changes - I use notes a lot. I have the GM on older iPad and El Capitan on my desktop but I have to update all devices before I can use Notes (was waiting for official release of IOS before updating my other devices)

I wonder what the new Notes from iOS 9 look like when synced to Yosemite - anyone know?

If you click on Notes upgrade it says new features will only work with El Capitan and OS9

I'm curious to see if Notes will continue to delete content randomly while syncing to iCloud and my other devices. (Which is why I stopped using Notes.)

Just curious, I don't like the changes to Notes. I tried Inkpad but it kept crashing. Do you recommend any other Notes app? Just a simple app, able to make to-do lists, etc....thanks!

No, I don't keep enough general purpose notes to make using a dedicated notes app worthwhile. Although people swear by Evernote. I myself just use a Scrivener (my favorite writing app) file, which I just call Notes, and keep that file on my Dropbox.

On OSX: SimpleNote is a good (and classic) alternative. It comes in versions for Mac, IOS, Android, and Kindle (!). Also a web version. It uses its own syncing service, and other apps can also sync with it (for example nvALT, another notes app; don't mind the weird name, it's great). Simplenote.com will send you to the various app stores.

Nothing, since OTA updates are failing. Sent from the iMore App

The split screen is fun, but is there a way to control which apps show up in the list? It's kind of annoying to have apps show up there that I don't even have installed or have ever used even once like "Tips!" (Ugh) and "Game Centre." I'm also a bit confused as to why the new "News" app doesn't come as part of the OS, when the majority of the new "Search" page is filled up with News SPAM from what can only be the same source. Anyone know how to turn the news and sports crap off? It's not like I will ever use it. Do I really have to download the News app and install it just to turn this off?

Slide Over will show every app capable of using Slide Over, which, yes, does make for a messy system. The News app should come bundled as part of the operating system, to my knowledge, if you're in the United States. Settings > General > Siri will turn off all suggestions; not sure about News-only.

Thanks Serenity. It seems that turning off Siri suggestions does it, but it's an all-or nothing situation. Perhaps in later updates we will have more control over this feature. For instance if turned on, we can get "Bing Web Search" results there, even if we don't have Bing selected as our default search engine, but we can't get DuckDuckGo or Safari web search suggestions, even if those are what we normally use. Very strange all around. It can only get better and it probably will over time.

I haven't installed iOS 9 yet - will wait a few days for all the bug reports to get published - but from what I've read, that new Search/Proactive feature is really an all or nothing option. Like, if you turn off Contacts, you lose both the display of most used contacts from the Search page AND the ability to search for contacts in the Spotlight pull down menu. Can you confirm if this is true?

The news app is not showing on my iPhone either - I live in the United Kingdom, but know it was in the iOS 9 betas.

Thanks for overview. What about sending group emails from IOS? It's very annoying that I can only use my group list to send mails on OSX

(As an example), would an Instagram viewing app be able to save a photo directly to iCloud Drive rather than on the device?

I'm sure this is a stupid question but where is the News app??? I dont see it on my iphone 5 (iOS 9)

Didn't come on mine too, and it isn't in the store either. Probably a USA only thing. It's a bit weird that the new Search page is obviously pulling from the same data to provide it's "News Suggestions" section, but that the app itself is unavailable, at least so far.

Great summary! Sent from the iMore App

Hey Serenity, you might wanna mention that the iPod touch (at least the 5th gen), does not get any of the Siri proactive features. There is no left home screen to swipe to. The home screen is identical to iOS 8. The pull down search has a new UI, but thats it.

How is the performance of iOS 9 on iPod Touch 5? Is it making it more sluggish or its okay? Would you advise to upgrade or stay on iOS 8? Posted via the iMore App for Android

Well, it hasn't gotten any worse that I can tell. It was pretty horrid on iOS 8 though. Most of the features worth upgrading for aren't here, so there shouldn't be any issues with upgrading. The news app is here and seems to work though. It adds more bloatware though. Find My Friends and Find my iPhone are now mandatory and not uninstallable.

I never saw an option to change my passcode from 4 to 6 digits

I haven't seen that either.

Setting ==> Passcode ==> Change passcode It will ask for the current (4 digit) passcode, and ask for a new 6 digit passcode.
There's also option to use 4 digit passcode, and two custom (custom length?) password I don't really understand what's the difference. Hasn't tried them.

Thanks Serenity, very good piece!

He also stated in this summary article that you can monitor your battery usage from the Notification Center? I'm not seeing anything like that, or any new widgets for battery or anything.

It's there... in the Today section where your widgets are. I have it, Battery-shows my iPhone's battery as well as my Watch battery life. Maybe it only works on iPhone 6 and up??

I've double checked again, no battery widget in my Notification Center. I have iPhone 6.

That's so bizarre since it's on my phone. Appeared as soon as I updated to iOS 9. Looks just like this: https://2672686a4cf38e8c2458-2712e00ea34e3076747650c92426bbb5.ssl.cf1.ra... (not my phone, just random Google image)

It appears when you pair a watch, sadly we don't get it if we don't have the watch. This drove me crazy most of the day .

The new Apple keyboard, at least on iPad, has a big problem in my opinion. I ran the public beta and reported it, but see it's still there. This won't be a problem on the iPhone, but on the iPad where you can type with all fingers like a real keyboard, it's a huge problem for fast typists. Often, when you touch two keys at the same time, or a key and the space bar at the same time, the system has this odd and unnecessary behavior in that it auto highlights the entire last word. So when you're typing fast, you'll often (at least this is reproducible by me all the time) end up highlighting and overwriting the last word you typed. Doesn't sound like a big deal but it's worse... sometimes, somehow, this ends up highlighting the entire sentence or even paragraph and it happens so fast (since you're typing fast) that you overwrite the whole thing with the next thing you type. It's insanity!
So you have to stop, shake the device to undo, and hope you get everything back. It's a terrible behavior Apple really must fix ASAP. There's no reason to have a "feature" like this and if it is, it's a stupid one. I assume it's a bug. If anyone here types fast with all their fingers, like a proper typist, on their full sized iPad, see if this happens to you. Or at least try to use two fingers and touch at the same time on the keyboard and see if you can reproduce this effect. When banging out an email quickly, I often end up overwriting entire lines and this forced myself to purposefully slow my typing down and be much more deliberate to avoid accidentally touching two keys at the same time. NOT a good typing experience anymore given that.

Game Center guest players? Sounds great, but i'm not seeing it; and i haven't seen any reference to such a feature anywhere else... What's up with that?

'Favorite Contacts' shortcut used to show up when you double clicked the home button and it was one of my most used functions. They are not showing up as a shortcut any more! Any ideas? I'm on 4s.
Also, the sketch function does not show up in 'Notes'

This update fixed a lot of my gripes! But one remains. I'd like to be able to long-press a link in Safari, and have the actual "Share" menu be brought up, instead of just "Open," "Open in new tab," etc. For instance, if I visit a page with a lot of links I want to save for later, I'd rather not have to open each one. It'd be easier to just long-press each link and then press "Save to Pocket."

It's now official with ios9.....my lone remaining XP machine in my house, which houses my tunes library, can no longer talk to Idevices for backups and occasional sync ops. So I'm back to iCloud backup for regular backups and I can use my work laptop as necessary.... Sent from the iMore App

The forgotten 'stepchild' the podcasts app has also been redesigned; different icon and a very different if not slightly confusing interface.

podcast app no longer has fullscreen video ?? I'm trying to watch MBW !!! :(

Why are there no Suggestions of places in Maps when I tap the search field? I've checked Settings for options but no... Sent from the iMore App

The Maps app: Is 'Location Suggestions' limited to specific countries only?? Sent from the iMore App

Rene is finally at piece an iCloud drive.app!

I don't get most of the pro active spotlight as news, search for weather or sports! I am on an iPhone 6 !! Sent from the iMore App

Give it some more time, it might populate later. Has to track some of your usage/interests first.

Hope so. Thanks! Sent from the iMore App

I don't have the natural language ability of search, the news on the siri screen nor the locations,... Is this a half backed update for people outside the US? Sent from the iMore App

The news app is just a ad app I opened it up to a story and ads started popping up...so I moved it to where I have the rest of their worthless apps you can't delete. Sent from the iMore App

Not a comment on the article (which was nicely detailed and informative) but to say that from the bio the author sounds like the coolest person ever!

Since the ios9 upgrade - I have all my contacts display in my phone. I only want 1 particular group but when selected, and then clearing backgroup pages - they Show All Contacts again. Is there any way to stop this happening?

Mine has been doing the same thing. I don't have my Facebook contacts selected but each time I power off and power back on my phone the Facebook contacts, plus all the other ones are selected again. Don't know why it's doing that.

In podcasts, I can't seem to fast forward. I can only jump forward (or back) by 15 seconds. How can I fast forward like I used to? It was really useful to be able to hear what I was skipping through so I know where to stop.

I haven't seen any comments on it, so maybe it's just me and I accidently hit a button that changed the settings - but in Podcasts where I used to have a skip forward track and a skip backward track option, now I only get the 15 Second forward and backward icons. This annoys me greatly and I'd love to know how to get my skip forward and backward buttons again.

When will it is available in the market any official announcement?
Thank you for signing up to iMore. You will receive a verification email shortly.
There was a problem. Please refresh the page and try again.