What's on Georgia's iPhone 6 Plus right now!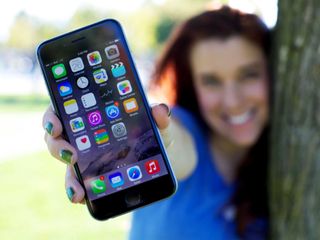 Yes, I opted for the new iPhone 6 Plus because I've always wanted a bigger screen. A much bigger screen. And now I have it. For gaming, for watching videos, for surfing the web, it's just so much better that I'm willing to sacrifice the ability to easily type one handed. And yes, my Home screen is still pretty much default — I'm lazy! — so I'm including some of my favorite apps from my second screen as well. And yes, I still don't update applications very often. I don't like change. I don't like learning new interfaces, and I don't like that I can't go back to a older version of an app if anything goes wrong. It's my iPhone after all, and I get to use and abuse it just the way I want!
Wallpaper: I'm using one of Apple's static wallpapers. It's beautiful, it was in the keynote, and it just looks iconic.
Utilities: This is an archeological artifact. I think Calculator is in there.
Shazam: there is nothing more wonderful than being able to hear a song, find out what it is, and buy it in iTunes. I did it in the middle of a television show today, only 7 seconds of a clip and Shazam found the song for me. So great! Free - Download now
iMore: I have my iMore app to keep up with how our stories are doing. And I actually updated to the new version! Free - Download now
Zuma's Revenge: Popcap's fun, chain-forming game is great. Match colored stones and try to make the chain disappear before you hit the finish line. $1.99 - Download now
Games: Ignore the name on the folder. This is a dumping ground. You see nothing.
Duolingo: Gamified language learning, what could be better? Duolingo tracks your progress and gives you experience points. It starts off really easily and you can play against your whole family and all your friends. Free - Download now
iMovie: I adore using iMovie. I use it to document family vacations and make fun trailers. Easy and fun to do. Free - Download now ($4.99 if you didn't buy a new iOS device in 2013)
Hue: I really love my Hue lights and so this app easily and effortlessly allows me to change the color in my home and my podcasting room. I can also set the lights to add a mood to a movie, like dark blue for Walking Dead and red for Game of Thrones. Free - Download now
Google Maps: I will truly get lost in any situation and so Google Maps and its accuracy for navigation and traffic is really important to me. Free - Download now
Plants vs. Zombies 2: Defeating the zombie apocalypse as you increase your botanist skill, what could be better? Save your brainz! Free - Download now
Layout: If I'm going to post a picture on Twitter and want to make it a montage or comparison, I use Layout. It's easy to use, customizable, but not too complex. $1.99 - Download now
Pebble: The app that lets me update and get the most out of my smartwatch. Free - Download now
Room Pocket: An exceptionally well made 3D puzzle solving game that's not too frustrating. Free - Download now
1Password: I have to admit, I haven't started using 1Password yet, but it's gotten to the point where I've downloaded it and started setting it up. Free with IAP - Download now.
King of Math: Great to practice your math skills. $1.99 - Download now
Candy Crush: I am ashamed, but I still play it when they release new levels. Free with IAP - Download now
Spellfall: A cute puzzle game. Free with IAP - Download now
GarageBand: When people ask what an iPhone can do, I like to show them GarageBand. It's amazing.
iTunes U: I have no idea why this is here.
Numbers: For when I occasionally need to open and edit a spreadsheet while on the go.
Revolution 60: Awesome game by my Isometric co-host. Love Bri. XO. Free with IAP - Download now
Tweetbot: I enjoy the interface that Tweetbot uses. I am not a huge fan of social media but Twitter is efficient and simple enough to keep me entertained and involved. $4.99 - Download now
Vesper: My co-host on the soon-to-be-renamed Vector, Dave, designed it. It's great for lists of all kinds, including shopping. $2.99 - Download now
Well, that's what's on my iPhone! If you have any better apps you'd like to recommend, let me know! Also, if you want to see my iPad Home screen or Mac Dock, tell me in the comments!
Master your iPhone in minutes
iMore offers spot-on advice and guidance from our team of experts, with decades of Apple device experience to lean on. Learn more with iMore!
Senior Editor at iMore and a practicing therapist specializing in stress and anxiety. She speaks everywhere from conferences to corporations, co-host of Vector and Isometric podcasts, follow her on Twitter @Georgia_Dow and check out her series at anxiety-videos.com.