What's on Georgia's iPhone 6 Plus right now!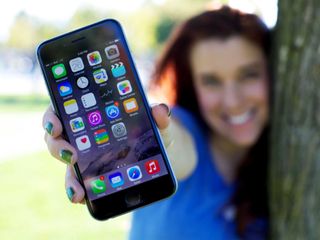 Yes, I opted for the new iPhone 6 Plus because I've always wanted a bigger screen. A much bigger screen. And now I have it. For gaming, for watching videos, for surfing the web, it's just so much better that I'm willing to sacrifice the ability to easily type one handed. And yes, my Home screen is still pretty much default — I'm lazy! — so I'm including some of my favorite apps from my second screen as well. And yes, I still don't update applications very often. I don't like change. I don't like learning new interfaces, and I don't like that I can't go back to a older version of an app if anything goes wrong. It's my iPhone after all, and I get to use and abuse it just the way I want!
Wallpaper: I'm using one of Apple's static wallpapers. It's beautiful, it was in the keynote, and it just looks iconic.
Utilities: This is an archeological artifact. I think Calculator is in there.
Shazam: there is nothing more wonderful than being able to hear a song, find out what it is, and buy it in iTunes. I did it in the middle of a television show today, only 7 seconds of a clip and Shazam found the song for me. So great! Free - Download now

(opens in new tab)

iMore: I have my iMore app to keep up with how our stories are doing. And I actually updated to the new version! Free - Download now

(opens in new tab)

Zuma's Revenge: Popcap's fun, chain-forming game is great. Match colored stones and try to make the chain disappear before you hit the finish line. $1.99 - Download now

(opens in new tab)

Games: Ignore the name on the folder. This is a dumping ground. You see nothing.
Duolingo: Gamified language learning, what could be better? Duolingo tracks your progress and gives you experience points. It starts off really easily and you can play against your whole family and all your friends. Free - Download now

(opens in new tab)

iMovie: I adore using iMovie. I use it to document family vacations and make fun trailers. Easy and fun to do. Free - Download now

(opens in new tab)

($4.99 if you didn't buy a new iOS device in 2013)
Hue: I really love my Hue lights and so this app easily and effortlessly allows me to change the color in my home and my podcasting room. I can also set the lights to add a mood to a movie, like dark blue for Walking Dead and red for Game of Thrones. Free - Download now

(opens in new tab)

Google Maps: I will truly get lost in any situation and so Google Maps and its accuracy for navigation and traffic is really important to me. Free - Download now

(opens in new tab)

Plants vs. Zombies 2: Defeating the zombie apocalypse as you increase your botanist skill, what could be better? Save your brainz! Free - Download now

(opens in new tab)

Layout: If I'm going to post a picture on Twitter and want to make it a montage or comparison, I use Layout. It's easy to use, customizable, but not too complex. $1.99 - Download now

(opens in new tab)

Pebble: The app that lets me update and get the most out of my smartwatch. Free - Download now

(opens in new tab)

Room Pocket: An exceptionally well made 3D puzzle solving game that's not too frustrating. Free - Download now

(opens in new tab)

1Password: I have to admit, I haven't started using 1Password yet, but it's gotten to the point where I've downloaded it and started setting it up. Free with IAP - Download now

(opens in new tab)

.
King of Math: Great to practice your math skills. $1.99 - Download now

(opens in new tab)

Candy Crush: I am ashamed, but I still play it when they release new levels. Free with IAP - Download now

(opens in new tab)

Spellfall: A cute puzzle game. Free with IAP - Download now

(opens in new tab)

GarageBand: When people ask what an iPhone can do, I like to show them GarageBand. It's amazing.
iTunes U: I have no idea why this is here.
Numbers: For when I occasionally need to open and edit a spreadsheet while on the go.
Revolution 60: Awesome game by my Isometric co-host. Love Bri. XO. Free with IAP - Download now

(opens in new tab)

Tweetbot: I enjoy the interface that Tweetbot uses. I am not a huge fan of social media but Twitter is efficient and simple enough to keep me entertained and involved. $4.99 - Download now

(opens in new tab)

Vesper: My co-host on the soon-to-be-renamed Vector, Dave, designed it. It's great for lists of all kinds, including shopping. $2.99 - Download now

(opens in new tab)
Well, that's what's on my iPhone! If you have any better apps you'd like to recommend, let me know! Also, if you want to see my iPad Home screen or Mac Dock, tell me in the comments!
Get the best of iMore in in your inbox, every day!
Senior Editor at iMore and a practicing therapist specializing in stress and anxiety. She speaks everywhere from conferences to corporations, co-host of Vector and Isometric podcasts, follow her on Twitter @Georgia_Dow and check out her series at anxiety-videos.com.
My main change to my home screen in my 6 Plus was that I moved my most frequently used apps to the 12 locations in the lower left (3 columns, 4 rows) so I can get at them most easily when holding the phone in my left hand.

Same here. Sent from the iMore App

I got rid of the Shazam app when iOS 8 came out. Is there much of a point to having it now that it's integrated in Siri?

Hi mate yeah i think there is a point because sometime its awkward to say 'whats that song, siri?' Sometimes i just prefer to press the button to shazam

Yes I like to be discrete when I like music and usually people are talking or I'm with a group.

Good point. Didn't think of that.

Um...what's with all the civility, people? You so know this is the internet, right? This conversation should have devolved into insults and needless escalation before it even began. (Kidding, of course. I don't know how you did it but kudos to iMore for raising the quality of the comments around here.) Oh, and that's a nice shot design/great pic.

Does Shazam let you add found songs to your Spotify list? That's why I use Soundhound.

Yes we have a kind, smart and thoughtful set of people who come to the site. We are so lucky.

Very observant, yes I do sometimes use it and like it. We use it mainly for new articles we are working on.

Yes,you can also make a what's on my mac and iPad chapter!

You're so adorable Georgia, as always.
And yup, great nail polish!

Thank you Sock ! You always notice

yeah, your nails are always so perfect. good job.

So basically you've got a bunch of stock apps, some apps you don't use but rarely, and some that you have no clue why they are there. Sent from the iMore App

LOL Matt, that is pretty much it. Perhaps I should have lied but that is the truth to how I use my phone and I figure I am not the only one out there like this.

Sounds just like my wife's phone. I installed Fantastical and told her to use in in place of the Calendar. It still has a blue dot and is unopened. Sent from the iMore App

Lol at the blue dot badge of shame.

So what's on the other four pages of apps?! Also, I love the fact that not everyone is OCD about their phone (like most of us) and just keep folders that are full of unused / junk apps like Georgia's "Games". Sent from the iMore App

Thanks, I think I am pretty simple when it comes to my iPhone. And no there isn't much order =)

lol. love that pic. :) but what would be even more awesome if your thumb was red and the rest of the nails green. For Christmas maybe? :p

Ill try something winter themed next time just for you Max !

I keep a stock app folder, called "crapple". Have had it since the day we could create folders.

I'm new here...only read the iMore app and see/listen to Rene, Allyson & Serenity.
So...quick question...
Who is Georgia?
One name like Prince or Rhetta?
Thanks! Sent from the iMore App

Therapist, friend of the site, formerly more active but seems to be making a comeback. She's tiny, married, and seems to be really kind and exuberant in the discussions. That's my take. Feel free to correct me, anyone.

Ok. Thanks. Wasn't sure if I was missing something. Sent from the iMore App

LOL yes I think all of that is accurate =) On twitter I'm @Georgia_Dow so I do have a last name as well

Georgia,
I recall you asking about the Fitbit Force when it was first coming out. I did end up using mine - still on my wrist almost a year (and several pounds lighter) later as I type this. Very happy with it, but I just grabbed a Pebble Steel on eBay recently and noticed the app on your phone - so how is it working out for you and what do you think of the new fitness focus in the OS?

I enjoy the pebble but I haven't been using it lately. I found it distracting during therapy sessions and so I have taken it off, but I really did enjoy using it.

Georgia, how is your battery doing, overall? What features have you disabled in the System settings and otherwise? Oh, I got the Layout photo app as well - I've been looking for a good one to do multiple bordered pics with! Thanks!

I usually leave all settings on my phone on unless I know I am running low and can not reach a wall plug. Then I turn down settings and wifi roaming.

Eww Candy Crush LOL I gave up on that crap months ago. Sent from the iMore App

I know, I know. I respect myself a bit less as well =)

I have the 6+ ordered. The e-mail from Apple said it should arrive a few days before the apocalypse. I have a process for preparing to move to a new device, kind of like weeding a garden. What I do is put one app that I'm certain I want on the home screen. After that each app must be opened and considered for my personal approval with a strong leaning toward deleting the app. Also being retired and having relatively simple "business" needs, I tend toward the stock apps and those from Apple because they are most likely to be seamlessly integrated into the system. So I do Spring cleaning when moving to a new device. There is also a folder on the last page where I move all the apps that cannot be deleted and I never use, to a folder called "Unused". Also on this last page seasonal apps are moved for when they are out of season, like for the college basketball tournament that is a once-a-year event. Folders are a difficult thing for me. Some apps, like Numbers, can be used for so very many things. I put it in "Business" because a spreadsheet is a business app but that makes it hard to find when my head is on watching TV and I might have a spreadsheet listing all the upcoming new TV shows. I want some files to be on the desktop as if they were their own app! OK, I'll list some games that have stood the test of time for me on my iPhone (different than the games on my iPad (like Lux DLX)): Threes
DropZap
Catch21
TriPeaks
TwoDots
Ult. Hangman
Minesweeper
Shufflepuck I like casual games on the iPhone, ones that are easy to pick up and put down. Interesting that I'm only now finding my iPhone 5 is a nice book reader. Gerty is a great little app for that, love the autoscroll.

I will try those games out and see how I like them. Thanks so much for the list.

Will you do a Note 4 vs Galaxy 6 Plus comparison on iMore?

Yes I believe that we have those coming up.

too default/basic. Where's the personal touch, it's almost like you're leasing the phone with no intention to keep it.

Thats how I use my phone. It isnt that I don't care what is on my phone but its placement does not have much value. Plus I usually use what is already on the phone and only if that fails will I search out for a better app.

Sure are a lot of closeted dudes in here..."nice nails Georgia " Really?..nice ASS, Georgia! Posted via the Android iMore App!

I love the stock apps as well.. Please show your iPad pass. Thanks !

Yes I would like to see your IPad set up. Which config did you get?

Love these articles,always find a new app for my 6 plus after reading. Keep up the great work!! Sent from the iMore App

Is this your second what is on my phone thing, i swear i thought you did one before, and i had some comments on it, hmm it must be time for me to sleep now. And just wondering is this phone for you or do you let your kids play with it?
Thank you for signing up to iMore. You will receive a verification email shortly.
There was a problem. Please refresh the page and try again.