What's up with the Haswell Mac mini?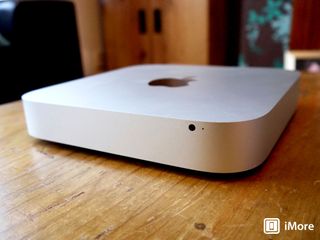 Apple's June refresh of the MacBook Air saw the introduction of Intel's fourth-generation Core processors, internally called "Haswell." Apple's spent this autumn introducing new iMac and MacBook Pro systems that also use the Haswell architecture (except for the venerable "standard" 13-inch MacBook Pro, which still uses last year's chip). The all-new Mac Pro that's due out in December uses a different processor, so that leaves one lone holdout: the Mac mini. So where's the Haswell Mac mini?
Why Haswell?
Haswell doesn't really speed up core processing in the Mac as much as it improves efficiency. The biggest benefit is improved power management for laptops, which really doesn't translate into a significant improvement for desktop systems like the Mac mini.
But there are some tangible benefits to graphics performance with Haswell processors - the Intel HD 5000 integrated graphics run way faster than last year's model did. OS X heavily leverages OpenGL in its Core Image technology, so that means faster performance across the board, not just for games or video rendering, but most processes that touch graphics in some way.
There are other improvements to Haswell that provide better temperature regulation and other benefits, but they're not "customer facing" in the same way that improved battery life and better graphics performance are likely to be. It's because Intel employs a "tick tock" manufacturing model, where it introduces new chip architectures and then makes efficiency improvements (smaller die sizes, lower power consumption) on alternating years. The Haswell chip is a result of that "tock" - it builds on the truly significant Ivy Bridge CPUs we saw released last year, but doesn't make any revolutionary changes.
Having said that, Apple has used the refresh to improve other aspects of the Mac's design as well. Haswell Macs come with 802.11ac Wi-Fi, or Gigabit Wi-Fi - wireless networking that's up to three times faster than before. On some models that use Solid State Drive (SSD) technology, they've switched from SATA to PCIe interfaces, which translates into dramatically improved storage performance. On some models, like the new MacBook Pros with Retina Displays, Apple's incorporated Thunderbolt 2, which provides twice the bandwidth as the original Thunderbolt - capable of driving a massive 4K display, or transferring data much faster from a Thunderbolt hard drive or RAID array. For what it's worth, I don't think the Mac mini will get Thunderbolt 2 - the iMac didn't get it when Apple refreshed it but I wouldn't be surprised to see some other changes to make it worth your while to buy a new Mac mini.
So there are some really good reasons for wanting a Haswell equipped Mac mini, even if better battery life isn't applicable.
Apple's uneven Mac mini refresh cycle
The Mac mini has been a mainstay of Apple's product line since its introduction in 2005. It's Apple's entry-level Mac model, designed especially to give Windows switchers an inexpensive entry into the Mac realm - something they can just plug their existing screen, keyboard and mouse into and pick up where they left off from their desktop PC.
But Apple's been wildly inconsistent about refreshing the Mac mini over the years. They've refreshed the Mac mini in as little as five months, but one time they went more than a year and a half. That's led some pundits to write the Mac mini off over the years - certain that Apple's going to discontinue the little Mac at any moment because of Apple's apparent negligence.
It's not a case of negligence. Apple simply doesn't feel the same pressure to update the Mac mini with the same frequency or make it as much of a show as other Mac models because, well, the sex appeal simply isn't there. The Mac mini is a reliable seller season to season. And people do buy them. They're popular workgroup servers in corporate IT environments. Small and medium-sized businesses use them as all-purpose servers, especially now that OS X Server costs a scant $19. Home theater installers often use them as media servers - Apple's even built recent models with HDMI connectors to make it easier to connect to flat screen televisions.
In 2010, Apple unveiled a redesigned Mac mini that eschewed an internal SuperDrive, added HDMI and an SD card slot and made other changes. Since then, they've been on a more-or-less an annual upgrade cycle.
So where's the new Mac mini already?
So if past is prologue, the Mac mini is due for a refresh Real Soon Now™.
To be frank, I expected to see it updated when the new iMac and the new MacBook Pro with Retina Display made their debut last month. Because the Mac mini is often updated at the same time as other consumer-focused Mac models. And Apple usually makes it pretty low-key. Last year, for example, the Mac mini's refresh didn't even elicit its own press release - its update was mentioned in the same press release as Apple's all-new iMac.
As it is, I wouldn't be surprised to see a new model hit by the end of the year.
I don't expect that there will be a lot of major changes in clock speed to the new Mac mini, when it finally gets here. But integrated graphics improvements in Haswell, combined with some of the other changes Apple has made like faster Wi-Fi, will make the new Mac mini worth the wait once it gets here.
Get more iMore in your inbox!
Our news, reviews, opinions, and easy to follow guides can turn any iPhone owner into an Apple aficionado