What's new on the App Store: Day One 2, OK K.O. and apps for Valentine's Day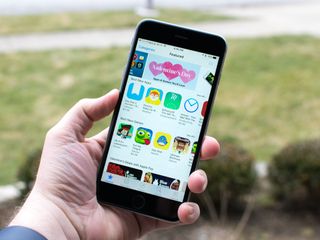 This week in the App Store, we start with Day One 2, the follow-up to the popular journaling app Day One. Also check out Poncho: Wake Up Weather, which offers you colorful forecasts throughout your day. Airmail, a versatile email app, has also made its way to the iPhone. Finally, take a look at PlayGround, a new way to experiment with music.
This week in games begins with OK K.O.! Lakewood Plaza Turbo, a side-scrolling brawler from Cartoon Network. There's also Hop Shot, a new platforming game with retro art style. Ultimate Briefcase challenges you to dodge around falling debris and rogue doomsday machines in an effort to survive. Also be sure to try Dofus Pogo, a game in which you throw yourself straight at your enemies in an effort to destroy them.
Valentine's Day is just around the corner, and this week, the App Store has a collection of apps and games to get your ready. Play a game together with Bounden, which encourages you to dance. Send cards, flowers, and other gifts with Paperless post and 1-800-Flowers. Planning a home-cooked meal for the big day? Check out Panna and NYT Cooking for recipes. Use OpenTable to book a restaurant, or plan a weekend getaway with Airbnb.
Check back next week for more new apps and games from the App Store, and remember to check out this week's Free App of the Week.
Joseph Keller is the former Editor in Chief of iMore. An Apple user for almost 20 years, he spends his time learning the ins and outs of iOS and macOS, always finding ways of getting the most out of his iPhone, iPad, Apple Watch, and Mac.
I first purchased DayOne on 12/13/15, both for iOS $1.99, and OS X $6.99 plus tax. Upon purchasing I emailed their support to ask if it were possible to add multiple photos to a days activity at which point they responded and said no only 1 picture per day.
They did not say anything about the next version which was going to be released within 30 days, not it's on our ToDo list for the next release, IN A MONTH!
So nI accepted that and I paid for this app last month now they want another $19.99 for this update, is that fair or abusive??? I reached out to them 5 days ago to ask if this was an oversight for those who have recently purchased their app or if they were offering a code to at least discount for those who just purchased their app.
I didn't ask for a FREEE update, and actually shared with them that I would pay another $4.99 for the iOS version since it was only $1.99.
Their response was that I should contact Apple to ask for a refund??!?!?? Whats Apple going to do about this? Is it me or is this developer abusing those who have shown support for their product?? I would have left a positive review of the app everywhere but then I would be showing support for a group of greedy people / or developers who think its ok to abuse their customer base like this. Within my first email message I shared that even Parallel offered a discount to those who had just purchased their prior software version and they went back 45 days.
And their response is contact Apple???
In respect to their response I replied to ask them asking them what they meant by contact Apple?
That was over 4 days ago and I haven't received any reply since.
I hope they do respond and show some support for the who have supported them.
Until then I will not share any positive feedback on the contrary to anyone who I show or talk to I will share how abusive I feel they have been treated existing customers.
Get the best of iMore in in your inbox, every day!
Thank you for signing up to iMore. You will receive a verification email shortly.
There was a problem. Please refresh the page and try again.