What's new in Apple Pay? person to person payments in Messages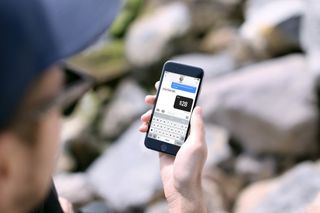 Apple Pay is an incredibly useful payment service from Apple that wins across all payment services thanks to encrypted transactions. That means, everything you buy at any supported retailer doesn't get tracked by credit card companies and doesn't get sold to interested data tracking companies. It's almost as private as paying with cash.
In iOS 11, Apple Pay is going to be extended to more than just retailers and restaurants. You'll be able to pay your buddy back for covering the cab ride, or tell your sister she still owes you for the cost of the shared hotel you fronted. It's called person to person payment and its available in Messages on iPhone, iPad, and Apple Watch running iOS 11.
So how does it work?
It's kinda magical. All you have to do is send a chat in the Messages app to someone with a dollar amount in it. When you tap the dollar amount, a tool will pop up allowing you to either request or pay the amount. Tap Pay if you want to send someone money, or Request if you want someone to pay you money.
If you're requesting money, a link to make the payment via Apple Pay will show up in the Messages chat window. If you're paying someone, when you hit the Send button, you'll be prompted to use Touch ID to complete the transaction.
That's it! Payment sent. Payment received.
But where does that money I've received go?
You're not a giant retail store or a credit card company. You're just one person. So, how do you get your money from Apple Pay after your friend sends it to you?
Initially, the cash will store up in your Apple Pay account, sort of like a virtual debit card, that you can use to buy stuff with anywhere it's supported, including retail stores.
If, however, you find yourself wishing you had that dough in your bank account, it's no problem. You can transfer it directly without having to pay a service fee (though you will probably have to wait two days for the transfer to complete).
But my iPhone doesn't have Touch ID, how do I use Apple Pay in Messages?
You don't.
Not only is Apple Pay on the iPhone only available with Touch ID supported devices, it's also only available on iOS 11, which means older iOS devices won't be able to take advantage of the peer-to-peer payment service. It is also only going to be available in the U.S. to start.
Apple Pay in Messages is supported in the following devices running iOS 11 or higher:
iPhone SE
iPhone 6 and later
iPad Pro
iPad 5th Generation
iPad Air 2
iPad mini 3 and later
Apple Watch
When can I start using it?
You and your peeps will have to be running iOS 11 on supported devices, so you won't be able to split the dinner bill with your friends using Apple Pay until later this fall unless you're all running a beta version that it works in.
Find out everything else that's coming to iOS 11
Any questions?
Do you have any questions about person to person Apple Pay payments in Messages in iOS 11? Put them in the comments and we'll help you out!
○ Everything about WWDC 2020
○ WWDC 2020 remote lineup
○ Download the Apple Developer app (opens in new tab)
○ iOS/iPadOS 14
○ macOS 10.16
○ watchOS 7
○ tvOS 14
○ Discussion forums

Get the best of iMore in your inbox, every day!
Lory is a renaissance woman, writing news, reviews, and how-to guides for iMore. She also fancies herself a bit of a rock star in her town and spends too much time reading comic books. If she's not typing away at her keyboard, you can probably find her at Disneyland or watching Star Wars (or both).
Will iOS11 Apple Pay person-to-person payments allow you to send money across borders? i.e. can someone in US send money to me in Canada? If it does, it's going to be a PayPal killer.

Got this from Apple's website concerning iOS 11. Its at the bottom of the page.----- "Person to person payments and Apple Pay Cash are available only in the U.S. on iPhone SE, iPhone 6 or later, iPad Pro, iPad (5th generation), iPad Air 2, iPad mini 3 or later, and Apple Watch."

What about if you are traveling and want to pay your friend back in a different currency?

Person to Person Apple Pay is only available in the U.S. at start.

Can you pay someone who doesn't use Apple Pay on their phone?

You cannot. Just like all other peer-to-peer payment services, the recipient will also need the same service.

If you use a credit card rather than a debit card, or for that matter on any transaction is there a fee on either end?

It'll work exactly the way Apple Pay works with retail store purchases.

Haven't used Apple Pay since subway closed down near my work and it's the only place that I shop that accepted Apple Pay . Now nowhere I shop accepts it. I think they did it backwards. Worked to hard on banks little on merchants....

That's weird, I live in New Hampshire, which is not exactly a cutting edge area with getting the good stuff but I use Apple Pay at all the grocery and drug stores around here, plus Best Buy and other chains.

I feel your pain. There are very few places in my bustling metropolis of Sacramento, CA that support Apple Pay. It's getting better, but very slowly.