What's on Richard's iPhone 6 right now!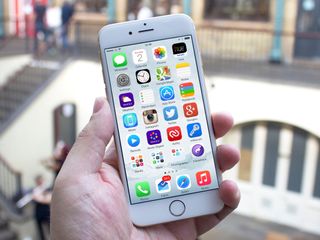 Following on from other members of the iMore team, it's my turn again to talk about what I'm using on my new iPhone 6. Moving up from the 5s I decided to start afresh, no iCloud restores, just setting up as a new phone and downloading apps as and when I decided that I needed them. My 5s had become unwieldy. Far too many apps installed that I just wasn't using. So I used the upgrade to trim the fat and what's on there now is pretty much what I'm actually, regularly using.
Read on and I'll take you through it.
The wallpaper is one of Apple's own, stock offerings. It's the white mountain scene. Since this year I managed to get the gold and white iPhone 6, I wanted a light background to go with the white front.
Stock apps: Some of the stock iOS 8 apps remain on my main homescreen, but only the ones I actually use. It's not particularly exciting but I keep Messages, Calendar, Photos, Camera, Settings, Clock, Notes, Reminders, App Store and Passbook on the first screen.
Hue

(opens in new tab)

: I recently acquired a Philips Hue system and while my house is far from completely kitted out, I do have some in what I call my office. I've got a Hue Tap at my desk, too, but the Hue app is still an essential. You can't set your lights up without it!
Apple Remote

(opens in new tab)

: I use this almost exclusively to control my Apple TV. I think it's a much preferrable experience, namely scrolling and typing to search with an actual keyboard. And since I use my Apple TV most days, I use this app a lot.
Google+ and Twitter:Google+

(opens in new tab)

is still my preferred social network closely followed by Twitter. Since there aren't any third-party apps for Google+ I'm stuck with Googles. I'm using the official Twitter app

(opens in new tab)

again (for my sins) and while I don't particularly like it, it still shows me things other clients won't.
iMore

(opens in new tab)

: Because, it's the iMore app! And it looks great on the iPhone 6.
Yahoo Weather

(opens in new tab)

: The best weather app there is in my opinion. Those Flickr sourced photos are just so nice to look at and with data from Weather Underground it's usually accurate, too. I'm constantly looking at the weather just to have an excuse to open this app.
Yahoo News Digest

(opens in new tab)

: Another daily staple from Yahoo. I like to keep up with the news but I don't like to spend much time doing it. This app covers both bases with two updates a day curating the most important news stories. And it's such a nicely done app, too.
mSecure

(opens in new tab)

: I chose mSecure initially because it better supported Android as well as iOS and Mac. And I stand by that. 1Password is now better on Android, but I'm invested in mSecure as my password manager and so I'll be sticking with it.
Instashare

(opens in new tab)

: AirDrop between Mac and iOS just doesn't seem reliable enough to me right now. So to that end I'm still using Instashare which is fast, fast, fast and hasn't put a foot wrong in all the time I've used it.
Instagram

(opens in new tab)

: We all know Instagram. I spend too much time looking through it as it is. That's probably why it's on my main screen. At least it now looks good on the iPhone 6.
Authy

(opens in new tab)

: If you use two-step authentication on any number of accounts online, I can't recommend Authy enough. It allows you to sync your authenticator tokens across devices, including your Mac, so you've got them everywhere. And it's cross platform. With Google Authenticator I had to have one device only activated, which was a real pain. With Authy I've got multiple Android devices, my iPhone, iPad and Mac all hooked up so I'll never need to worry about it again.
Media Apps: I consume a lot of media content on my iPhone, and there's a bunch of different apps I use to do that. Netflix

(opens in new tab)

, Google Play Music

(opens in new tab)

, Plex

(opens in new tab)

, BBC iPlayer

(opens in new tab)

, Amazon Music

(opens in new tab)

and Blinkbox Music

(opens in new tab)

all have a home on my iPhone. I'm a mess when it comes to music, no-one service or device holds it all, so I'm frequently between apps. My podcast app of choice is Shifty Jelly's excellent Pocket Casts

(opens in new tab)

which allows me to sync between iOS and Android as well as now having an excellent web player. That and it's just an awesome app. I've also got the YouTube

(opens in new tab)

app in there. I wouldn't say I like it, as such, but I like it more than using the browser like an animal.
Work Apps: I've really reined in the apps I'm using on a daily basis to help in my work because like the rest of my iPhone, it was a mess. The essentials are there: Slack

(opens in new tab)

, our inter-team communication tool, Trello

(opens in new tab)

, our editorial planning tool, and Chartbeat

(opens in new tab)

, a service that helps keep track of real time traffic hitting the sites. These are supplimented by Skype

(opens in new tab)

and Hangouts

(opens in new tab)

, both of which we use to actually talk to each other, and Feedly

(opens in new tab)

which hosts my insane amount of RSS feeds. Though thanks to our newsroom team, I don't need to look at that nearly as often as this time last year. I've also got Dropbox

(opens in new tab)

which is an absolute necessity (to the point I'm paying for 1TB) and Vesper

(opens in new tab)

which I do still use to capture any random thoughts and notes. It's just nicer than the iOS Notes app (which I should probably bump off the main screen, right?) I'm still a heavy Byword

(opens in new tab)

user, too. I do all my longer writing pieces in it instead of trusting it to our CMS and with Markdown support and iCloud syncing, all my work is where I need it all the time.
Photography Apps: Nowhere near as many as I used to have, but I still keep my favorites on my main home screen. VSCO Cam

(opens in new tab)

and Camera Noir

(opens in new tab)

are old favorites, as is Snapseed

(opens in new tab)

. But joining them now are the excellent Storehouse

(opens in new tab)

and Google's Photosphere

(opens in new tab)

app. Granted, more often that not I just use the stock camera app, but sometime I try to be creative. Try being the word.
On my dock: The Phone app, because I still call people quite a lot. It is a phone, right? Also down there are the Safari and Music apps and the new Google Inbox

(opens in new tab)

application. I managed to get into Inbox on the first day – and please, don't go posting your email addresses in the comments, I have no invites left and you don't want to do that, anyway – and so I'm going all in on it to see if it works for me. It doesn't work with Google Apps accounts so I also still have the Gmail app elsewhere on my phone to get all my work correspondence. Not ideal, but it's where I'm at.
Other favorites: There are a few apps that are as important as those above but that space wouldn't allow for. For example, I have the BT BabyAudio

(opens in new tab)

application which while absolutely stuck in an iOS 6 world, will allow me to use my iPhone to listen to the baby monitor in the nursery upstairs when my baby arrives. And I still think it's pretty awesome that we can do such things. Xbox One Smartglass

(opens in new tab)

is an excellent way to interact with the console without actually being in front of it.
So, that's the main collection of apps on my iPhone. There are also a bunch of others I use often such as Starbucks (opens in new tab), British Airways (opens in new tab), and I've just started using Medium (opens in new tab), too. I haven't gotten into much gaming yet with the iPhone 6, but I am enjoying Beach Buggy Racing (opens in new tab) at the moment.
Be sure to share your own favorite apps with us in the comments below!
Get more iMore in your inbox!
Our news, reviews, opinions, and easy to follow guides can turn any iPhone owner into an Apple aficionado
"I haven't gotten into much gaming yet" Richard, it's bad enough putting up with your use of American spellings, but now you're using that most difficult to swallow of American words "gotten"'. For goodness sake, speak standard English. There is no such word as "gotten" in modern English. We say "have got". It's not a difficult structure, in fact you'll have learnt it at school if you cast your mind back. This creeping Americanisation of English is unnecessary and disturbing.

Isn't gotten past participle of get?

Only in American English. In standard English the past form of get is "have got".

I said modern English, as defined by the OED.

Perhaps he was intending to speak American English. Sent from the iMore App

Well this is an American skewed site so it was possibly intentionally written with American English, so the Editors wouldn't have a moan about some of the spellings. Sent from the iMore App

@morobosh: And obviously that is not acceptable to you. If Richard allows himself to enjoy the pleasure of American English what are you going to do about it: Call the Queen?!

I bet using Color instead of colour would set him off. Sent from the iMore App

how about theater, instead of theatre?

They both mean the same thing like Center & Centre, along with Color & Colour.

You are so stupid ! This is a damn Apple forum, and your worries about proper English! (Which he DID USE CORRECTLY!) smh Sent from the iMore App

It's easy to slip into American English when iMore is so American skewed. Even the USD is used by Richard when he does App reviews. Sent from the iMore App

Thanks for sharing Richard. Love Yahoo Weather as well, it doesn't seem to get much love nowadays (and it's beautiful as a widget). Byword is another app I like quite a bit. Authy is intriguing so I'll give it a run.

How much space does all that take up? Could you get by with 16GB model?

Authy is the way to go. Really should replace the stock calendar and reminders apps with Fantastical 2. On another planet kind of better. Sent from the iMore App

i swear by msecure also. its a great management app. I sometimes think people get too caught up with the hype of the most popular app of a specific category; and there will be another choice just as good for cheaper or even free. I'm soon going to purchase the OSX counterpart.

I too use mSecure. Just disappointed there isn't a share extension for entering its passwords in Safari on iOS. Sent from the iMore App

Thanks for recommending Authy ... i'm used to google authenticator but Authy looks better to me. Sent from the iMore App

Wow, that's a lot of apps on your phone. I am not sure how anyone actually uses that many. Anyways , I do like many of those. My favorite app at the moment is Flipboard. I also use iTunes Radio a lot, since its free, and it has less Ads than the competition (and gives you six skips per hour, per channel, with no daily maximum).

Hey Richard, I love the BBC iPlayer which I listen to on my computer all the time, However when I search the iOS app store it doesn't come up. It seems to be blocked for american users. I am currently running iOS 8 and have a iPhone 6 ( my first smart phone). Question, Is the App blocked here in the US? If so, how were you able to install it? It would be great to have it on my phone. Thanks ::Will

Yes. IPlayer is blocked in the US. Posted via the iMore App for Android

Richard,
I use Cloud Monitor for a baby monitor. It is excellent and the UI isn't stuck in iOS 6 either! LOL