What's on Richard's iPhone right now!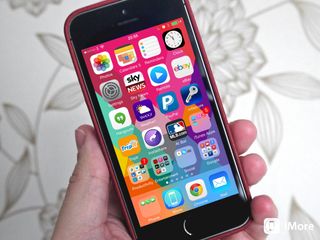 And so it comes back around to me, this time to guide you through what I use on my iPhone 5s. It's a little more tricky than when I talked iPad for one main reason. I use my iPhone a whole lot more and for much different reasons. If I told you about every single thing on my iPhone, we'd be here a very, very long time. You'd get bored.
That's because the majority of apps I try out – either for personal reasons or for my work here on iMore – are put onto my iPhone. Since it's always in my hand or my pocket it's a better device for this type of thing than my iPad. But, I do have a staple of apps which have a permanent home and which I use practically every day. So let's take a look at those, and my current choice of wallpaper.
The wallpaper is the same as I have on my iPad. It's one of Apple's stock iOS 7 choices and I like it because it's colorful.
Stock apps: Some of the stock iOS 7 apps remain on my main homescreen, but only the ones I actually use. Photos, Reminders and Clock stay up top. I use Reminders a lot, more like an alarm than a to-do list. Settings has a place as do the iTunes Apps – Music, Videos, App Store and iTunes Store – in a folder together. I do have iBooks and iTunes U installed – just to keep up to date with them – but these are rarely used and live elsewhere.
Apple Remote: I use this almost exclusively to control my Apple TV. I think it's a much preferrable experience, namely scrolling and typing to search with an actual keyboard. And since I use my Apple TV most days, I use this app a lot.
Calendars 5 by Readdle: My favorite calendar app. I can't pinpoint exactly why I like it so much, but Readdle is one of my favorite developers. I really like their work, and this has replaced the stock Calendar app for me.
Google Apps: Pretty much all of them is the easiest way to say it. I don't use the Gmail app, though. I never really got along with it that much. But I live in Google services so I've got pretty much everything. Authenticator, Hangouts and Google+ are the three most used.
eBay: I spend too much time looking on eBay for things. More than Amazon or any other store. I have a problem and should probably move this app and hide it!
Yahoo Weather: The best weather app there is in my opinion. The data comes from the same source as the iOS 7 Weather app but those Flickr sourced photos make all the difference. I'm constantly looking at the weather just to have an excuse to open this app.
PayPal: Essential to me. I move a lot of money around using PayPal, and the iOS app is actually really nicely done.
Sky News: I wish this app looked better and I wish it was nicer to use. But Sky News is where I get my regular, non-tech news and this the only iOS app they have.
mSecure: I chose mSecure initially because it better supported Android as well as iOS and Mac. And I stand by that. 1Password is going to get better on Android, but I'm invested in mSecure as my password manager and I'll be sticking with it.
TripIt: I don't travel nearly as much as some of the Mobile Nations staff – and when I do it often doesn't involve planes – but TripIt is an absolute essential. Hooked in to my Gmail account I don't need to worry about keeping track of my travel plans because TripIt does it for me. I use the train a lot here in the UK and TripIt still pulls in those reservation details – albeit thinking I'm in the U.S. which is massively irritating – and organizes everything for me. It's the best at what it does, I think.
Instashare: Until Apple makes AirDrop work between iOS devices and Mac, this is how I'll be transferring my stuff.
MLB At Bat: I'm a Brit that loves Baseball. I'm also an MLB.tv subscriber, so this app becomes not only free but ultra useful. Since I'm not subject to any local blackout restrictions over here, I can watch all the Baseball I want wherever I am.
Social Apps: Only three that I really use. But I use them a lot. Flint is a Campfire client for iOS and the very best one at that. Campfire is what we use at Mobile Nations as our company office chat and it's a real bonus having such a great mobile client to use. Skype needs little introduction. It's how we call each other, so there's no reason not to have it on my iPhone. And then there's Tweetbot 3, which is the best Twitter app I've ever used. Doesn't need much more than that, really.
Productivity Apps: Another couple of Readdle apps live in this folder; Documents and Scanner Pro. I really wish I used Documents to its full potential, but it's the only way I manage documents from different sources including Dropbox, Google Drive and OneDrive. I've got different things in different places and this helps keep track of everything. Scanner Pro is a pretty fantastic app at scanning documents and creating a pdf copy. I also use Any.do quite a lot to plan out tasks because it's cross platform and has a great, offline Google Chrome app too. I also use Simplenote in place of the standard Notes app for similar reasons, and it has a nice, simple Mac app. The other two apps in here are predominantly for work purposes. Trello is something we use to plan out our editorial content, and of course, Dropbox.
Entertainment Apps: I consume a lot of media content on my iPhone, and there's a bunch of different apps I use to do that. Spotify, Netflix, BBC iPlayer and TuneIn Radio are the main ones. Well known, popular and great to get my fix on the go. Other British TV channels have apps too, and I keep ITV Player and 4oD close at hand, too. My podcast app of choice is Shifty Jelly's excellent Pocket Casts which allows me to sync between iOS and Android. That and it's just an awesome app. And pour one out for Twitter #Music. I actually like it, and I'll keep hold of it until it finally shuts down forever.
On my dock: Google Chrome has replaced Safari, mainly because I use it on the desktop. The stock Mail app is there – for now – as are the Phone, Messages and FaceTime apps in a folder. Oh, and the iMore app. Because it's iMore!
So, that's the main collection of apps on my iPhone. There are also a bunch of others I use often such as Starbucks, British Airways, and I've just started using Medium, too. It's a gorgeous iPhone app and there's some really great stuff being written over there. Any of these match up with your own preferences? Share your own iPhone setups in the comments below!
Master your iPhone in minutes
iMore offers spot-on advice and guidance from our team of experts, with decades of Apple device experience to lean on. Learn more with iMore!