What's on Serenity's iPhone 6 right now!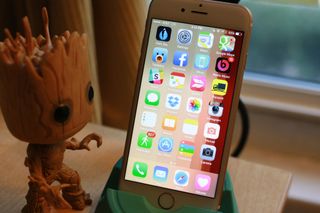 When you live in a studio apartment, you tend to try and keep things minimal—no unnecessary tchotchkes, lots of shelves—to maintain some level of organization. But though I generally avoid hoarding tendencies in real life, it's, uh... quite the opposite for my iPhone 6.
I try a lot of apps, after all. And while the habit may have gotten its start because of my work, it's bloomed into a full-on "must have the latest and greatest app now" obsession. So it's probably good that my newest iPhone has a full 64GB of space—it's nice not to be constantly running close to that 32GB limit. Of course, owning a new phone also gave me a chance to reassess what exactly I wanted living on my primary Home screen.
That first screen is now largely organized into three sections: "Things I might need to tap while driving," "Camera stuff," and "Frequently used apps." The iPhone 6's screen is just large enough that I prefer having my navigation apps, music, and the like up near the top, so that when my phone is docked while driving, I can easily access and tap the icons I need.
Wallpaper: Sometimes, weird camera aberrations can turn out to be spectacular backgrounds. This was a panorama goof that included a stray finger; the resulting geometrics, however, happened to be the perfect fall coloration I was looking for on my iPhone.
Dark Sky (opens in new tab): My favorite weather app starts the top "Things I might need to tap while driving" row. If you haven't tried Dark Sky yet, you're missing out on its excellent precipitation notifications and silky-smooth interface; I also like being able to glance quickly at full-screen radar maps with a swipe.
Settings: Though not really a driving app, Settings has lived in the second spot, top row for as long as I've owned an iPhone—and it just feels wrong to change it.
Maps and Google Maps (opens in new tab): May they fight on forever more. I've tried having one or the other solely exist on my Home screen, but I end up always putting them both up there. I like Maps for the Siri integration; Google for transit and good directions whilst in the wilderness; and both of them when I want to put faster route tests head to head.
Tweetbot (opens in new tab), Facebook (opens in new tab), and iMore (opens in new tab): The social trio live on the second row of my Home screen, all within easy thumb reach. Tweetbot's my go-to client for all things Twitter; Facebook exists because it turns out the roller derby community doesn't get Twitter so much; and iMore, well, that should be self-explanatory.
Beats Music (opens in new tab): Once upon a time, the Music app lived in this space. But it is no more. Beats Music has overtaken that throne, because it routinely comes up with the best classic rock playlists to listen to while on the road. (I listen to Beats a ton at home, as well, but usually via my computer or Apple TV.) Apple's newest subscription service may not be perfect, but it gets music curation in a way no other streaming service currently does.
Row Three—The Work Apps: When I need to get stuff done for iMore or for my roller derby side-projects, I turn to these apps. Slack (opens in new tab) is our information HQ at iMore; Fantastical (opens in new tab) remains my favorite program for scheduling and viewing calendar appointments; Skitch (opens in new tab) lets me quickly annotate screenshots, maps, and all manner of images; and Transmit (opens in new tab) allows me to quickly upload files to servers around the world.
The Bottom Right—Camera Land: Thanks to iOS's Camera shortcut, I've gotten used to tapping in the bottom right area of the screen when wanting to snap a photo; as such, to force myself to test out third-party camera apps, I'll put them in the last vertical row where I have easy thumb access. Instagram (opens in new tab) has pretty much become a Home screen staple for its fun filters and social sharing, while third-party camera tweaking app Manual (opens in new tab) is currently vying to become a permanent addition to that column. I love how easy it is to adjust the iPhone's ISO, shutter speed, and focus from the app, and it lets me snap a lot of beautiful low-light pictures I would have probably missed snapping while using the default Camera app. And speaking of that app, it continues to live in the bottom right corner—just in case.
The Bottom Left—Miscellany: The remaining nine apps on my home screen aren't so much themed as they are arranged for easy thumb access, usually because I use them so often.
Messages is likely self-explanatory—I don't know about you, but iMessages have become one of my primary non-work forms of communication, and I like being able to quickly view and send texts from my Home screen. Dropbox (opens in new tab), I use to store all sorts of pertinent photos, files, work documents, and miscellany that I'd like to be able to access from my iOS devices and Macs.
Photos gives me quick access to my image library, while Reminders, iBooks, and Notes offer me quick list-making, reading, and note-taking options, respectively. (Though I do find myself often swapping Notes out for note-taking app Vesper (opens in new tab)
Pedometer++ (opens in new tab) is my top no-nonsense fitness tracking app; it keeps me honest about my step count—and thanks to the iPhone 6's new M8 and barometer, also tracks how many "floors" of stairs I've climbed.
App Store remains a first-page program so that I may continue my app obsession. Passbook, in contrast, currently lives on my Home screen because I'm taking an absurd number of flights this month and occasionally want to see my passes when they don't show up on my Lock screen.
In the Dock, I've left most of Apple's defaults in place, save for one: Music. In its place is a nifty little app called Albums (opens in new tab), which prompts you to listen to your iTunes library one album at a time, rather than bouncing around your songs or artists lists. It's a nice way to appreciate the music you do have when you get bored of everyday shuffling.
Okay, now that I've been overly detailed in my app-selection choices, what are you iPhone 6-wielding folks rocking with your extra home screen space? What do you think of my top-apps-for-navigation/right-apps-for-photos grid system—crazy, or genius crazy?
Get the best of iMore in in your inbox, every day!
Serenity was formerly the Managing Editor at iMore, and now works for Apple. She's been talking, writing about, and tinkering with Apple products since she was old enough to double-click. In her spare time, she sketches, sings, and in her secret superhero life, plays roller derby. Follow her on Twitter @settern.
You really should switch to Facebook's Paper app over that terrible of app.

Late to the party but using Paper also means you don't need Messenger installed (for now) as you can do basic messaging in the app. I got rid of the main app and Messenger and have all the functionality I used to have with less bloat.

I really like the look of Paper, but I use Facebook in a very specific way (checking a couple of customized lists of roller derby folks) and the app doesn't really like that so much.

Did it, and haven't looked back since. Much more modern look, love all the swiping gestures, and built-in messenger is a plus. Saves me from having to switch back and forth between the two.

I use both. Paper is for my average newsfeed viewing. It's definitely a superior experience for simply browing your newsfeed, commenting, liking posts, etc. However, Paper still needs to add a few features. I would like to be able to check-in places via the Paper app, and I'd also like to be able to edit a post. Typos happen more on my iPhone, so it would be nice to be able to fix them while in Paper. There are some other things that I need the regular Facebook to do as well. Until Paper can do EVERYTHING I need it to, I'll continue to use both apps.

I keep the Facebook app off my phone completely it's a battery hog.

Organized chaos. Very very cool.

Makes sense to me! Posted via the iMore App for Android

"things I might need to tap while driving"!? Really? That's insane.

Don't act like you don't do it too. Sent from the iMore App

Eh, two navigation apps and a music app? Though I just bought a new car (yay!) I still lack a built-in navigation system, so having quick access to Google/Apple Maps and my tunes is key. I generally try to use "Hey Siri" for most everything these days in the car, though, when I can. Touchscreens (whether they're built into the car or external) + driving = stupid.

Who cares Sent from the iMore App

Fyfamf Sent from the iMore App

Who cares Sent from the iMore App

"tchotchkes..." haven't heard that since my grandma died... ;)
Serenity, just as long as "Things I might need to tap while driving," won't distract you from driving...
Have you tried creating folders? You don't fancy them?
Thanks for sharing: Great list.

Folders are an extra tap so maybe the home screen is for quick access? Just a thought :) Sent from the iMore App

Yup, the driving apps in question are very specifically targeted (two maps apps and a music app) so they're not really designed for constant interaction, just quick tap-access. :) Oh, my second home screen is allllllllllllll folders. The first screen I don't bury because, as @steimel notes, extra taps can sometimes be annoying. But I have something like 60 apps nestled in folders on my next page.

Awesome!
Just out of curiosity, can you list the apps you use as widgets? Thanks in advance.

What's on Serenity's phone right now? My picture Posted via the Android iMore App!

Serenity. Gorgeous FALL Wallpaper!!!! Any chance we can get a link or access to it??

Was thinking the same thing. It's a great wallpaper. Posted via iMore App

Thank you! I snapped it last year on the way to a café (http://instagram.com/p/fkt9FgQBJ6). Maybe we'll put together a quick gallery or something of cool fall wallpapers down the line.

What is the gradient wallpaper on the right? I love the leaves as well.

Serenity, it is great to see your articles in iMore. Thanks for your continued contributions to the Apple universe. It is extremely helpful for us!

As a user of Fantasical, I've found that I can hide the reminders app in my junk folder, as Fantasical replaces both the reminders app and calendar app just fine. And move Messages into the dock! Sent from the iMore App

Fantastical has great reminders support. I use the base app primarily because I'm really, really, really bad at non-listing-it-all-in-a-text-document to-dos, and I'm trying to be better at it by actively forcing myself to check the app. :) Messages I usually end up using via notifications, not direct tap access; hence the lack of Dock space. I might even put it on my second page.

I thought I was the only person using Beats Music. Sent from the iMore App

I also organize my icons like that. But I'm a folder guy. Most of my apps are in a folder. 300+ apps. Many are on the home screen. Thank goodness for the iPhone 6 Plus. I needed the space! Lol Sent from the iMore App

I want the lock screen wallpaper !!!! Awesomeness Sent from the iMore App

Thanks! It's from this picture I snapped last year: http://instagram.com/p/fkt9FgQBJ6

I really want try the Dark Sky app, but I'm concerned that it hasn't been updated in quite a while. Sent from the iMore App

Doesn't matter. It's a good app. I mainly use it for rain and something else for daily and 10 day forecasts. But give it a look. Sent from the iMore App

It's great. If you don't want to spend the $$ at first, check out forecast.io, which downloads as a home screen widget.

To your phone? (i.e. forecast.io)

I don't know what I'd do without Launch Center Pro. I put that where your phone.app is because I rarely makes voice calls. Sent from the iMore App

I've downloaded that a number of times and tried to get it into my daily work flow. I always forget about it and find that it adds steps to many actions. Sent from the iMore App

You might want to take a look at Launch Centre Pro again once they implement extension support. I've been using Launcher quite regularly now since it's able to place actionable buttons within the 'Today View' notification drop down. Good Luck.

LCP is awesome, I've just been bad about integrating it into my workflow. One of these days!

Nice! I haven't open e my iPhone 6 yet because I want my most used apps to be optimized. How is facebook and instagram on iPhone 6, do you think?? Sent from the iMore App

Facebook isn't optimized yet, but Instagram looks gorgeous.

Oh, I see. But Whatsapp is not, I've heard?! Sent from the iMore App

Fanatical is OK but there is no at a glance month overview. Calendars 5 is the calendar to use! https://appsto.re/us/3JyMP.i Sent from the iMore App

I also have Calendars 5 on my iPhone! I go back and forth, but I prefer Fantastical's overall look.

Yes, there IS a month-at-a-glance; it's one the cool parts of the UI: simply pull down on the week view to switch to month view, and vice-versa. Been there since version 1.0. Calendars 5 is great on the iPad, but not so great on the iPhone, in my opinion; I've tried every significant calendar app, and on the iPhone, I've found none that are as well-conceived as Fantastical.

link to the home screen wallpaper please?

How do you use "a single swipe" in Dark Sky to access the radar? My experience is that I press the radar button and then have to zoom in to see the radar for my area. That takes a lot of work, especially if/when driving. Is there a shortcut that I am missing?

Found it! Swipe backwards (left to right) from first screen. Then zoom in on my area. Tap "Close" to return to the "Now" screen. If I leave the app open, when I return the map stays zoomed in the way I left it. Nice. I will move it to my font page in place of WeatherBug and see how it feels. Thanks for a great article. Always useful to read what are the most used apps by other people.

I would agree about the best wallpaper pics are sometimes mistakes. I have 3 pics of an Ruby Waterfalls in Chattanooga, TN , one of an penguin water tank at the a Zoo thats murky blue green, and 2 zoomed pics of tiger lilies, and one of up shoot of a old oak tree. They all look like that multimedia abstract art, or trippy tie dyes. Posted via the iMore App for Android

Calendar 5 has become my go-to calendar app after dabbling with both Apple's native calendar app and Fantastical2. Calendar 5 just seems to be more efficient and effective for my needs. Their notifications handling is also better than Fantastical. Guess it's just upto one's personal choice after all. Sent from the iMore App

"Things I might need to tap while driving?" Seriously? An iOS-centered site should never promote tapping apps while driving; maybe that's not what you meant, but it's what you wrote. IMO this invalidates everything written after it. And no, steimel, I don't use my phone while I'm driving. If I need to write something, I wait until I'm at a red light, pulled over on the side of the road, or arrive at my destination. Nothing irritates me more than the daily experience of almost being hit from behind, cars veering into my lane, or sitting at a green light--because they can't stand to miss what someone just texted to them.

I guess you should have kept reading... She said that it makes them more accessible when the phone is IN ITS DOCK while she is driving. Isn't that exactly where it should be when you're driving? She likely uses it for a GPS on occasion, or needs to pull up a map while driving, or uses it as a media device for music in her car. I don't see anything wrong with docking your phone in the car, and using in those ways. Go back and read the whole paragraph before you type next time.

Just downloaded Tweetbot cause all of you have it and swear by it. I'm still getting used to it but like it so far! Sent from the iMore App

Wondering what that green dock is that you have your phone cradled in?

I see that Pedometer++ is using the notification badge to show you your number of steps, so you don't have to open the app to see it. Very cool, and dare I say... it's basically a widget! Very Androidesque! It won't be long before Apples adopts some kind of widgety thing. Android has them, and Windows has the live tiles. For Apple to keep pace, they will come up with something similar, or just pretty much copy it.

Can you provide a high res version the leaves wallpaper for download? It's awesome! Thanks for reminding me about Skitch too.

I want the hued / gradient home screen wallpaper on the right but so far not getting any love. lol

Serenity, what stand are you using for the phone in the picture? I've been looking for a good desk stand that doesn't wobble to the size of the 6+, lol.
Thank you for signing up to iMore. You will receive a verification email shortly.
There was a problem. Please refresh the page and try again.