Which color Nintendo Switch Lite should you buy?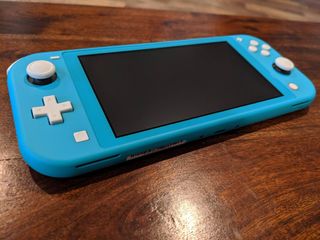 (Image credit: Rebecca Spear / iMore)
The Nintendo Switch Lite is a beautiful piece of tech. The only thing that could make it even better is a touch of personality. Lucky for us, the Switch Lite comes in a few different color options, including a design featuring one of the console's most anticipated games. Of course, that kind of variety can make it challenging to pick one. So, if you're wondering, "which color Switch Lite should I buy," we've written a few details about each hue available for the Nintendo Switch Lite to help you decide.
All Switch Lite Colors
Mellow yellow: our favorite is shocking
This is my favorite color for the Switch Lite, and this is coming from someone who never grew out of the teenage goth phase. It's just a pleasant color, and if you don't like the Pokémon design on the Pokémon Nintendo Switch Lite, you can always pretend that this is a Pikachu color. Just add a few red stickers and a tail, and voila!, your own Pikachu Lite! Or, if you're just fond of the color yellow, that's cool too!
The Nintendo Switch Lite: Yellow
The Nintendo Switch Lite is a handheld alternative to the Nintendo Switch, smaller in size but with more efficient battery life. This console color is a nice, energetic yellow that'll make all the Pikachus you know super jealous.
It's light blue for you!
Turquoise is great for many reasons, but it's probably the most important one because it's the best color in the world. It's nice, soothing, and reminds me of the ocean. So, if you want to feel soothed and good about yourself? Then yeah, the turquoise color is pretty great.
The Nintendo Switch Lite: Turquoise
The Nintendo Switch Lite doesn't have the same docked capabilities as the Nintendo Switch, but it more than makes up for it with its great battery life and soothing turquoise color. It helps if you prefer to play your games handheld, too.
Pretty in pink
We've seen the bright, sunny yellow and the ocean-colored turquoise Switch Lite, so now that we've been above the waves, it's time to dive into the water and look at this gorgeous coral-colored Switch. The vibrant hue reminds one of a happy day, like a trip to the beach. This is the perfect Switch for anyone who loves pink or bright colors.
This smaller Switch feels great in your hands and looks gorgeous too. It can only be used in handheld mode, but you can purchase additional Joy-Cons if you wish to play local multiplayer games with friends.
Neutral and cool
Despite what may look to be a dull color, the gray Nintendo Switch Lite isn't all that bad. It's a color that isn't too bright without being completely dull, either. Instead, it's a neutral color, demanding nothing but your time and attention to play the video games you want and nothing else in between.
The Nintendo Switch Lite: Gray
Because the Switch Lite is a handheld console, you'll need to buy Joy-Cons if you want to play a game that has motion controls. However, it also weighs a lot less than a regular Switch, making it perfect for handheld gaming. The color of this console is a neutral gray color.
Pokémon lovers only
There is a lot to like about this color for the Switch Lite. One, the combination of pink and blue is just so, so good. If I didn't already have a yellow Switch Lite, Zacian and Zamazenta would already be in my basket, waiting patiently for me to purchase it. Once again, this is a special edition, and as such, it's hard to find. If you really want it, then you might have to resort to purchasing it secondhand.
The Nintendo Switch Lite: Zacian and Zamazenta Edition
The Nintendo Switch Lite was made with the handheld in mind, which, if we're honest, is the perfect way to enjoy Pokémon Sword and Shield. With this Switch Lite, you'll have pink-and-blue Joy-Con sticks, as well as a blue D-Pad and pink buttons.
Get deep
This is a nice change-up from the other color options for the Switch Lite. It's not a light or neutral color but is very pleasing to the eye. It is a great color for those who want a pop of color with a little more subtlety.
The Nintendo Switch Lite: Blue
The latest of the Nintendo Switch Lite colors, this blue comes out almost two years after the initial release of the handheld console. This subtle pop of color is a great option for gaming on the go.
Can't find the color you want? Consider a silicone cover!
It's been tough to find the Nintendo Switch Lite in stock and selling at its regular price. If you've got your heart set on a specific color but can only find other colors available, then there's a simple solution. Purchase the available color and then purchase a Nintendo Switch Lite cover to change its hue, like how the Yellow Switch Lite above has a Turquoise case cover.
Switch Lite Silicone Case Colors
Heatfun Nintendo Switch Lite Grip Case - Turquoise
Sea wrap

Change up the color of your Switch Lite with this protective silicone case. It comes in eight different colors and can easily be installed or removed from the Switch Lite.
Heatfun Nintendo Switch Lite Grip Case - Purple
A vibrant new hue

Looking for unique Switch Lite colors? This gorgeous purple case lets you turn your Switch Lite into a color that Nintendo doesn't currently offer, and man, does it look good!
Nintendo Switch Lite Yellow Silicone Case
You are my sunshine

Can't find a happy yellow Switch Lite anywhere? This bright case will cover the casing and give it that golden daffodil look you're going for.
Nintendo Switch Lite Silicone Case - Gray
A formal gent

Looking for a calm, down-to-earth color? This gray silicone case has a distinguished feel and easily slips on and off the Switch Lite.
Get more iMore in your inbox!
Our news, reviews, opinions, and easy to follow guides can turn any iPhone owner into an Apple aficionado
Alex has been working with iMore as a Freelance Gaming Writer for three years. You can also find a few articles of hers on Android Central and Windows Central. She regularly covers Nintendo Switch games and accessories as well as iOS game apps. In addition to the Nintendo Switch, you may also find her playing on the PlayStation and PC. When she doesn't have a controller in hand she likes to spend her time with her husband, son, and dogs, exploring new places, or hiding away with a book (or comic book). A few of her favorite games include the Zelda franchise, Little Nightmares, and Animal Crossing.