Why the Mac may be poised for double-digit market share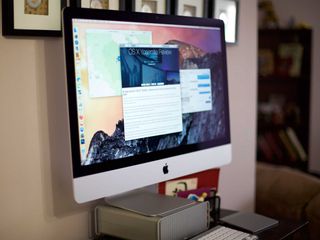 (Image credit: iMore)
At a high-level, based on many of the theories taught in business school, the Mac should not be gaining share against the once dominant Windows PC ecosystem. For the 2000-2010 sales period, the Mac averaged 3% share of annual sales. Now, at the end of 2014 the Mac was just over 6%. It's been steadily rising as a percent of annual PC sales. I genuinely believe Apple's share of the PC industry is poised for growth but what dynamics have changed from a decade where they averaged 3% to a new era where they are poised for growth?
Ben Bajarin is a technology industry analyst with a gift for explaining trends in a way that's both logical and understandable. Whether it's how many big phones really sold in North America prior to 2014, or the revenue potential of the wearable, Ben not only has the numbers, but the context, and that makes his opinions not just informative but invaluable. — Ed.
The customer
Microsoft dominated PC sales because their customer for Windows PCs in that era were corporate IT buyers. Those customers look more at price than they do overall experience. Starting around 2008, however, the industry began selling more PCs to consumer as opposed to corporate buyers. This shift is the watershed moment which began to build the foundation for the Mac as a growth story. The second fundamental change builds upon the first.
The market
When we look back at the history of the PC industry, we observe the vast majority of the PC's life has been selling to enterprise buyers. The consumer PC market is relatively young when looked at as a percentage of that time. Decades of continual PC purchases mature enterprise buyers — they came to know exactly what they want and why they wanted it.
The same dynamic was not true of the consumer market until very recently. Consumers are only beginning to understand what they want in a PC and why. In many cases, our research indicates consumers are asking if they even need a PC in the era of tablets and smartphones.
When a market matures it typically begins to segment. This is thanks to continual purchases of a product to help refine and shape what the buyer understands about their needs, wants, and desires with a specific product. This dynamic has been absent in the past, but now that we see mature market dynamics emerge, we see it benefitting the Mac.
Consumers, for example, say they want to buy a PC they know will last and will be well supported by the vendor in case anything goes wrong. They know they will be keeping their PC for five years or more and so they're seeing quality as an investment. They also want the peace of mind that if something does go wrong it will be fixed. Consumers seem to be recognizing that in the Mac.
The halo
Lastly, I believe we have to recognize the role the iPod and now the iPhone has played in Apple's success. Prior to the iPod, Apple's products appealed to only a very small and passionate user base. With the iPod, Apple was able to give millions of new customers the Apple experience. And with iPhone Apple is now giving that experience to hundreds of millions of new customers. The iPhone, by far, has Apple's largest customer base, and it is from this base the potential upside for other hardware in the company's ecosystem exists.
The Mac is the one product where Apple still has the lowest market share of total sales. With PC sales estimated to be in the 300 million per year range for the foreseeable future, we are watching in real-time as Apple's share of annual PC sales increase. Prior to 2014, the Mac had only sold above five million units in one quarter in its history. In 2014 Apple sold more than five million Macs twice, back to bac,k in Q3 and Q4. Looking to 2015, I believe Apple will see their first ever quarter of six million Macs or more.
The future
How high can the Mac's market share go? At Apple's peak, when the market was very small, it was 16%. Not only do I believe Apple can get back to 16% but I think over the five year time frame the fundamentals of the PC markets could see Apple reach 18-20% of annual sales.
Some may feel the Mac is the least "sexy" story around Apple, especially with the grand narrative around iPhone and now Apple Watch. However, I personally believe the Mac growth story is one of the least appreciated and yet fundamentally impactful stories around many areas of Apple's growth going forward.
Master your iPhone in minutes
iMore offers spot-on advice and guidance from our team of experts, with decades of Apple device experience to lean on. Learn more with iMore!
Ben Bajarin is a Principal Analyst at Creative Strategies, a market research firm based in Silicon Valley. His primary focus is to study global consumer markets for personal computing. You can read him on Tech.pinions and follow him @benbajarin.