Why Touch ID makes the MacBook Pro the best Mac ever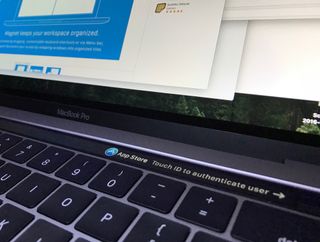 (Image credit: iMore)
I've been regularly using the 2016 MacBook Pro since it arrived on my doorstep nearly three months ago. I love many things about it, but I've been at odds with what I think about the Touch Bar since day one. I probably use it more often than most, but still don't use it often enough. One thing about the 2016 MacBook Pro I do use regularly, and consider it to be the most important new feature for Mac, is Touch ID.
Touch ID lets me create even more complex passwords
Thanks to Touch ID on the iPhone and iPad, I've been much better at creating long, complex passwords for my Apple ID. In the past, I still reigned it in because I knew I had to remember those passwords, or at least find them in my password manager app, while on my Mac. Now that I have Touch ID on my Mac, I use a nice string of complex numbers, letters, and symbols that I don't mind forgetting because I can simply use Touch ID to buy movies, music, apps, and more, even on my Mac. Sure, I have to manually enter my password once in a while, but I can look it up using my password manager, 1Password, which also supports Touch ID on the Mac!
I can also make sure my Mac is more secure by creating a complex password just to unlock the device at all. Touch ID makes it possible for me to log in with just a touch, even if my passcode is 25 characters long. Of course, just like on the iPhone, you still have to manually log in every time you restart your Mac or update your operating system, so I have my passcode written down, too.
More apps supporting Touch ID, please!
After experimenting with a couple of apps that support Touch ID (there are very few of them right now), I've discovered just how much I love having the ability to use my fingerprint to confirm my identity when logging in to something or making online purchases.
For example, I can, again, create a long, complex password for 1Password – more complex than I've ever made before – because most of the time, I'll be using my fingerprint to log in instead.
I love using Apple Pay on the web now. Sometimes, I even buy stuff from websites that support Apple Pay just because I can use Touch ID on my Mac to confirm. There is something special and elite about the process.
I really want to see more apps support Touch ID. Basically, any Mac app that requires a log in should also support Touch ID, like journaling apps, finance services, social networking accounts, and email clients. You can see just how many programs could benefit from being able to use biometrics to confirm your log in.
I wish I could use Touch ID for everything I log into. I wish I could use it with every website that allows online payments. I also wish every place I log in to or make purchases from would require two-factor authentication so I could doubly protect my information.
It's the convenience factor that wins every time
Touch ID on the Mac does not make it more secure, it simply makes it easier to create ultra strong passwords without worrying about having to type 25 or more characters each time. I never had a particularly long Apple ID password or Mac log in passcode before. Now, they are long and strong and much harder to hack.
I've been using a password manager for years, which allows me to create complex passwords for my many log in accounts, but that still requires multiple steps, whether I'm on my iPhone or my Mac. I absolutely love it when an app supports 1Password on my iPhone and really want to see more of this support on my Mac, but I'd be even happier if the app directly supported Touch ID logins.
I can say without question that I'd probably switch email or journaling Mac apps if there were any that supported Touch ID.
It's still smart to disable Touch ID sometimes
Just like it is a smart idea to disable Touch ID on your iPhone when going through Airport security, it is smart to disable it on your Mac sometimes. We live in a world of unknowns and vague regulations. Different countries have different laws about privacy. It is much easier to force you to place your finger on a key to unlock your Mac than it is to force you to give up your password.
To be clear, I'm not promoting the idea that Touch ID on the Mac somehow makes it more secure than a Mac that does not have it. I'm championing the fact that Touch ID makes it easier to use long, complex passwords for your logins, which in turn, makes your personal data more secure. It's important to continue to use the same security measures you've used with your iPhone.
Touch ID for everybody!
I love Touch ID on the MacBook Pro and hope that Apple really is working on a Magic Keyboard that will allow all Mac users the ability to strengthen their passwords and make their digital lives more secure. I'm also calling out to all Mac app developers to get your s#@t together and add Touch ID support if your app uses any sort of account log in!
Lory is a renaissance woman, writing news, reviews, and how-to guides for iMore. She also fancies herself a bit of a rock star in her town and spends too much time reading comic books. If she's not typing away at her keyboard, you can probably find her at Disneyland or watching Star Wars (or both).
Touch ID doesn't appear to work if File Vault is set up. Have you explored that?

I have not! This is very interesting news. I'll look into it. Thanks.

I researched this and found an Apple document that said TouchID is disabled when running FileVault. I did some quick googling to try and find it again but no luck. I use FV, so not TouchID for me.

Thanks Ginseng108, I have looked a lot for some sort of document from Apple and have not found anything. If you discover it please post a link here! On the one hand I could understand that, on the other, the iPhone has encrypted solid state data too and Touch ID works there - unless it's something that will be completed in 'version 2'. Some have reported it works for them, I have an unfounded hunch they have disabled it after the fact or something. Many questions, which is why it would be good to get to the bottom of this!

Actually this is odd - -while touch id is not presented for the usual things, and you don't see the message on a restart "Password required to enable Touch ID", today I went to remove an app and it gave me the option of touch id or password! Touch ID worked in that case. I wish we knew more how this worked.

Thanks Lory! See my comments below in reply to Ginseng108, there are questions on whether this is by design, temporary, why it works on iPhone, etc. If you post an article on this, it will be an interesting read!

Thanks for letting us know about your experience. I've got Rene Ritchie doing some in-depth research into Touch ID and File Vault. We'll have an article up soon!

That's great! Thanks Lory!

That will be my next Macbook Pro. It's a pity that 1Password support service is not run by humans. They are very non-responsive if you have a problem. I begged them to let me pay to speak to someone to help set up teams. No response!

Hi Jamie, My name is Jay and I work for AgileBits, makers of 1Password. I'm sorry that you didn't receive any help with the setting up of your 1Password Teams account. Supporting our customers is truly our highest priority and it's a shame that you haven't felt taken care of. I'd love the opportunity to lend a hand or at the very least, be a direct line of contact regarding your Teams account (free of charge!). I have sent you a PM with my email so we can discuss your account in more detail. I look forward to speaking!

You wrote: "Sure, I have to manually enter my password once in a while, but I can look it up using my password manager, 1Password, which also supports Touch ID on the Mac!" Please explain how 1Password supports Touch ID, thanks!

You can use Touch ID on the Mac to log into your 1Password account. I use it all the time.

I can only speak for the iPhone, but there is a special switch to enable logging into 1Password that you will have to enable prior to using the TouchID. I would assume it's the same in the Mac App??

My bad: I think this only applies to the new MacBook Pro, not my iMac. Wish my Mac ID app could log me into 1Password, though! It works great to unlock my lockscreen when I'm close to the iMac.

One thing that seems to need immediate correction: the mute key doesn't toggle it's indicator to show the current state. Seems like it ought to do that, don't you think?

Would love Touch ID to be standard, replacing the power button on all models. That would help adoption of developers. Right now it's a niche in a nook of a market. There is no way I'm getting a 2016 MBP. Ever. I still would love to be part of the market that could use touch ID.

I think Apple needs to recognize Safari has very little market share and TouchID extension/addon for Chrome & Firefox is a must for adoption. I'd love to use it for future purchase on my MBP, but I refuse to be tied to using Safari. Personally, I use Chrome on iOS, Windows, macOS, and Android.

They'll add as many features to Safari as they can to make it better than the competition. Security is a feature and locking to Safari is the most secure way to do it.

When I bought my MBP last week, the sales guy mentioned that he was returning his MBP Touch ID for a basic one since he didn't have must use for it.

I'm curious why I still have to type a password to make admin changes to my machine. Why isn't apple supporting directly in the OS?

Hopefully that will change soon, it would make sense

FYI: The Mac ID app lets you use Touch ID for that.

"it is a smart idea to disable Touch ID on your iPhone when going through Airport security, it is smart to disable it on your Mac sometimes. " Especially if you are a foreigner coming to the USA lately... Sent from the iMore App

I wouldn't disable Touch ID, no one's going to force me to use it, and I'd like to see them try

All you need to do before going through security is turn the iPhone or iPad off. It requires your passcode upon restart etc.

After testing the new 2016 MBP in several stores, I do not understand this headline "Why Touch ID makes the MacBook Pro the best Mac ever". I'm used to shortcuts of my main programs and I see no advantages in using the TouchBar. With shortcuts I can leave my eyes on the screen, with the touchbar I ever have to watch what is displayed there. The new flat keyboard is a nightmare and the absence of MagSafe is a scandal, also is the absence of normal USB ports and the SD-Slot. Meanwhile I have upgraded my Mid2012 MBP with an 1TB SSD and this machine is now far better than these new ToyBooks.
Thank you for signing up to iMore. You will receive a verification email shortly.
There was a problem. Please refresh the page and try again.