Magazines starting to hit iOS 5 Newsstand a day early?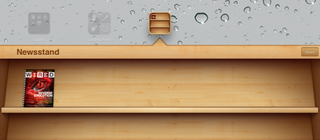 9to5Mac got a tip that Apple has started allowing downloadable content from magazine publishers into the new iOS 5 Newsstand app. Right now it seems like only Wired and GQ, but more are sure to follow as tomorrow's iOS 5 launch approaches.
We're still waiting on the likes of The New York Times, SF Chronicle, Daily Telegraph and many more. Magazine publishers are jumping on board too, with National Geographic, SPIN, Conde Nast, Nylon, The Telegraph, GQ Esquire etc.,
Anyone else manage to nab a newspaper or magazine in Newsstand yet?
Source: 9to5Mac
Get the best of iMore in in your inbox, every day!
Andrew Wray is a Salt Lake City, Utah based writer who focuses on news, how-tos, and jailbreak. Andrew also enjoys running, spending time with his daughter, and jamming out on his guitar. He works in a management position for Unisys Technical Services, a subsidiary of Unisys Corporation.
Still shows unable to download content ... lame.

Still showing unable to download for me too.

same... unable to download content

If you already subscribe to a magazine, and they updated their app today, it will show in the Newsstand... Popular Science updated for me today...

Pop Photo did the same here

Popular Mechanics updated... but, they're having issues and will have to update their update... seems one can't refresh their subscription status in this new version of the app. First bug of many in the next few days I'm sure :)

dose anyone know what time the update comes out in the UK ?

Most probably 6am, when its midnight pacific time.

Okay, so now I have 'Wired' in my newsstand shelf but all it does is launch the 'Wired' app that's on my iPad anyway…!? Not sure I see the advantage here yet…

And do I have to still keep the actual iPad app as well or is that redundant now…?! It sure seems to be…

Newsstand is a combined glorified storage folder for subscription based content-apps, and a front-end for the newspaper/magazine equivalent of the bookstore - near as I can tell :)

// Argh, why can't I delete my own comments on Disqus…?!? //

I'm using Zinio, so I'll be interested to see if my four subscriptions show up in the Newsstand.
Thank you for signing up to iMore. You will receive a verification email shortly.
There was a problem. Please refresh the page and try again.