Wireless in the iPhone 7: Everything you need to know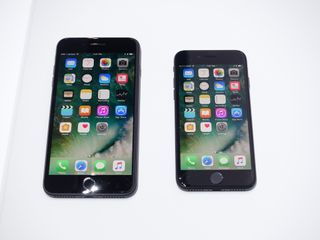 The iPhone 7 is here, and it's new in a number of ways. But one of the ways in which it is improved was largely glossed-over during the keynote: it now supports faster wireless speeds.
While there isn't as drastic an improvement this year over previous years, there are still some significant cellular-related upgrades inside the chassis.
The 450 club
The iPhone 7 now supports maximum speeds of up to 450Mbps, which is a 50% jump over the iPhone 6s. Specifically, the new iPhone is a Category 10 device, which means that in addition to being able to reach those astronomical speeds of 450Mbps in the downlink (downloading data from the internet), it is able to reach speeds of 100Mbps in the uplink.
To reach these speeds, the iPhone uses a technology under the LTE standard called carrier aggregation, which combines several wireless channels, or bands, to transmit data to and from a phone. The iPhone 7 supports 3x CA in the downlink — up to three distinct bands carrying data — and 2x CA in the uplink. Unfortunately, those uplink speeds can only be achieved using a combination of Band 7 and Band 41, which currently precludes all U.S. carriers, since none of them currently operate on Band 7.
Oh, and another thing: it is expected to be revealed (through upcoming teardowns) that this year's iPhone has a baseband chip designed and manufactured by Intel, a company that has been trying to get its components into Apple's smartphones for some time. While Qualcomm is still likely designing the baseband inside the CDMA variants of the iPhone, due to ongoing patent exclusivity, the GSM variants of the phone have likely transitioned to its Portland-based rival.
The carrier question
Unfortunately, the iPhone 7 can only reach those ludicrous speeds with help from a carrier, which facilitates the transmission of data between a phone and the internet.
In the U.S., T-Mobile (opens in new tab) and Verizon (opens in new tab) currently support 3x carrier aggregation; Sprint and AT&T support 2x CA, which is supported on the iPhone 6s, up to 225Mbps.
Of course, 225Mbps or 300Mbps are theoretical speeds that are unlikely to be hit in regular conditions. In Canada, Bell has launched 3x carrier aggregation in some markets, but I have only achieved those speeds under very limited circumstances, with the average speeds settling around 50 to 80Mbps.
A question of compatibility
Like the iPhone 6s, the iPhone 7 supports 25 LTE bands, allowing it to work on almost every country with developed 3G or LTE networks.
In the U.S., Apple continues to offer two versions of the iPhone, one optimized for AT&T and T-Mobile, and one another for Sprint and Verizon, since the two latter networks still use CDMA technology. But because the latter model supports the same 3G and LTE bands as the former — it just omits the CDMA support — it should work on AT&T and T-Mobile, provided the SIM slot is unlocked.
This year, Apple is also doing things a little differently when it comes to country-specific versions of the iPhone. Unlike last year, there is no China-specific version of the iPhone 7; compatibility with China Mobile and China Telecom has instead been included in the same CDMA-based version as the one sold in the U.S. However, there is a Japan-specific model of the iPhone 7 that supports the country's homegrown tap-to-pay system, FeliCa.
Making phone calls
The iPhone 7, like the two iPhones before it, supports a number of improvements to voice-based communications, too. Voice Over LTE, or VoLTE, is becoming increasingly common in the U.S. and Canada, and is rolling out to providers elsewhere in the world. By putting voice communications over the same LTE network as regular internet traffic, the iPhone no longer has to drop down to 3G to initiate a phone call, resulting in faster connections, better quality, and — best of all — the ability to remain on LTE during that call.
And for carriers that offer it, the iPhone 7 supports Wi-Fi Calling, an incredibly important feature for those whose homes and workplaces don't always have consistent cellular signal.
Reception
Speaking of consistent signal, the iPhone 7 does away with the visible antenna lines that have graced the back of the last two generations of iPhones, moving them to the edges of the phone's rear.
According to Apple, cellular reception should be as good, if not better, than previous models. While a spokesperson would not confirm what measures were taken to allow the iPhone 7 to better hold onto remote cellular signals, the presence of an upgraded baseband chip, combined with an improved antenna design, should give Apple's new phone an edge over previous iPhones.
Your turn
What would you like to know about wireless technology in the iPhone 7? Let us know below and we'll try and answer it.
Get the best of iMore in in your inbox, every day!
Daniel Bader is a Senior Editor at iMore, offering his Canadian analysis on Apple and its awesome products. In addition to writing and producing, Daniel regularly appears on Canadian networks CBC and CTV as a technology analyst.
Hi - a quick one. What is happening on the bluetooth front? Is there anything different between the 7 and 6S as far as connecting to AirPods' W1 chip are concerned? I can't wait to get back several (frustrating) minutes spent everyday untangling headphone cords

I could be wrong here, BUT, my understanding is that the "AirPods" will only work with the iPhone7... it does not use bluetooth as its transmission mode, it uses a proprietary mode between the devices capable.

The Airpods use bluetooth, so they can work with other devices. However, they won't easily connect like to an iphone7 or utilize Siri. http://www.recode.net/2016/9/7/12841136/apple-airpods-do-use-bluetooth

Tech-specs of air pods say they use Bluetooth only, and work with all apple devices which support BTLE https://www.apple.com/uk/shop/product/MRXJ2ZM/A/airpods-with-wireless-ch...

Any idea when US carriers will fully support the new Intel modem? I've read that the Intel modem was specifically targeted to AT&T. If so, it seems odd that they don't support carrier aggregation.

Intel modem do not include support for CDMA networks. So if you buy iP7 for AT&T or TMO you won't be able to use it on Verizon or Sprint. But AT&T and TMO do support carrier aggregation. AT&T upto to 2x, TMO upto 3x,

I'm glad to see that Apple/Intel (provided it is Intel) are pushing so hard. Now the carriers have to take the reigns off!

I'd like to know which voice CODECs the iPhone 7 supports.

This! Also would love to know, particularly if T-mobile wide band /hd voice are supported in my case.

I have a few questions, actually. It'd be great if you could get some answers from Apple. 1.(a) Why limit support for FeliCa to only one specific model?
1.(b) Why not include it on all the models? That way tourists can also enjoy paying with Suica when in Japan.
1.(c) Can people buy the iPhone with FeliCa support OUTSIDE Japan?
If we're talking unused tech, I'd prefer it to be FeliCa, rather than CDMA (like on my 6s. I understand that the Japan iPhone also has CDMA though, because of SoftBank & KDDI). 2.(a) And why still have two models that differ only in CDMA support?
2.(b) Why not just make one model, a la iPhone 4S — Surely the cost and complexity in manufacturing are reduced?

@journeydan If I have an unlocked ATT iPhone 7, do you know if it will work with China Mobile? I believe China Mobile is a GSM based. Thanks!
Thank you for signing up to iMore. You will receive a verification email shortly.
There was a problem. Please refresh the page and try again.