Withings set to launch the Wireless Scale, bathroom scales with iPhone connectivity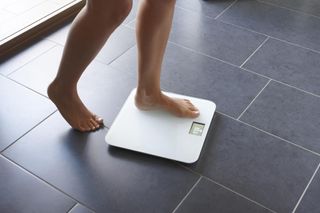 Well known manufacturer Withings has just announced a new model to its range of bathroom scales and this one looks to cut the cord completely. The new bathroom scales offer Bluetooth connections for local connectivity to your iPhone as well as Wi-Fi and all the initial set up of the scales is done wirelessly without the need for any Mac or PC. The Withings WS-30 scales look to not only bring a beautiful set of scales to your bathroom but also the motivation you need to shed those excess pounds too. The companion app will send you push notifications to remind you to get weighed in the morning as well as provide you with inspiration to meet your weight loss goals.
The WS-30 will not replace the current WB-S01 model of scales offered by Withings but instead will just become a slightly cheaper alternative with additional Bluetooth connectivity; the WB-S01 does have some additional features like body fat measurement. The suggested retail price for the new WS-30 scales will be around €120 ($150) and they should be available later this month.
Do you already own or want to own a set of intelligent connected scales? Do you think it's worth paying the extra money for a set of scales that can automatically record your weight on your iPhone or is it just as easy to do it manually and save yourself a few dollars?
Source: Withings Blog (opens in new tab)
Get the best of iMore in in your inbox, every day!
UK editor at iMore, mobile technology lover and air conditioning design engineer.
Sounds pretty solid to me dude. Wow. www.Anon-IP.tk

I like the way the girl showed the iPhone screen to her partner in the video to prove her weight- Good luck getting my wife to do that :)

I've got the WiThings original scale and I like it. No problems since new in January; bought one for my sister as well, no problems there either. Only complaint is that the screen on the scale is too small with lousy graphic resolution (that I can't easily read it while using it); a larger retina grade color screen and better graphics would be more fitting to this hi end article. One other suggestion for improvement would be faster read-in of the data (and transmitting it after I stepped off the scale?) Even though time from step-on to step-off is only 30 seconds, I would prefer not to stand on it this long. My desire would be to shorten this by 10 to 15 sec.

FYI -- broken initial link. (Feel free to delete this comment.)

Post your status to Facebook? That would be motivating!
Thank you for signing up to iMore. You will receive a verification email shortly.
There was a problem. Please refresh the page and try again.