Yahoo Mail app update for iPhone and iPad adds multiple mailbox support and more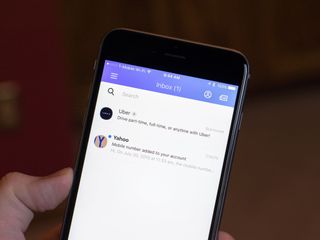 Yahoo wants to get more people to use its long-running Yahoo Mail service (celebrating its 18th birthday this month). Today, the company revealed a major revamp of Yahoo Mail (opens in new tab), which includes an update for its iPhone and iPad app to introduce a new user interface, support for multiple mailbox accounts and more.
Yahoo says:
Some other improvements include the ability to attach multiple images and videos at once to emails, and a faster search experience. It also adds a way to access Yahoo Mail without an old-fashioned password with its new Account Key feature:
Source: Yahoo
Get the best of iMore in in your inbox, every day!
I have been writing professionally about technology and gaming news for 14 years.
I like the direction Yahoo is going with their updated mail app. I might give it another try.

I thought the same thing until the Uber ad at the top of the interface in the image reminded me why I don't use them any more. I really must be getting old because I'm more interested in privacy-focused services than the "free" ad-based ones like Google and Yahoo. At the very least Google doesn't show me ads in their mobile mail app.

From what I can see, Yahoo Mail has done away with the ability to "select all" so deleting emails is very cumbersome. Also, I am no longer able to empty my trash and spam folders with one keystroke. Apparently now you have to select each email individually then delete them. I would really like to have those features restored.

Actually I found out this still can be done! I was frustrated too...Turns out that if you go into settings (hit profile button then settings), deactivate avatars, the old check boxes from before take its place! I wish it told me that though so I didn't waste my time deleting manually before discovering that LOL

Sorry, forgot some things...Go to Profile button>Settings>General>Preferences >turn off avatars

Yea, I had already done that, but even with the check boxes back the feature is gone which, when you checked one email, a box came up at the top that said select all, you could check it and every email check box was checked then you could just push delete.

without the select many and group by sender, this has become pretty useless

I agree with djw9793. This is my first day with the new Yahoo Mail and I'm happy except that I have to delete each email individually. This takes forever. This is a deal breaker for me and I would consider changing to another server if I knew how to do it. I'm going to see if I can get help in doing this.

I tried that and it doesn't work. Please come back with the old setting for deleting from the menu! It was so much easier! I don't have time to sit and delete each one one at a time!
Thank you for signing up to iMore. You will receive a verification email shortly.
There was a problem. Please refresh the page and try again.