Yelp: Everything you need to know!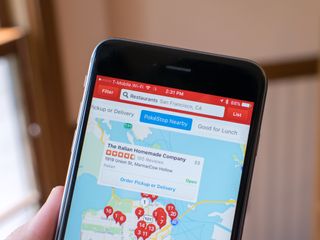 Whether you're someone who's been invested in Yelp from the beginning, someone who just started Yelping, or someone who's been curious to about using the app for a little while now, there's more than one reason to download and start using Yelp.
Here's absolutely everything you need to know about Yelp!
What is Yelp?
Yelp originally started as a website that allowed people to act as the food critic their heart desired, meaning anyone could step into any establishment, give it a 1 to 5-star rating, and be able to write about the environment, service, food quality — and whatever else — for the internet to see!
Since its launch in 2004, Yelp has developed into an app for your mobile device, and nowadays it even offers support for your Apple Watch, too.
Through the app, you can not only simply rate restaurants and other establishments like hair salons, gas stations, drugstores, etc., but you can also make reservations, bookmark and save certain restaurants, find ongoing local events at different venues, and so, so much more.
How does it work?
After signing up for Yelp or linking your Facebook account, you get access to your local Yelp directory.
With the app, you can search for different locations nearby, filter and find places that are offering deals, look through lists of businesses that just opened, find which establishments are good for groups, check in to specific locations, add a photo or video to a specific review, see activity from your friends or people nearby, start conversation threads with other Yelpers, and so much more!
The app also gives recommendations for great spots to check out that are in your neighborhood, along with offering 10% cash back if you choose to link your credit or debit cards with your Yelp account.
What is Nearby and how does it work?
By using the Nearby section of the Yelp app, you can easily filter through different categories based on what services you're looking for. Some of the options for popular nearby categories are…
Hot and New
Deals
Check-In Offers
Restaurants
Bars
Nightlife
Coffee & Tear
Gas Stations
Drugstores
Shopping
With Nearby, you can effortlessly make reservations, filter through popular and highly-rated shops and restaurants in your neighbourhood, and even look through upcoming events nearby.
How can I search for specific restaurants?
With the Search section of Yelp, you can browse through a plethora of different businesses and restaurants and look up specific locations.
The Search option will offer a ton of different spots that are nearby, or you can choose to filter things out a little bit based on the price, if the business is offering a deal, if it's hot and new to the neighbourhood, if it's open, how close/far it is to you (0.5km, 2km, 5km, 15km), if there are take away options, if the place is good for a large group, takes reservations, does delivery, has outdoor seating, has wheelchair access, allows dogs, has a PokeStop nearby (seriously, this is a filter option!), has free wi-fi, has a full bar, and so, so much more.
You can even choose to search for different businesses using a map rather than a standard list format to see which locations are closest to you! If you want, you can filter out your search options and the best Yelp choices will appear on the map as red icons with you appearing as a glowing blue one.
What does the Plus Sign (+) do?
In the middle of your screen at the very bottom of the Yelp app, there's a plus sign. If you tap on it, you get access to the ability to Check In, Review, or Add a Photo with your Yelp account.
This section is essentially the bread and butter of Yelp, meaning this is what the app was originally set up to do in a very bare-bones kind of way: you review, you check in, you add photos or videos to your review, and voila — you're a good critic!
The app will do things like suggest businesses that have never been reviewed before, and at the top of the screen it simply reads:
What about the Activity page?
Yelp's Activity page is a little bit of everything: You can access the Yelp Blog, which touches on everything from current topics (they've been chatting Net Neutrality recently!), cooking recipes, and ongoing updates within the app itself, you can read and see recent reviews and tips from other Yelpers nearby, and you can even react to people's reviews with useful, funny, or cool reactions.
Through the Activity page, you can filter out what content you see, so you can choose to only see what your Yelp friends are posting, or what other random Yelpers nearby are up to.
What else can I do with the Yelp app?
There are a couple of extra things that you can do with the Yelp app that go way above and beyond reviewing and looking for awesome restaurants!
In the More section of the app, you can see your bookmarked restaurants, manage your reservations, see upcoming and ongoing public events nearby, manage your check-ins, message and chat with other Yelp users, talk and post in your nearby Yelp message boards, adjust and edit your profile, and see which restaurants/businesses you've recently viewed.
Additionally, through the More menu, you also get access to features like…
Monocle
Find Friends
Add a Business
The Local Yelp
Yelp Elite Squad
Settings
Rate Yelp in App Store
Support
How much does it cost?
The app is 100% free!
What is Yelp Cash Back?
You can sign up for Yelp Cash Back directly though the app. It's 100% free to use, all you have to do is activate your credit or debit card, dine out and pay with your linked card, and automatically get up to 10% credit back to your card's account.
You can choose to link one card or multiple ones if you're comfortable with your personal information being tied to your Yelp account.
Where can I download the app?
Right here!
Questions?
Do you have any additional questions about anything Yelp related? Let us know in the comments below and we'll do the best we can to help!
Master your iPhone in minutes
iMore offers spot-on advice and guidance from our team of experts, with decades of Apple device experience to lean on. Learn more with iMore!
Cella writes for iMore on social and photography. She's a true crime enthusiast, bestselling horror author, lipstick collector, buzzkill, and Sicilian. Follow her on Twitter and Instagram: @hellorousseau