10 most important features coming in iPadOS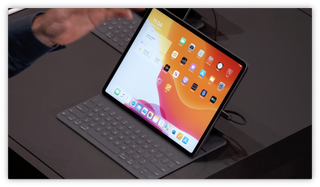 At WWDC 2019, Apple did something a bit unexpected, but not surprising: they've rebranded iOS for iPad as iPadOS. Due to the iPad having a larger screen than an iPhone or iPod touch, there were so many features in iOS that were only available on iPad devices. So today, they've officially separated the two from each other, which is a huge deal.
We've mentioned the most important features in iOS 13, but since iPadOS is a separate entity with iPad-specific features, we need to cover those as well.
Multiple Slide Over apps
Slide Over is great for having even more apps active at once on the iPad screen by having them floating above your apps in Spaces. iPadOS now allows you to have multiple apps in Slide Over view, and you can scroll through your Slide Over apps in a carousel-like interface. This allows you to be more productive than ever.
Apps in multiple spaces
Speaking of apps in spaces, you can now have two views side-by-side in a single space, rather than having two different apps side-by-side. This is perfect for the times when you need to write up something and have to refer to some notes in Notes and other similar situations.
New Home Screen
The new Home Screen on the iPad takes advantage of the large display. Now your widgets live in the side next to all of your apps. Your favorite and most useful widgets can be pinned to the front page, and the refined display allows you to have more apps on a single screen.
With this new Home Screen, you can get more information at once on the iPad.
Sidecar with macOS Catalina
Your iPad will be able to be used as a secondary display for your Mac running macOS Catalina. You'll no longer need to buy a separate app to get the job done, so this lets you become even more productive than ever before. And to top it off, Sidecar allows you to use your iPad as a drawing tablet for your Mac, eliminating the need for special software or an expensive Wacom tablet.
The Apple Pencil will also have less latency, and there are new tools that you can use with Apple Pencil. And there is even full-page markup when you capture an entire webpage, document, or email and need to mark it up to your heart's desire.
New text editing gestures
iPadOS brings some new intuitive gestures that make text editing even more streamlined and simple.
You can pick up the cursor and drag it to precisely where you want it to go. Select a block of text quickly by just dragging your finger over it. A double tap selects a word, a triple tap selects a sentence, and a whole paragraph can be selected with four taps.
Copying text is done with a three-finger pinch. Paste is done by dropping the text down with three fingers (opposite of the pinch). To undo, just swipe left with three fingers.
It may take some time to get used to these new gestures, but they're designed to feel natural and fluid, and make your life easier overall.
QuickPath Typing
QuickPath Typing is not unique to iPadOS since it is also in iOS 13, but it's so insanely useful that we're going to mention it here as well.
With QuickPath, it's essentially like SwyftKey Keyboard, where you swipe your finger across the keyboard to type out words quickly and efficiently, without ever lifting your finger.
Eventually, machine learning will recognize your path drawing patterns and convert the words for you, making it super easy to type fast.
More keyboard shortcuts
Apple revealed a slate of new keyboard shortcuts that will be accessible when you have a physical keyboard connected to your iPad. These are sure to appease the power-users and make life easier.
New keyboard shortcuts in iPadOS
Safari improvements
Safari on iPad is receiving some huge upgrades with iPadOS.
First off, it will now natively support desktop browsing. This means you'll have no issue using web apps like Google Docs, Squarespace, WordPress, and more. It will be no different than using Safari on macOS.
There will also be a Download Manager in Safari. This means you can download multimedia, documents, zip files, and pretty much anything off of the web in Safari. All of your downloads will be available in the new Downloads folder in Files.
More robust Files app
Speaking of Files, the app receives some nice updates in iPadOS too. You'll get to view even more details on your files, as well as more controls for what to do with them.
Files will now support shared folders through iCloud. So you can collaborate with friends, family, and coworkers on various files and always stay up-to-date.
If you use a work or home server for files, you can get access to them directly through the Files app. Just connect to the server through Files, and then you'll have full access to the important stuff.
And the biggest feature is the fact that Files can now connect to an external hard drive, SD card reader, and even a USB drive. You'll need the appropriate accessory to go with it for the connection, of course, but this makes the iPad more viable as a computer replacement.
Font management
With iPadOS, you will be able to download and purchase fonts from the App Store and use them in your documents. This is fantastic, because it means you'll be able to create more right on your iPad, without having to go back to a computer for a specific font that you want to use. There will be many fonts to choose from, and it opens up a wide range of possibilities.
Your favorite iPadOS features?
iPadOS is a delightful change that many of us didn't foresee, but it makes complete sense when you think about it. What are your favorite iPadOS features that you can't wait to try? Let us know in the comments!
Christine Romero-Chan was formerly a Senior Editor for iMore. She has been writing about technology, specifically Apple, for over a decade at a variety of websites. She is currently part of the Digital Trends team, and has been using Apple's smartphone since the original iPhone back in 2007. While her main speciality is the iPhone, she also covers Apple Watch, iPad, and Mac when needed.

When she isn't writing about Apple, Christine can often be found at Disneyland in Anaheim, California, as she is a passholder and obsessed with all things Disney, especially Star Wars. Christine also enjoys coffee, food, photography, mechanical keyboards, and spending as much time with her new daughter as possible.

Sidecar and PS4 controller support, hands down! Is USB storage now more of a second (up from third) class citizen so that you can store data for any app (not just photos and video) on it? And can you finally offload apps to USB storage? I can't imagine Apple would abandon its business model of tiered pricing based on storage, but you can always hope. In any case I am happy to say farewell to Astropad and Duet (and their awful subscription pricing) and Air Display (and its middling performance.)

I presume for the subscription pricing you're talking about Astropad, as Duet is a one-off purchase. Subscription pricing for apps that don't rely on a service is such a horrible business practice

Unfortunately that is only true for the basic version of Duet, which (infuriatingly) doesn't support the Apple Pencil.
To unlock Apple Pencil support in Duet, you need to buy Duet Pro, which is... you guessed it, a subscription!! (And you still have to pay for the base app!)
A "horrible business practice" indeed. >:-(

Knowing Apple, I would highly doubt they'd give us the option to install apps on an external device. Now I was able to test both a flash drive and a portable HDD with my first gen 12.9" iPad Pro and can say that there is a very high chance that you'll need to be close to a power outlet or some other external power source to use either media with any iOS device that isn't a third gen iPad Pro. At least that was the case with my first gen iPad Pro, where I had a lightning cable for additional power and my flash drive both connected to the "camera kit" adapter hooked up to my iPad. Without the additional power cable attached I'd get a message on my iPad notifying me that there was not sufficient power. A work around for this if you are on the road traveling is to provide power via lightning cable from your car or, if you're like me, a portable power bank. Now my Portable HDD was another story, which required me to add a powered usb hub between the hard drive and the camera kit adapter. I did not need the additional lightning cable running to the "camera kit" adapter as the 5v usb hub provided enough power to the hard drive.

I should also point out that I was able to connect two drives at the same time to my iPad Pro with my powered usb hub and successfully transferred files from one drive to the other, although transfer speeds were understandably slow. I would have tried to connect a third drive I have but it is formatted as exFat, with iOS seeming to not recognize that file system format. Fat32 and HFS+ work fine.

Mouse/trackpad support for iPadOS will be a killer feature for certain apps -- maybe many apps. I was thinking of MS's Remote Desktop Client. That should be on your list.

Some remote desktop clients turn the screen into a trackpad, where dragging your finger round moves the cursor, haven't tried RDP though

The ability to use a hard drive, download files from safari and install fonts without having to jump through a bunch of hoops are most likely the features I'll appreciate most. I love you iFont and Documents by Readle and all you've done for me thus far, but hopefully this will be the start of an easier way to use my iPad Pro!

The gestures he was showing up on stage seemed confusing to me, but maybe I'm just an *****.

The iPhone X gestures seemed a bit confusing at first, and even the existing Mac trackpad gestures can confuse someone who hasn't used a Mac before. Should just be a case of a bit of practice and then it should be muscle memory from there on

Thanks to another site I was able to find out which ipads it will work on, good info to have...

While i love the new features that have been added i want to know more about the mail app and what features has it gain. Send later, the ability to create rules from iPadOS, Mail Templates, read reciepts etc. I am a power email user and while i like airmail i would much prefer to use the stock mail app. I just wish it was more like Mac Mail.
Thank you for signing up to iMore. You will receive a verification email shortly.
There was a problem. Please refresh the page and try again.