2009 iPhone 3GS gets iOS 5, 2010 Nexus One doesn't get Android 4.0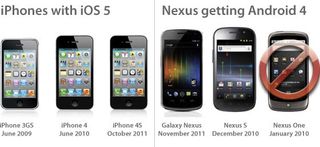 Get the best of iMore in your inbox, every day!
Rene Ritchie is one of the most respected Apple analysts in the business, reaching a combined audience of over 40 million readers a month. His YouTube channel, Vector, has over 90 thousand subscribers and 14 million views and his podcasts, including Debug, have been downloaded over 20 million times. He also regularly co-hosts MacBreak Weekly for the TWiT network and co-hosted CES Live! and Talk Mobile. Based in Montreal, Rene is a former director of product marketing, web developer, and graphic designer. He's authored several books and appeared on numerous television and radio segments to discuss Apple and the technology industry. When not working, he likes to cook, grapple, and spend time with his friends and family.
Those using Nexus don't get it...

Those using Nexus don't get it...

"Mine is better than yours!
Sincerely,
Rene"
LMBO. Whatever validates your choice. :-D

Oh and yes I know you have a Nexus One [as a play phone].

Oh and yes I know you have a Nexus One [as a play phone].

"Mine is better than yours!
Sincerely,
Rene"
LMBO. Whatever validates your choice. :-D

This is the beauty of the Apple products.

This is the beauty of the Apple products.

Main reason I went with Apple. Getting an Android update for you phone is a crapshoot.

at least Android has support for flash.

is that every androids users comeback? Flash isn't anything special. Damn

Can I play "nom nom nom 4 fud"? That's all I really need from Flash. :-) I can haz kitteh game?
It would be good if Google tried hard to make sure that all of their flagship phones that are two years old or less get updates. C'mon Google.
I think they should also consider creating a "high-end Android" brand. So if you buy a "DroidPrime" phone or whatever, then you know you're getting certain features and certain quality. Same for Android tablets. And hell Windows PCs for that matter.

flash might not be all that special but I do enjoy having it. I also like syncing my device wirelessly and without shitty itunes. I like to be able to put content on my phone and tablet from whatever source I want and without anybody telling me I cant. I like having USB ports, micro SD slots and HDMI ports. I like my Super Amoled Plus screen and I like having a 4.3" screen on my phone and a 10.1 inch 16:9 screen on my tablet. most of all, I like having an OS that doesnt need to be jailbroken so I can get simple features that come standard on Android phones. the list goes on and on and on so thats my comeback.
enjoy your iPhone 4S half-baked shitty phone while you wait for the mythical iphone 5. with shitty battery, echo feedback on your calls and muted outgoing calls. the list just keeps growing.

shitty flash, it just make the internet slower and kills the battery

flash make website beautiful and ahead of today's technology.

Flash is 15 years old, how the hell is it "ahead of today's technology"?

Flash is 15 years old, how the hell is it "ahead of today's technology"?

Iphone is 8 years old, how the hell is it "ahead of today's technology"?

8? Curious as to your math there. I'm assuming you're adding the "research" years. :)

Hardware Acceleration and video. Two areas HTML is behind Flash.

Clearly this time traveller has just arrived from 2001.

Well that filled my lol quota for the week; thanks friend.

How the blazes can something that is so bloated and badly written be said to make things beautiful and ahead of their time. Flash is old dead technology. I've seen websites that do not have flash at all that do exactly the same and work on ALL web browsing platforms without crashing, failing to show at all or doing different things at different times.

Flash doesn't work on cell phones the way they had hoped

Flash doesn't work on cell phones the way they had hoped

Flash sux & crashes OS's ... nuff said.

Flash has been dead in the water for over a year now. Moot point, my friend.

and....
.... why would you need to have flash anyway. Flash is a like a living dinosaur! Well past it's due date for extinction!
I'm not saying that because I am a fan of Apple. I am saying that because it is true.
Just because an OS has Flash doesn't mean that it is capable of actually running everything that is flash. A prime example is Flash on Android or flash on the playbook.
It doesn't run properly. Does not function how perfectly, saying that it doesn't work perfectly on OSX or Windows 7.
It is bloated and badly written with functions tacked on here and there. It's almost a Frankenstein system.
Enough said!

Totally Agree..
I was playing this flash game online on my old HP TC1100 Tablet PC, which in its heyday was pretty good, 1.2Ghz Centrino, 1.5GB ram etc.
The game was completely in 2D. Just extremely basic stuff like sprites, scaling and a bit of alphablending (maybe). NO 3D AT ALL. BASIC 2D ONLY.
At one point in the game where there was a lot of movement, it was SO RETARDEDLY slow to the point where I thought it was going to crash or blue screen, like 3-6 FPS. I looked in the task manager and the CPU usage was 100%... 100% for something extremely basic like 2D graphics.
At this point I totally realised why Apple wants to kill flash. Its probably responsible for like 5% of the carbon emissions worldwide because CPU's have to waste precious clock cycles on whatever the hell defunct and inefficient processes flash has.
If the same game was written in C++ or even BASIC, the CPU wouldn't have even flinched. I can't even imagine this game playing on a phone or tablet without it turning into an infernol and burning the living crap out of the battery.

Lmbo @ comparing a lower level language to a, then, unoptimized higher level one going through a plugin in a browser. :-)

Yeah, I'm not a major supporter of either platform. I was just wondering why flash is such a big deal?

Its not a big deal because iOS doesn't support it. the day it does will be the day you see another "its the best iPhone ever" commercial and all the iSheep thinking its the best thing since sliced bread.
dual core Android phones have been out now for over 6 months and I remember all the iSheep saying "who needs dual core" now that the iPhone finally has it....its like "wow" same for 8MP cameras, Android phones have had this for several months now and iPhone is just now getting it and all the iSheep talk about is their shinny new 8MP cameras.
Android phones are now available with 720p displays and by Q1 2012 will have Quad core processors and guess what Im reading all over the web......"why would anybody want a 720p display and a quad core processor" but when the next iPhone catches up to 6 month old Android phones you guys will be praising 720p displays and quad core processors.

Its not a big deal because iOS doesn't support it. the day it does will be the day you see another "its the best iPhone ever" commercial and all the iSheep thinking its the best thing since sliced bread.
dual core Android phones have been out now for over 6 months and I remember all the iSheep saying "who needs dual core" now that the iPhone finally has it....its like "wow" same for 8MP cameras, Android phones have had this for several months now and iPhone is just now getting it and all the iSheep talk about is their shinny new 8MP cameras.
Android phones are now available with 720p displays and by Q1 2012 will have Quad core processors and guess what Im reading all over the web......"why would anybody want a 720p display and a quad core processor" but when the next iPhone catches up to 6 month old Android phones you guys will be praising 720p displays and quad core processors.

The flash sucks my butt. But the real comeback should be "at least android gets updates and you don't have to buy a whole new phone"
I have an iphone 3gs and a droid x. I got an email the other day and pulled the iphone out and someone standing next to me winced and said "oh my god, a 3gs, that's so old". My X on the other hand is a powerhouse. It also has most of the features the new iOS and iphone have.. loooong before the iphone did.

You do realize the Droid X is a year newer than the 3GS right? Compare it to the iPhone 4, not the 3GS.

The flash sucks my butt. But the real comeback should be "at least android gets updates and you don't have to buy a whole new phone"
I have an iphone 3gs and a droid x. I got an email the other day and pulled the iphone out and someone standing next to me winced and said "oh my god, a 3gs, that's so old". My X on the other hand is a powerhouse. It also has most of the features the new iOS and iphone have.. loooong before the iphone did.

Bof, I bet that some guys will find how to make Android 4 run on the Nexus One anyway, even if it lacks proper amount of ROM they'll find a way to bring a light version or something like that.
And even if they don't, it's a 2 year old phone, which got good updates, I consider current version of Android to be a good one, even if the new one will bring many improvements.
iPhone 3GS and iPhone 4 really needed iOS5 as they didn't even had a good notification system, the Nexus One hasn't this kind of flaw... And the 3GS with iOS5 is quite slow, call that an improvement...
And where is SIRI on the 3GS and the 4? Oups, missing, fail...
I have the Nexus S, very good phone, I'll get the Galaxy Nexus and my girlfriend will take my Nexus S as she wants a good phone without paying too much. The Nexus line of products is a very good one according to me.
Satisfaction of Nexus owners? 98.4% in the French market, more than iOS satisfaction...

Main reason I went with Apple. Getting an Android update for you phone is a crapshoot.

Main reason I went with Apple as well. However, that's not to say that the Nexus One won't get an update, it just won't be an "official" one. I wouldn't be surprised to see someone get ICS working on the Nexus One with a custom ROM.

Main reason I went with Apple as well. However, that's not to say that the Nexus One won't get an update, it just won't be an "official" one. I wouldn't be surprised to see someone get ICS working on the Nexus One with a custom ROM.

they'll say android 3 is more advanced than ios 5... LOL

He didn't say ICS, did he? No? Okay, quiet down.

The article mentioned nothing about tablets did it? No?
Random off-topic statement it is then!

they'll say android 3 is more advanced than ios 5... LOL

Now I'm really glad I retired my Nexus One and went with the 4s....

Now I'm really glad I retired my Nexus One and went with the 4s....

lol, ya, that must be it. :rolleyes:
Please, Google can't even update the newest handsets to the latest OS. You know why? Simple, they left their stupid OS open to the manufacturers of the handsets, so whenever those losers get off their butts and update the ROMs is when you'll get it.... which is pretty much NEVER! That's Android's biggest issue of all time. Pick up one handset from one manufacturer and another one from another manufacturer and they'll both be vastly different in function, even the core stuff like email config/setup. This is why no serious IT department in a corporation will take Android seriously and when many are changing away from BB they all go to iOS devices. Google gave their partners just enough open source rope to hang Google with... it's a joke.

That is ridiculous. If a corp IT department wants the support benefits that come from only supporting one specific model of phone (e.g. an iPhone), they can get just as much benefit by selecting one specific model of Android phone.

That is ridiculous. If a corp IT department wants the support benefits that come from only supporting one specific model of phone (e.g. an iPhone), they can get just as much benefit by selecting one specific model of Android phone.

Oh, and I've had more OS updates for my Android phone since May than you have for your iPhone in the same amount of time. And my Android phone could do more stuff that your iPhone, even before all those updates. Including downloads as high as 40Mbps (per Speedtest), and watching TV shows for free on ComedyCentral.com (Flash).

You're an idiot if you actually think more updates is good. I hate stupid people :/

lol, ya, that must be it. :rolleyes:
Please, Google can't even update the newest handsets to the latest OS. You know why? Simple, they left their stupid OS open to the manufacturers of the handsets, so whenever those losers get off their butts and update the ROMs is when you'll get it.... which is pretty much NEVER! That's Android's biggest issue of all time. Pick up one handset from one manufacturer and another one from another manufacturer and they'll both be vastly different in function, even the core stuff like email config/setup. This is why no serious IT department in a corporation will take Android seriously and when many are changing away from BB they all go to iOS devices. Google gave their partners just enough open source rope to hang Google with... it's a joke.

some non-nexus phones will take a while to get their new updates but ios has to sit in beta for 4 months before is available to the average iphone user. so really both operating systems have the same lag period for most of there phone

Android phones wait a lot longer than 4 months. My girlfriends epic 4g is still waiting for gingerbread.

I would be pissed!a phone from one calendar ago won't get the update?! Wow! Ugly apps, lag, no updates, and they still want Androids!!! It's like watching a woman keep going back to the man punching her in the face!! And they just keep going back. The Galaxy Nexus was looking so good and then I saw a hands-on video and there was lag upon lag upon lag! I was so disappointed! I thought that they finally had a good phone! I wanted to be happy for them. And just think, they can pay for another $300 phone and not get any more updates in a few months!

I have samsung galaxy S2 , am waiting for update version 2.3.4 for my region And it looks like we are going to wait for a Looong time, while other regions are having v2.3.5 Right now ! So my guess my SII will taste ice cream (android 4) by the end of 2013 ! While my 3GS is on IOS 5 . And am sure it's will be good for IOS 5.6.

where are you from? my gs2(UK) been on 2.3.5 for AGES

I know many ppl are using 2.3.5 but there are many countries still waiting and going to wait . Am From the middle east , and No am far from what you call iTrad.

for some reason unless your in korea or in europe then samsung are slow with updates, my guess in US its due to the carriers,dont know how controlling the carriers are in middle east or maybe samsung just dont have a huge market their...

Thanks dude. Yours is nice too. :-D

Misprint. Will be corrected.
Anything else?

Well I know what I'm talking about. I've had 5 Android phones and they suck! The updates are always behind the nexus phones! So don't come on here with your nose in the air like you know something that iPhone owners don't. I'm a owner of phones of most current os's. From WebOS to IOS to Android. Android is the ugliest, slowest, worst with updates, and it runs on some of the best non-Apple hardware you can find and the lag is still as log as Dances With Wolves! He was right about the updates and you know it! Now go and pick a new phone that won't be updated possibly ever! LOL!

why on earth would u buy 5 android phones if you hate them so much!!

Boredom. It was over the last few years. Each time hoping that they will get better. You'd think that they would have felt with the lag and ugly apps by now. But each time I give them another chance it's shame on me for believing it again! Don't worry. They won't fool me again! LOL!

which 5 android did you get..not all android devices are equal, for example the htc sensation and galaxy s2 android phones are top notch

I had the OG Droid, the Incredible, the Evo 4G and the Nexus S.

shoulda only bought the Nexus S (not even N1)... it's your fault for buying carrier controlled android devices.... but i guess now u know...

ROFL!!! Dances with Wolves! Love it! I couldn't agree more... and when the phones finally DO get updates, it usually breaks more things than it fixes/enhances! My Droid X that I just replaced with a 4S was a joke by the time it received all of the updates it took to get to Gingerbread. Even after the multiple updates, it would randomly reboot, freeze up and require a battery pull, and let's not even talk about lag. Even with custom ROMS there was lag and issues. ICS looks to be getting some things right, but Google needs to demand that the manufacturers leave it vanilla instead of painting over everything with their own skins! Maybe then, and just a maybe, the phones would all get updated in a timely manner! I came back to iOS because I want something that works ALL of the time and is buttery smooth no matter what I'm doing.

all non-nexus phones have a lag time before getting updated but so does the iphone, ios must sit in beta for 4 months before the average consumer can actually use it. in the end both operating systems have a period of time to wait before they can be pushed to the phones

I like how there is Galaxy Nexus ads all over this site.

That's bull! Basically what you said is that the only thing that makes Android half decent is the fact that you have so many guys willing to tear it apart and rebuild it to fix what Google farted all over! You have to put entire fake Roms on the crap! And none of these people really know what they're doing so it will have 50 times the glitches of a normal beta! Get real! Android is the Emperors New Clothes for Geeks! If you can't deal with it then you must not be smart right?! WRONG! Keep telling yourself that and you'll have POS phones for the rest of your life!

Wow, way to make a stupid comment about something you know nothing about. Yes cyanogen knows so little about what he's doing that Samsung hired him on to help out with their UI.
You'll never know the joy of being able to switch between miui, cyanogenmod, sense and all the mods put out by the little guys. Most of them are little tweaks that will get you one feature or another. It has nothing to do with fixing Google's bugs, but everything to do with changing anything to how you like it and not being told what your phone should be able to do by a control-freak of a corporation. But some idiots like to be told what to like and how to think. Case in point, you.

Wow, way to make a stupid comment about something you know nothing about. Yes cyanogen knows so little about what he's doing that Samsung hired him on to help out with their UI.
You'll never know the joy of being able to switch between miui, cyanogenmod, sense and all the mods put out by the little guys. Most of them are little tweaks that will get you one feature or another. It has nothing to do with fixing Google's bugs, but everything to do with changing anything to how you like it and not being told what your phone should be able to do by a control-freak of a corporation. But some idiots like to be told what to like and how to think. Case in point, you.

Next time read all the comments IDIOT! Because further up I said that I had 5 Android phones. 5! And I rooted them all and even tried cyanogenmod a few times. It wasn't the best though. And even if it was being king of the blind won't give you sight! Let me break that down for you! Being the best POS means that it's still a POS!

Unlike you I don't have time to read all the posts on this thread. Perhaps I shoud try being unemployed?
Nonetheless, you addressed none of my other arguments. If cyanogen is so incompetent why did he get a job with Samsung?
How could you possibly claim that a slightly modded rom (zip-align, deodexed, app2sd, busybox, etc.) is "full of bugs?" If you don't like one, take it off. I don't care how many phones you've rooted, you still don't know what you're talking about.
I can do many things with my Android phone that you'll never be able to do with an iPhone. I can do anything from blocking other users from using the wifi I'm on, to downloading torrents. Jailbreak you say? Apple is trying their hardest to make that impossible, while Android OEMs are allowing users to unlock their bootloaders.
Wanna give an iPhone more capabilities? Put android on it.

Next time read all the comments IDIOT! Because further up I said that I had 5 Android phones. 5! And I rooted them all and even tried cyanogenmod a few times. It wasn't the best though. And even if it was being king of the blind won't give you sight! Let me break that down for you! Being the best POS means that it's still a POS!

I love how all you iTards use this as an excuse to say ios is better, but there are two problems: You're comparing two completely different OSes with different update cycles. Secondly, Apple is king of forcing people to buy their products. Want Siri? Buy an iphone 4s because we've hobbled our other phones for no reason other than to make this disappointment of a new phone more appealing. Want to mirror HD video on your ipad? Buy our overpriced proprietary connector. Google doesn't care what you buy as long as it's android. They don't make money on handsets, only advertising on the OS.

Really?? And android doesn't do the same thing?? Or should I say the manufacturers? "Want the latest and greatest?? Buy a new phone."

Yes really. What's more is I'm 100% correct, otherwise the iPhone 4 would have Siri and the ipad 2 would have an HDMI port.
Quote one time where I defended the android OEMs. You'll have trouble, and I won't wait for a response.

The iPhone 4 can't run Siri because of the single core processor. Siri should come to iPad 2 - and I'm sure in due time it will.

You know what's really funny? You hate iPhone owners so much that you went to an iPhone news website to troll.

Actually I have an rss feed to many many many tech websites so I don't even bother paying attention to who this site is dedicated to. Also I don't dislike iphone owners, but rabid fanboys who are blinded by their obsessions. Apple makes great products but I disagree with many of their policies.

You must be kidding Rene! You been missing your dose of lag and ugly apps? 30 megapixel camera that take worse pics than the first iPhone? Have you seen what people are saying about the Galaxy Nexus camera? Why make a 720p phone with such beautiful hardware and put Android on it?! That's like putting a lawn mower motor in a Ferrari! LOL

Speaking of lag. Anyone answer why iOS5 lags so badly on an iTouch 4g? Also, why does the iCloud back up keep glitching out and refusing to actually perform a backup on ONLY app data?

@cliqsquad
It was lagging out of the box. Updated to iOS5 and it was still lagging. That was before restoring any backups. Restoring my back ups didn't change the issue one way or the other.
But iOS4+ was acting the same way on the iTouch 3g that the 4g replaced.
No jailbreaks.

lets just all agree that both operating systems have their good and bad sides. the bottom line is that both android and the iphone are both very succesful.

loaded with so much stuff in fact that apple decided to rip some features and include them in iOS5 !!
I love my iPhone 4 but I love my Galaxy S2 even more !!

your android fanboy you cant like the s2 over the iphone! lol got the same 2 phones and love my s2 more than my ip4

Sorry, but everything in Android has been stolen from iOS, Palm/webOS, and/or Windows Mobile - oh and Oracle, of course.

Sorry, but everything in Android has been stolen from iOS, Palm/webOS, and/or Windows Mobile - oh and Oracle, of course.

Sorry, but everything in Android has been stolen from iOS, Palm/webOS, and/or Windows Mobile - oh and Oracle, of course.

iOS doesn't change, so I'm not surprised.

Because iOS is still as fisherprice as the day it came out..

That depends on the reason they aren't updating it. If it's because they don't feel the need or because of a technical limitation. As someone mentioned earlier it could be an issue with ROM storage space.

Siri works on iPhone 4 right? It runs iOS 5 after all.

Nope. Apple claims that other devices don't have the processing power, but that doesn't explain why the ipad 2 didn't get it. Developers have even ported siri to ipad 2 and iPhone 4. It would've worked great, except Apple blocked those devices from accessing their servers to obtain data. That's Crapple for you.

As I understand it the battery life dropped almost to zero on the ported iPhone 4. Coupled with the fact that it's a single core processor (and so it would slow down dramatically) it's not surprising that Siri didn't (and won't ever) come to iPhone 4. The iPad 2, on the other hand, should get the Siri update. I suspect that it will in due time - perhaps once Siri finds its way to more regions and/or moves out of beta.

Someone made a good point that the original Droid is able to run vlingo and other voice activation software, and its hardware specs pale in comparison to the iPhone 4. That coupled with Apple's obsessive system optimization, I find it hard to believe it wouldn't work. Look at it this way, the iPhone 4 can handle 3d acceleration but not siri?

Nope. Apple claims that other devices don't have the processing power, but that doesn't explain why the ipad 2 didn't get it. Developers have even ported siri to ipad 2 and iPhone 4. It would've worked great, except Apple blocked those devices from accessing their servers to obtain data. That's Crapple for you.

Apple doesn't have to update their phones near as much as Android. I would know, I'm coming from an Evo 4g, and with every update the phone got worse. Nothing like finally getting Gingerbread and then a week later Sprint has to push out another update to fix all the shit that the original update broke.

Who cares ? At least google is showing they know when hardware is not capable rather than allowing outdated hardware to run terribly (look at the iPhone 3G on ios4). ICS is about polish for the first time in android history and it is a big update. If hardware doesn't run new software properly, be cutthroat. I'd rather have android right now because they seem very open to innovation in their platform, and are now providing a more stable, elegant os.

theirs being a fan of a product but then theirs just being blind fanboy and not taking consideration of other peoples choices. not everyone is the same so why should everyone prefer the same OS.if we all were the same than life would be BORING.

just because you own an apple product does not mean you have to like everything about it and does not mean that you dont like other devices. i got the ip4 but doesnt stop me from realising that there are better products for me that are not apple..yes this is tipb but does mean you shouldnt speak your mind or say anything negative just because its a apple based site..@pappapau i did not have argument lol WTF are you on about, if you read my comment proper it says if we all WERE(NOT ARE) the same than life WOULD be boring,clearly that is not the case as people love android,bb,symian,windows phone etc all i was stating was that if the blind fanboys of apple had it there way which is for everyone to have apple then that is saying all people think a like and are the same when in reality that is not the case

blame the us carriers for that, the galaxy s outside of the US has had gingerbread for while now

Now this is Android for you. Upgrade hardware every year @ still don't have smooth scrolling.

These comments are getting out of hand. The thing is that they're both different OS's. Even if you prefer iOS, you have to admit that Android carries more under the hood, so naturally it needs more power. With the iOS updates there are certain features that Apple will leave out for the older phones. Granted Apple does a very nice job with the updates, but at the same time, it's a very basic and simple OS, and that's the beauty of it.
Android on the other hand hasn't had the most refined software, so it's always pushed for faster and better hardware which gives it a lot more room to work with. This is where "legacy" is created, not fragmentation as many often get them mixed up. The shift from Froyo to Gingerbread wasn't such a big deal, however with ICS there are many new features and implementations that are being added. I find it as a good thing that the Nexus One won't be getting ICS officially, simply because that means there's much more to ICS that we haven't seen jet and it demands all the hardware it can get. Or would you rather ICS be a simple update that doesn't really add much to Gingerbread just so that it can run on an old Nexus One? Let's face it iOS is nice and all, but it hasn't changed much from 1.0 to 5.0, if you actually held both side by side, you'd think there's probably one iteration in between.
While I'm sure many developers will get it running just fine on the N1, you still have to consider that there's not much room for the Rom seeing how it only has 512MB.
At any rate people should look at it in the similar way that Apple has left out Siri from the iPhone 4 because "the phone is not powerful enough", even though Vlingo will run on a Original Droid just fine (even though it's not integrated to the OS like Siri) and the iPhone 4 has about twice as much power. However, at the end of the day at least the N1 is a developer's phone, and you will have the option to Rom it and upgrade to ICS if you wish to do so, and if not, it is still a very capable phone that can handle pretty much anything.

It's not that Android carriers more under the hood it's that Android isn't optimized for any single chipset, whereas iOS is. Basically, iOS is more efficient, so even the 3GS can run the iOS 5. By contrast, Android is a very inefficient OS (in many ways its a glorified virtual machine), so it requires a lot of processor power.

Android is optimized for the Nexus phones, while others like Samsung did a great job in implementing their custom UI and optimizing it to their specific hardware, for example the Galaxy S II even though it's been out for 6 months it's still faster than the iPhone 4s. What's more take an Android phone running Froyo and tell something major that it can't do vs iOS 5?

I don't think you understand what optimized means.

I don't think you understand what optimized means.

Love how people say 'IOS is the less innovative OS' when comparing to Android. However, I suspect you are all going on the interface. That is NOT the OS. It is what is under the hood that counts.

Bof, I bet that some guys will find how to make Android 4 run on the Nexus One anyway, even if it lacks proper amount of ROM they'll find a way to bring a light version or something like that.
And even if they don't, it's a 2 year old phone, which got good updates, I consider current version of Android to be a good one, even if the new one will bring many improvements.
iPhone 3GS and iPhone 4 really needed iOS5 as they didn't even had a good notification system, the Nexus One hasn't this kind of flaw... And the 3GS with iOS5 is quite slow, call that an improvement...
And where is SIRI on the 3GS and the 4? Oups, missing, fail...
I have the Nexus S, very good phone, I'll get the Galaxy Nexus and my girlfriend will take my Nexus S as she wants a good phone without paying too much. The Nexus line of products is a very good one according to me.
Satisfaction of Nexus owners? 98.4% in the French market, more than iOS satisfaction...

They almost always are when competitors are mentioned.

Unfortunately it's a Disqus thing. All of the Android zealots just migrate from site to site trolling. TiPb should go back to their stock WordPress comment system.

I wouldn't be surprised if Samsung was purposely buying iOS/iPhone related keywords.

No, it's actually because iOS 5 is optimized for only a few chipsets, whereas Android has to cast a wide net and so it's unoptimized (inefficient) and requires better hardware to run with minimal lag (there will always be some lag because it's running in a Java VM).

Please don't use that word. It's derogatory. Also, the article is an inanimate object. It can't be anything but an article.

Well sorry to say, but you cannot expect an operating system that is being put onto hardware that the designer/producer of the operating system has no control over.
That is why Apple can give OS 5 to the 3GS, they know the capabilities and are sure of the capabilities and they are able to optimize their operating system to take advantage of the hardware it does have installed to give a fairly decent experience for the end user.
Google on the other hand, even with a phone that they set the specifications, have already managed to bloat their operating system to an extent that it cannot run on their older hand set. There will be a lot more people that are going to be disappointed at not getting Android 4...
...but wait!...
Most are disappoint because they never got any updates at all! Or waited forever to get updates that they then griped about.

Slow news day it looks like lol.

2010 windows phone 7 gets update to 2011 version 7.5 (Mango).....

to be fair, ios5 is more of a sidegrade while ICS is a complete overhaul of an OS... and..... N1 has snapdragon... come on...

Oh come on - by that logic we'd be slating apple last year - iOS 4 wasnt available for the original iphone or the iphone 3g... These cheap digs are getting ridiculous!

Android doesn't support their products with timely updates. I loved my evo 4g,but.....now I'm rockin' an iPhone 4s. nuf said.

No, I brought it back on topic since the topic involves an ICS update for an older phone model.
As for "Dont compare ICS with IOS5.. you'll cry..", that's a pretty fanboyish thing to say. Also a rather sad statement to see someone that emotionally invested in a phone OS.
--Sent from my 'iPad nano'

There are no standard on Android.. too many gadget and this is 'it's didn't work' that I mean not so easy such Apple product 'it's works'

Just like the Nexus One has the option to update to the newest OS? I'd rather throw out the option of flash for the option of getting new updates for much longer than most Android phones.
Sure, some people will say "but it can be upgraded VIA the rooting community." But to that I say, and I have the option of flash VIA Skyfire, or the jailbreak community.

people got to remember these are 2 completely different OS and also hardware wise android moves a lot faster than ios

people got to remember these are 2 completely different OS and also hardware wise android moves a lot faster than ios

iPhone 3gs iPhone 4 iPhone 4S
Apple Apple Apple
Galaxy Nexus Nexus S Nexus
Samsung Samsung HTC
Htc said no ice cream without being a little SENSE-itive.

Debating Android vs iPhone is a stupid argument, and i'm a current iPhone user.

not even an article...
that little picture is supposed to explain it all?
maybe to an ignorant person...
which is whom it would take to publish such an meaningless post.
c'mon Rene, the REAL comparison should be about the features iOS5 bring's to the 3GS that the Nexus One can't do.
...which would mean the 3GS is now caught up to 2010 software :P
I Have a iPhone4 and i'm glad iOS5 brought back some of the options i had loss moving from Android.

There is nothing illegal about Jailbreaking. Apple doesn't "block" jailbreaks every new OS release just to block it … it blocks jailbreaks because they're performed VIA security holes. If Apple didn't plug those holes, well you know. Apple also has yet to take any direct action against the JB community. In fact, Apple has even hired developers because of their work in the JB community.
I'm not sure why you think iOS is so behind. I had multitasking and flash well before the first Android device was launched.
I'm not even sure why these arguments keep going on. Both platforms can do all the same things one way or another, and both platforms have the ability to provide endless software configurations whether its offered through the JB or rooting communities.
People sure do get their diapers dirty over what seems to me a matter of personal preference. In the end, my face isn't turning red, I'm not yelling at my screen, or bashing my head against the keyboard over these silly arguments… so I guess I (and anyone else with a similar mindset) win.

The US said it is legal but Apple feels otherwise:http://www.wired.com/images_blogs/threatlevel/2010/06/applejailbreakresp....
Apple isn't happy w/ the JB community, it seems.

The US said it is legal but Apple feels otherwise:http://www.wired.com/images_blogs/threatlevel/2010/06/applejailbreakresp....
Apple isn't happy w/ the JB community, it seems.

@John C. Bland II
There's a difference between CYA with the government where your patents and copyrights are concerned, and being "unhappy" with jail breakers.
I always believe that actions speak louder than words. The fact that they hire JB devs, and incorporate features largely based on JB tweaks and apps speaks stronger to me than their "official" reply to an inquiry by the copyright office.

Hehe. I can't agree w/ you there. If they go as far as calling on the government to rule on it, it is far from covering their butts. They could embrace JB and open a proper door for it.
Yes, perfect...actions speak louder than words. They have changed terms to not support a JB'd phone, told the gov' it is 'immoral'], and ripped off their ideas. :) #loudactions
Stealing JB apps/tweaks isn't validating their love for JB either. I'd say it is the exact opposite. They do not respect them enough to pay for their work [most likely since they (JB'ers) hold no patents on the innovative apps/tweaks].
Oh and hiring JB devs is based on the dev. JB provided a way for them to get noticed but I doubt if they were just app devs Apple would not have hired them. Basically, they're hired based on their talent...not because Apple respects JB so much.

Someone in this exchange definately has "problems"...

It's a bit disingenuous to claim an old model gets the latest software when all the compelling features of said software are deliberately excluded from that device.

I have never seen anyone buy a smartphone without trying out the OS. Most people don't look at the outside of the device and choose the phone based on the cosmetics without checking out the OS. So yes you can compare OS to OS.

An intriguing discussion is definitely worth comment. I believe that you ought to publish more about this issue, it may not be a taboo subject but typically people do not speak about such issues. To the next! All the best!!

Hello! cdeedcd interesting cdeedcd site! I'm really like it! Very, very cdeedcd good!

Hello! ekeegcc interesting ekeegcc site! I'm really like it! Very, very ekeegcc good!

ieclqdi pounds till payday

nddsso pounds till payday