Install Android on iPhone using Bootlace [Jailbreak]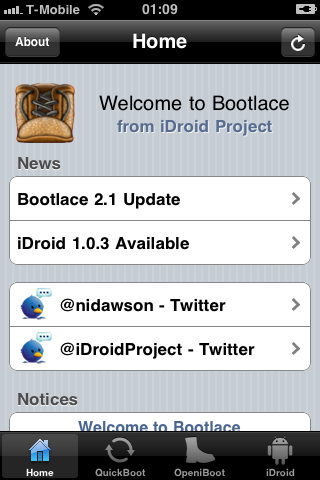 If you are a fan of some of the features the Android O/S has to offer and currently have a jailbroken iPhone then you will be very happy to know that Bootlace v2.1 will now allow you to install Android on your device without even hooking up to your computer.
According to Twitter user @cpich3g:
If you are unaware of what OpeniBoot or even Bootlace are here is a quick explanation:
Bootlace can be found at the following repo in Cydia:
This version currently supports the iPhone 2G running 3.1.2 or 3.1.3 firmware and the iPhone 3G running 3.1.2, 3.1.3, 4.0, 4.0.1, 4.0.2 or 4.1 firmwares. If you are currently using backgrounder for multitasking on your 3G or even 2G iPhones then be sure to disable backgrounder to utilize Bootlace as there are known issues between the two applications.
If you utilize this feature and install Android onto your device let us know how it is running and how the entire process went in the comments section below.
[GeekWord ]
Get the best of iMore in in your inbox, every day!
I tried it on my 3G.. it installs fine .. but runs like crap.. there is still a lot of work to be done.

Would love to see this up and working on an iPhone 4.

Does not work on iPhone 4

Whaaa ! it's amazin ! now i have an iOS device and an Android device on the same device !! thanks !!! thanks a lot !!
From an French reader :)

it's worked with my 3G 4.1

I used to have android on my iPhone 3G but it was too slow and didn't get apps on it and not even a music player. The only good thing was the browser was faster than safari

Maybe I'm a little slow on the uptake, but I feel that the iPod touch current and previous generation (3rd) are more than strong enough to handle the software of iDroid. Is the absence of support due to the installation method being that different? Or just priorities?

Huum , you've right S142s , it was slow for me too, i can't install an app, camera won't work and many things too :/ , but it's a really good job from the dev ! in the future i thinks it will be more faster and responsive ! :)

Will this work on a 3GS???

Does anyone know what kind of progress (if any) is being made on bringing this to the 3GS and 4? I imagine 4 should be able to bring the performance up to a satisfactory level.

What was that noise I just heard from the direction of Cupertino?

For everyone asking about iPhone 4 compatibility follow @blueriseEN on twitter. Hes working on porting iDroid and openiBoot to the 4. And there is a lot of work to be done on the 2g and 3g ports. And they are crappy and slow, buts its cool that it actually runs right??
Also try idroid project in google. There should be site with all the latest info about the project and theres also a forum on there too.

I just did it on my 2g... its cool to say.. hey look what i can do with my iPhone... but as most people have said... its rather pointless... no apps... no camera.. no music...no swype... or google voice integration... not to mention, it made my phone super hot! But this would be really cool to get on the iPhone 4 with that A4, and 512 megs of ram. Maybe then, other stuff would be able to run on it.. JAILBREAK FOR LIFE FTW!

So the iPhone 2g and 3G get froyo before the other droid phones? lol

well I installed bootlace on my iphone 3g which is jailbroken but not unlocked. Its amusing to play around with android on my iphone it works quite well. I would like to share issues ive come across that r strange. first off, once in android I dont know how to shut it down manualy it has shut off(rebooted) on its own. luckly its not tethered. The REAL Strange thing is when its in sleep mode there is a clicking noise only in idroid not ios. also I have 3 sim cards one is on a 2 yr contract with at&t which is my main sim/phone. I took that from my 3gs put it in the 3g while in idroid, and the vibration turned on and stayed on, even after I took out the sim. it wasnt till the idevice started to heat up that it finaly shut off on its own (i dont know how to shut down manualy all the iphone buttons do other things) it shut off and I booted in to IOS just fine after it cooled down.
my final word is that I do enjoy having idroid, I just cant tell if its funtional beyond using the interface and the web browser.
Id understand it wouldnt be fully functional with no bugs, not yet at least but Im starting to wonder is this idroid just for the novelty of it all, or does the creator of this "port" actually intend on having it functional enough to replace the ios if one wanted to do so. ive got more research to do.

go to this website on your phone, http://www.mediafire.com/?e5yvmmkndzf, and download and install it and now you have the market. :)

To turn off the iphone on iDroid press both the power and home button. That should bring up the shutdown options.

I am having issues with Cydia.
I have entered the http://repo.neonkoala.co.uk
and when i go into it there is nothing. Its just black so i cant even install bootlace.
Please help!!

You should see beside MANAGE the icon for SEARCH. Then type bootlace.
Thank you for signing up to iMore. You will receive a verification email shortly.
There was a problem. Please refresh the page and try again.