History of iPhone 3GS: Faster and more powerful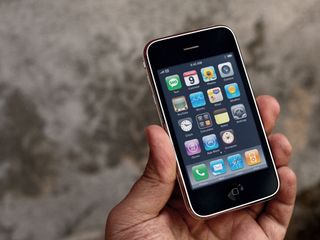 Steve Jobs didn't give the WWDC keynote on June 8, 2009. He was away on medical leave. So, a team of Apple executives soldiered on without him. That included Senior Vice President of Worldwide Marketing, Phil Schiller, who's task was to fill the biggest New Balances in the business for what was becoming Apple's biggest business. Schiller started off quoting Time Magazine's praise for "the phone that has changed phones forever." He'd go on to make that phone more affordable that ever, while also introducing its successor. It boasted twice the speed, both for processing and data networking. It was the iPhone 3GS.
Schiller recounted how the iPhone had captured 65% of mobile browsing, and how the App Store had grown to feature 50,000 apps. Then he launched into the "same great design, all new insides" segment that would be the theme for the iPhone 3GS (and for subsequent S-class iPhones to come). From Apple (opens in new tab):
S is for Speed
The iPhone 3GS, codenamed N88 and device number iPhone 2,1, was the third iPhone but the second "generation". That might sound strange, but the device numbering is based on the processor, not the year. Cosmetically, the iPhone 3GS sported an almost identical design to the previous year's iPhone 3G. Only the word "iPhone" on the back changed—it became shinier.
The 3.5-inch screen was the same 320x480 and 163ppi as the last two iPhones, but Apple added an oleophobic coating to help it better resist finger prints and other oils. The cellular radio was updated again, this time to a twice-as-fast UMTS/HPSA 7.2 mbps. Wi-Fi stayed the same at 802.11 b/g, as did aGPS, but Bluetooth got a bump to 2.1 + EDR.
The chipset, however, was a twice-as-fast ARM Cortex-A8-based, Samsung manufactured S5PC100 CPU and a PowerVR SGX535 GPU that included support for OpenGL ES 2.0. RAM was doubled to 256MB and storage got an increase, with the addition of a 32GB model. Battery capacity jumped to 1219mAh, and that significantly increased battery life.
Apple also added a magnometer (digital compass), which brought directional and rotation data to the mix. Combined with the existing accelerometer, it was a huge boom for precision and accuracy, especially for gaming. Nike+ was also integrated, as was hardware encryption for added security.
Image 1 of 4
The camera had become so popular on sites like Flickr that Apple finally started to pay attention to optics as well. It went to a slightly-less-terrible 3 megapixels with auto-focus, auto white balance, auto exposure, and macro. Thanks to the better processing power, it could also record video at 30fps... if only at 480p (VGA) resolution.
The iPhone 3GS also added voice control, a very early, rudimentary precursor to Siri. Activated by a long press of the Home button, it could handle calls and music playback, among select other things. Likewise, Accessibility gained a VoiceOver option.
For the third year in the row, there was still no CDMA and EVDO Rev A model, so still no iPhone for Verizon or Sprint in the U.S., but the iPhone was still exclusive to AT&T in the U.S., so it still didn't matter.
Like the casing, the price stayed the same, though you were getting a much faster phone with double the storage for the same $199/$299 on contract.
Scratching the surface
The iPhone 3GS launched on June 19 in the U.S., Canada, Australia, and several European markets. It reached 80 countries by the end of the year.
Steve Jobs shared the news that, once again, over a million were sold the first weekend. Apple (opens in new tab):
Apple didn't mean for the iPhone 3GS to be a compelling upgrade for iPhone 3G owners. They were, more sensibly, targeting original iPhone owners whose 2-year contracts were up, and the much larger pool of people who didn't yet own an iPhone. Not all reviewers got that, of course. Some judged the phone by its casing. (Something that would haunt Apple again and again.) Still, reviews were mainly positive.
David Pogue, writing for the New York Times:
Anand Lai Shimpi, writing for AnandTech
Yours truly, writing for iMore:
With the iPhone 3GS, the hardware finally caught up to the software.
Palm tried, Droid did
2009 also saw the introduction of the most novel smartphone since the iPhone — the Palm Pre. Run by former Apple SVP Jon Rubenstein, the Pre made the choices Apple hadn't. It used WebKit for its interface layer and provided a physical keyboard.
Roger McNamee, one of Palm's principle backers through then-owners Elevation Partners, set expectations high:
And:
Steve Ballmer, then-CEO of Microsoft, painted the best picture for Windows Mobile that he could:
And:
And, of course:
Mike Lazaridis, then co-CEO of RIM (BlackBerry) saw how the BlackBerry Storm failed to catch on with Verizon customers, but used it as an excuse to double-down on keyboards:
Google's Eric Schmidt, meanwhile, was forced to resign from Apple's board of directors. From Apple (opens in new tab):
Behind the scenes, Jobs was far less cordial:
Verizon, still lacking the iPhone, hurting from the Storm's failure in the market, and spurning the Palm Pre, went all in on Android. Licensed from Lucasfilm by Verizon itself, they launched Droid, a new line of Android phones that finally made the world stand up and take notice.
Three years later
By June of 2010 the iPhone 3G was being cleared out, the iPhone 3GS had outsold all previous iPhones combined, and what's more, it had been joined by another iOS device — the iPad. Yet the hardware was ripe for innovation, and we'd see it sooner than even Apple intended...
Get the best of iMore in in your inbox, every day!
Rene Ritchie is one of the most respected Apple analysts in the business, reaching a combined audience of over 40 million readers a month. His YouTube channel, Vector, has over 90 thousand subscribers and 14 million views and his podcasts, including Debug, have been downloaded over 20 million times. He also regularly co-hosts MacBreak Weekly for the TWiT network and co-hosted CES Live! and Talk Mobile. Based in Montreal, Rene is a former director of product marketing, web developer, and graphic designer. He's authored several books and appeared on numerous television and radio segments to discuss Apple and the technology industry. When not working, he likes to cook, grapple, and spend time with his friends and family.
I got the 3GS the day it came out. I'm still using it to this day. I'm fortunate enough to not have any battery issues, not one scratch on the screen and the oleophobic coating is still there. Finally with ios 7 it's not getting all the new goods, but considering it's age... I'm voting this as the best iPhone ever released.

Great read. Sold my 4s last year after having money probs, bought an old 3GS for the "mean time". But heck iv had it almost year now and its still perfectly adequate. Runs ios6 & the latest apps. overall navigation is still smooth & battery life is fine too. Props to apple & developers for still supporting it till now. Will upgrade to the 5s when it comes around but the 3GS has served me very well indeed :)

Yep, 3GS white! My first iPhone! Reasons: 1) nasty recession, 2) Rogers was the only provider. I hated them both! Imagine how painful it was looking at others carrying their iPhones. :( Finally ... got a good $$ job and Telus started selling them too. Didn't waste a second ... LOL After white 3GS locked, 4 black, 4S white, 5 black... all 3 UNLOCKED! Can't wait to grab 5S now! LOL Thanks Rene again! Fun to read these articles. :)

I still like most of Apple iPhone 3gs by its compact design

This was my first iPhone- and first smartphone. I might as well call it my first phone, since I don't count the Nokia I had before it anyway. As a teenager at the time, the iPhone 3GS was the first one I'd really used–as opposed to the Nokia which I only kept for emergency calls. I loved the 3GS and I would've been using it until I got a 5 (or my current 5s) had I not been forced to sell it due to money constraints.

Cjcxjcj Sent from the iMore App

My first iPhone was the 3GS. I didn't go with the original iPhone because it was Edge and I went into a contract for a Blackberry at that time so the 3GS was my first opportunity. I've haven't looked back. I had a jod that gave me an Android and it sat on my desk. I used my personal phone instead.

It was my first iPhone too! Totally loved it!! Sent from the iMore App

Awesome piece! It truly took me down memory lane. I was one of those people on Verizon's network who carried a Droid but preferred an iPhone. I envied the Apple apps and ecosystem and contemplated switching carriers to get an iPhone. As soon as Verizon got the iPhone 4, I jumped on board. Sent from the iMore App

I bought a 3GS as an upgrade from the initial iPhone when my contract was up for renewal. At the time, the 3G functionality was useless to me because AT&T only offered 2G/EDGE service here, but I bought the phone anyway. Fast-forward from 2009 and AT&T STILL only offers 2G/EDGE here. I dumped AT&T as soon as other carriers were allowed to offer the iPhone and have enjoyed 3G and now 4G/LTE service since then. I still have the old 3GS and get it out now & then to keep its battery working and fire it up to see if the 3G indicator will light up.

Ah yes, the age of the small phone, how sad that it is to never again be.

I remember this model. He was very tenacious and it was hard to part with it http://www.realhacks24.com/marvel-future-fight-hack/">

I think I still have my Treo 600, 650, 680, and 700 (or was it a 750?) in a box.
I do recall moving to an HTC 8525 and hanging on to that until iPhone 3G as the original iPhone was still too lacking in features, but 3G answered all 5 of my deal breakers.
I haven't looked back even though I've dabbled with Android, I stick to iPhone (X today.)
Thank you for signing up to iMore. You will receive a verification email shortly.
There was a problem. Please refresh the page and try again.