How to replace the iPhone 3G or 3GS battery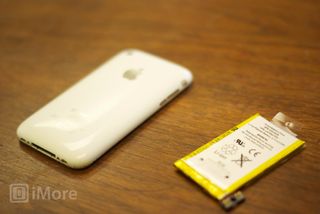 If your iPhone 3G or iPhone 3GS is no longer holding a charge, and always running out of power, replacing the battery is a moderate level DIY repair. If you've got the right tools and parts, it shouldn't be too difficult to swap out that old battery for a brand new one on your own. It'll take a little bit of patience and about 30 minutes of your time.
Disclaimer: As with any repair, iMore can not be held responsible for any damage you may do to your device. It's also worth considering that opening up your device to perform any repair or modification can and will void your Apple warranty. If you don't feel comfortable opening your device, don't. Use extreme care and caution when performing a repair on any device.
What you need for a DIY iPhone 3G/3GS battery swap
iMore recommends using only quality and genuine parts from a reputable supplier like iFixYouri. They have quality parts, tools, and much more for all your repair needs.
Replacement battery
SIM removal tool or paper clip
Suction cup
Standard #000 Phillips screwdriver
Spudger tool
Razor blade
iSesamo Opening tool (not necessary but awesome for prying up cables and getting under adhesive)
Power off your iPhone
Before performing any repair, always power off your device before removing any screws or parts.
Remove the dock connector screws
Using your #00 Phillips screwdriver, remove the 2 screws located on each side of the dock connector.
Remove the digitizer & LCD assembly
This part can be a bit tricky so please do this with extreme care so you don't tear any cables during the process. I highly recommend using the suction cup method unless your screen is cracked above the home button for some reason and you can't get a proper seal with the suction cup.
Suction cup method (recommended):
The easiest way to remove the digitizer assembly is by using a suction cup.
Position the suction cup on the screen directly above the home button.
Using your other hand, hold down the frame while gently pulling up on the suction cup.
The goal is to get the bottom of the digitizer loose. Do not pull directly up. There are 3 cables attached in the top right of your iPhone. You do not want to tear these. Just pull up until the bottom of the assembly pops out.
After you have the bottom up you can remove the suction cup.
Spudger/razor blade method (only use this method as a secondary method):
ONLY use this method if your screen is cracked above the home button. If this is the case, you'll need to use a razor blade or spudger in order to remove it. And while you're at it, replace that broken screen!
Starting in the bottom left hand corner, insert a plastic spudger and gently pry up. Once the first side is starting to pop up, do the same on the bottom right side.
Run your pry tool along the bottom of the device in order to pop up the bottom of the assembly. Take special care around the home button area.
Remove the cables that attach the digitizer assembly to the logic board:
Once you have the bottom of your digitizer assembly popped up we can remove the cables attaching it to the logic board.
Gently lift up your digitizer enough to have a clear view of the 3 cables in the top right of your iPhone.
With your plastic spudger or pry tool, you'll need to pry up the first two cables that attach the digitizer and LCD. They should be labeled with orange stickers numbered 1 and 2. Simply pop them off the logic board gently.
Underneath these cables you'll see one other labeled as cable 3. This one is a bit trickier as it is clipped down. You'll need to gently pop up the clasp holding it into the fastener. It is a tiny white clip. Simply pop it upwards and the number 3 cable should then slide right out.
Remove the digitizer & LCD assembly and set it aside.
Remove your SIM card
Using your SIM tool or a paperclip, either works, remove your SIM card and tray from your device.
Unclip cables from the logic board
<
ol>
(opens in new tab)
Towards the top left of the logic board, use your pry tool to pop up the two cables labeled 5 and 6.
(opens in new tab)
(opens in new tab)
(opens in new tab)
(opens in new tab)
(opens in new tab)
(opens in new tab)
(opens in new tab)
(opens in new tab)
(opens in new tab)
(opens in new tab)
(opens in new tab)
(opens in new tab)
(opens in new tab)
Towards the bottom of the logic board, 3G owners will only see one cable to the left labeled 4. 3GS users will see two cables (one on each side of the dock connector) labeled 4 and 7. 3G users will reconnect the number 4 cable while 3GS owners will need to reconnect both the number 4 and 7 cables.

Reassemble the digitizer
Begin with the number 3 cable that clips down. Getting it seated can be a bit tricky. Use a plastic spudger to guide it in the opening if needed. Then push back down the clip that holds it in place.
Next push down the number 1 and 2 cables onto the logic board.
To snap the digitizer assembly back in place, start at the top and make sure it is lined up. Once the top is pushed down and flush, snap the bottom into place on each side of the home button.
Replace the two dock connector screws.
And... done!
If you followed all the steps above correctly you should be able to power on your phone and be on your way! I recommend you drain the battery completely and do one full charge. You also may notice you'll need to reset the time and date on your device. Battery pulls tend to reset the clock.
Have you done this repair yourself? Let us know how it went!
Get the best of iMore in in your inbox, every day!
iMore senior editor from 2011 to 2015.
Great video....you should do a how to replace the screen of an iPod touch. My friends broke and I'm thinking of replacing it for him. :D

Very nice how-to I have replaced a couple in the 3g/3gs and if someone is even just basically handy give it a try it's not bad at all.

@ally
The one with the FaceTime camera. 4th generation I think......

Yep, will do that one in near future.

Hello! abbdgkg interesting abbdgkg site! I'm really like it! Very, very abbdgkg good!

Great video and guide. Also, thanks for the link to eTech for the parts. I think I'll be trying this soon. My old 3GS battery doesn't keep a charge anymore and cuts off even when it says 80%.

Heya i'm for the primary time here. I found this board and I find It really useful & it helped me out much. I am hoping to present one thing back and aid others like you helped me.

Will the Residence theme also get the IDX-MLS integration?Thanks

first time opening my iPhone 3gs, replaced the battery et voila'! 10 minutes and done! Thanks for your help!

Swapped out my wife's battery with few issues. Trickiest parts were getting the logic board back in (tucked up into the SIM card port) and getting the fiddly connector for the touch screen back into it's slot, but I managed to complete the swap in about 15 minutes having never done this before. Very useful vid. Many thanks!!

Brilliantly useful video thank you so much. First time doing this and with your video worked first try - now got a happy iphone. Thanks also for including the reassembly part, specially that tricky connector 3. Cheers from Australia.

I followed your instructions to replace the battery in our iphone 3GS and was eventually successful, but offer the following hints/advice:
Digitizer removal - suction cup would not budge it so careful prising with jewellers screwdriver lifted it.
Logic board removal - main problem was that old battery started to swell once digitizer removed making removal of the 8 securing screws difficult - persevere.
Reassembly - insertion of screw and camera retaining clip very fiddly, I handed this bit over to my wife who has more nimble fingers than me, also the remaining screws, again persevere.
Finally, all reassembled, switch on and screen lights up but then goes off, fear swelling battery has damaged logic board but 15 year old grandson arrives, presses both Home and Off buttons simultaneously and hey presto all back to normal.
We are both in our late 70s, but we did hack it in the end although it took four days on and off.
Thank you for signing up to iMore. You will receive a verification email shortly.
There was a problem. Please refresh the page and try again.